Posted on
Tue, Feb 12, 2013 : 2:03 p.m.
Fugitive crashes into couple's house: 'We saw a pickup truck right next to the bed'
By John Counts
Annette Kovala and Kevin McGraw were sound asleep early Tuesday morning when a loud boom startled them awake.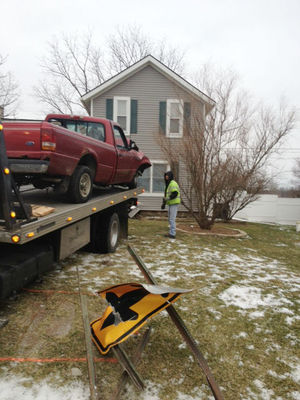 John County | AnnArbor.com
"We looked out the window because we thought it was a thunderstorm," McGraw said. "We saw a pickup truck right next to the bed."
A man fleeing from police on Six Mile Road had crashed the pickup into Kovala's house at Six Mile and Dixboro roads shortly after 2:30 a.m. Tuesday.
Kovala said the man was so close to her, she was sure he could hear her when she screamed after the noise woke her.
More coverage
Read more on the shooting of an Ypsilanti man following a police chase
"I think I scared the guy," she said.
McGraw got up and put on his shoes and coat and was headed out to see if the man was hurt. He looked out the window and saw the man staggering away from the truck.
"I was surprised he was able to jump out of his car and walk," he said.
McGraw was still headed out to help when police startled him.
"As I got out to the side door, the cops said, 'Get back in the house,' over the PA. So I did," he said. "Then moments later they got us on the phone and said there (was) a fugitive, lock your doors and stay away from the windows. We were in the direct line of fire."
McGraw said he soon heard the single gunshot from police that killed the arson suspect.
A Michigan State Police trooper shot and killed the suspect when he came toward police with a knife, Lt. Joel Allen, commander of the Brighton state police post said. The man had earlier fired a gun at and srtuck a Northville Township police car as he fled from police who were investigating a suspected arson fire there, Allen said.
Michigan State Police troopers joined the chase when the suspect crossed into Washtenaw County's Salem Township. The man lost control of the truck on an icy gravel portion of Six Mile Road that makes a 90-degree turn to the north at Dixboro Road. That's when the truck plowed into Kovala's house.
Kovala said the incident forced her to miss work for the day, and she was trying to determine the damage to her house. The truck tore a hole in the foundation and left items strewn about the house and basement, she said.

View Car Bombing Chase in a larger map