Posted on
Sun, Sep 1, 2013 : 5:59 a.m.
Homicide investigation into Paul DeWolf's death continues as U-M students return to campus
By Kyle Feldscher
The homicide investigation into Paul DeWolf's death continues as University of Michigan students return to campus last week and Ann Arbor police are still asking for the public's help.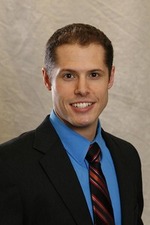 DeWolf, 25, was shot once in the neck and killed last month in his basement room in the Phi Rho Sigma medical fraternity, 220 N. Ingalls St. A colleague found him dead in his room on the morning of July 24 after DeWolf didn't show up for a scheduled shift at the VA Ann Arbor Health System.
Ann Arbor police Lt. Detective Robert Pfannes said police don't have any new information to release on the case, but detectives continue to investigate.
"It's an active ongoing investigation and we're still seeking tips from the public," Pfannes said.
There's a combined $10,000 reward offered by the Ann Arbor Police Department and University of Michigan Police Department — $5,000 each — for anyone who provides information that leads to an arrest and conviction in the case. Pfannes declined to comment on how many tips the department has received in the case.
It's unknown at this point when forensic tests being done in the investigation will be ready.
DeWolf was entering his fourth year at the medical school before his death. The Portage, Mich., native was a reservist second lieutenant in the United States Air Force and was planning to enter the service after he graduated.
Police have said DeWolf's room in the fraternity did not appear to be in disarray and nothing valuable was reported stolen. No suspect description has been released in the case.
The ongoing homicide investigation — with a crime scene just a few blocks from campus — was on the minds of many parents who were dropping their students off at university dorms last week.
But, at least one family isn't letting the investigation change their view of Ann Arbor.
Rita Jones was helping her daughter Kepriah Davis, a sophomore biology major at U-M, move into the North Quadrangle dormitory Friday morning. Standing just a few blocks from the place where DeWolf died, Jones said she's not concerned about her daughter coming back to school.
"This is her sophomore year, I think she's going to be fine. She was fine then (last year)," Jones said. "But, this is unfortunate."
Still, she said there's a slight feeling of concern though. She added, "You would, as a parent, feel better if they had someone in custody. … If the person is still running around and you're leaving your kid, some people live out of state and they're leaving their kids here."
Davis said she was looking back on her freshman year at Michigan for comfort and relying what she learned about Ann Arbor to keep her safe.
"I never feel threatened, but I know where not to be at night," she said.
University spokesman Rick Fitzgerald said he wasn't aware of any specific concerns brought to the central office about the investigation into DeWolf's death. Many parents are aware of the case, but Fitzgerald said he's not sure if it's raised "any additional or heightened concerns."
Fitzgerald said programs like Beyond The Diag, which brought out top police officials from Ann Arbor and U-M to meet students living in off-campus neighborhoods Thursday, help to make sure students feel safe.
"It's a part of a broader effort to take the safety messaging, not just to our on-campus community, but to our off-campus community," he said, adding the programs were helping students know "that both Ann Arbor and U-M officials are genuinely concerned about their safety and see them, not as enforcers, but as people who can help them stay safe."
Anyone with any information about DeWolf's death is encouraged to call the Ann Arbor police anonymous tip line at 734-794-6939, U-M Police at 734-763-1131 and Crime Stoppers at 1-800-SPEAK UP (773-2587).
Kyle Feldscher covers cops and courts for AnnArbor.com. He can be reached at kylefeldscher@annarbor.com or you can follow him on Twitter.