Posted on
Fri, Aug 2, 2013 : 12:27 p.m.
Homicide confirmed in University of Michigan medical student's death
By Kyle Feldscher
University of Michigan medical student Paul DeWolf's death has been ruled a homicide, records show.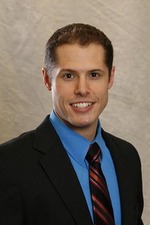 DeWolf died from a single gunshot wound to the neck, his death certificate shows. "The decedent was shot by another person," the death certificate states. The time of death is unknown.
DeWolf was found dead July 24 in his basement room in the Phi Rho Sigma medical fraternity in the 200 block of North Ingalls Street. Police have said since July 25th that they were investigating the case as a homicide.
The time of injury and time of death are listed as unknown on the certificate, which was obtained through a request to the Washtenaw County Medical Examiner's Office.
Dr. Jeffrey Jentzen, Washtenaw County chief medical examiner, said Friday the case is still under investigation.
U-M homicide investigation continues
"We're working with the Ann Arbor Police Department," he said.
Ann Arbor police Detective Lt. Robert Pfannes said earlier this week that a toxicology report was being done by the medical examiner's office. That's a normal part of their investigation, he said.
Ann Arbor police detectives are leading the investigation into DeWolf's death, with assistance from the United States Air Force and the University of Michigan Police Department. DeWolf was a second lieutenant in the Air Force and was a reservist planning to enter the service after graduation.
The Schoolcraft, Mich., native was planning to be a surgeon when he graduated in May. He was a 2010 graduate of Grand Valley State University.
DeWolf did not show up for a scheduled assignment at the VA Ann Arbor Healthcare System on the morning of July 24. Per U-M medical school policy, a colleague was sent to check on him at his home when he didn't respond to phone calls. That colleague found him dead and called police.
DeWolf's room was not out of order and no valuables appeared to be stolen. No firearm was found at the scene.
DeWolf was buried at Fort Custer National Cemetery in Augusta, Mich. after his funeral on Monday.
Kyle Feldscher covers cops and courts for AnnArbor.com. He can be reached at kylefeldscher@annarbor.com or you can follow him on Twitter.