Posted on
Fri, Aug 9, 2013 : 9:18 p.m.
Paul DeWolf's family and friends share laughs at memorial celebration
By Kyle Feldscher
Courtney Sacco | AnnArbor.com
As family and friends work to understand the death of the driven, smart and devoted Paul DeWolf, they're finding comfort in the laughter and smiles he inspired during his 25 years.
At a memorial service for the University of Michigan medical student held Friday evening in the A. Alfred Taubman Biomedical Research Building, 109 Zina Pitcher Place, laughs outnumbered tears and smiles conquered sobs. It's exactly what Paul would have wanted, friends said.
Lindsey Gaston, a close friend of DeWolf, recounted memories of dancing with the Schoolcraft, Mich. native "enthusiastically yet terribly" and when he organized a scavenger hunt around their favorite spots in Ann Arbor for her birthday, among others. She said DeWolf always wanted to put others above himself.
"You told me once that if you could make one person's day, you had done your job," she said in a letter addressed to DeWolf she read aloud.
DeWolf was found dead on July 24 in his basement room at Phi Rho Sigma, a coeducational medical fraternity at 220 N. Ingalls St. He was shot once in the neck, an incident ruled a homicide by Washtenaw County medical examiners. He was 25.
The aspiring surgeon lived a lot in his too-short life and affected many people. More than 100 people showed up in the lobby of the biomedical research building to remember him.
Joe Durantinsky, one of DeWolf's closest friends from medical school, said he should be remembered for his commitment to service and as a brother, son, friend, scholar, athlete, inspiration and as a ladies' man.
Durantinsky recounted how DeWolf ruined many pictures making a face that echoed Ben Stiller's "Blue Steel" look in Zoolander, a face that he said was almost as good at grabbing the attention of women as his terrible pick-up lines.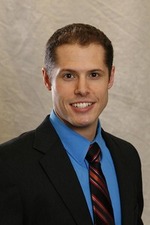 But, aside from his humorous side, DeWolf was devoted to his family. Duratinsky said the visit from DeWolf's sister, Rebekah, on the Saturday just before his death was evidence of that.
DeWolf got off his overnight shift at the VA Ann Arbor Health Systems hospital at 6 a.m. that day and Rebekah arrived in Ann Arbor for a visit a few hours later. The two embarked on a day of paddleboarding and tubing in the Huron River, visiting the Ann Arbor Art Fair and seeing a movie and DeWolf never slept or tired during the day.
Duratinsky said that kind of devotion to others is what he'll always remember about his best friend.
"We can't lose sight of what truly matters, that what we do here truly matters," he said. "Hold your family and friends close to you and remember what truly matters."
It was a message echoed by many others throughout the ceremony.
United States Air Force Staff Sgt. Chad Holling, one of DeWolf's childhood friends who attended Grand Valley State University with him, asked the friends and faculty gathered at the service to not forget his best friend.
"If we all try to be a little more like Paul and we act a little nicer, then Paul is not gonna die," he said. "Paul is gonna live on through us."
Many people spoke of the impact DeWolf had on them, pushing them to study harder or run faster or simply to be nicer.
Duratinsky and DeWolf only met when they both started medical school in 2010 but became extremely close by the time DeWolf died. The two traveled all over the country — Colorado, Duratinsky's native Wisconsin, Chicago, Mexico, the Caribbean among their destinations — and spent hours studying with each other.
"He pushed me to exit my comfort zone and better myself," he said.
DeWolf's self confidence and outgoing nature allowed him to don one of the most ridiculous outfits that will ever be presented at a memorial service as a testament to someone's character.
Jonathan Peterson played volleyball with DeWolf, a competitor who hated to lose. Peterson said DeWolf came up with the idea for their indoor volleyball team to wear gold shorts as a sign of solidarity during their intramural games one season.
But, when DeWolf showed up, his shorts didn't exactly match everyone else's.
"He showed up with a Speedo," Peterson said laughing.
Isabel Greenfield, a medical student who was good friends with DeWolf and worked with Duratinsky to put on the memorial service, took that opportunity to show the tiny, shiny shorts to the crowd. It was a guffaw-inducing moment.
Peterson said he eventually talked DeWolf into wearing the gold, Speedo-esque shorts over his regular shorts, for decency's sake. Not long afterward, Peterson remembered the tiny tank top DeWolf wore during their outdoor volleyball season and laughed again.
Greenfield showed off the violently-yellow shirt for the crowd. She checked the size — it was a woman's small.
Peterson broke into laughter before pausing, recounting how he's felt a terrible sadness since DeWolf's death. However, it's hard to think of DeWolf without smiling, he said.
"When I think about Paul … I get a spark of a smile, and that's the thing," he said. "Paul really was a spark. He was the salt of the earth … and that spark is as bright as that yellow shirt and those little yellow gold shorts."
A tree also was planted at the Phi Rho Sigma house in DeWolf's memory.
Kyle Feldscher covers cops and courts for AnnArbor.com. He can be reached at kylefeldscher@annarbor.com or you can follow him on Twitter.