Posted on
Mon, Jul 1, 2013 : 5:59 a.m.
Investigators waiting for heroin test results for potential explanation of heroin overdoses
By Kyle Feldscher
Analysis is still being done on recently seized heroin from Washtenaw County that may help determine why multiple overdoses involving the drug occurred earlier this month.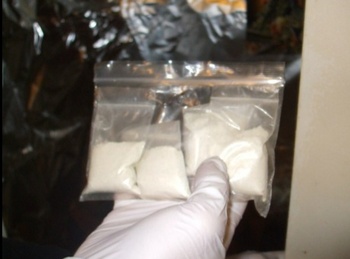 Courtesy of WCSO
In the wake of eight heroin overdoses in two days, investigators began looking for a potential cause. Among the possibilities thrown out by law enforcement and medical officials were more potent strains of the drug and potentially dangerous mixing agents, such as acetyl fentanyl.
Michigan State Police Detective Lt. Dale Smith, of the Livingston And Washtenaw Narcotics Enforcement Team, said heroin is being analyzed by the Michigan State Police Crime Lab, and investigators don't know what might explain the overdoses.
"We haven't seen any," Smith said when asked about fentanyl. "It hasn't come back in any of the heroin we've seized. We're not sure if it's being used to cut the drug."
Acetyl fentanyl is described as a highly toxic substance that is occasionally mixed with heroin. It made headlines in southeast Michigan in the middle part of the last decade after 300 overdose deaths were blamed on the drug.
At least 10 suspected heroin overdoses were reported earlier this month in Washtenaw County, including eight in two days. Two of those overdoses were fatal.
Saline police Detective Don Lupi said Thursday the investigation into the suspected heroin overdose death of a 27-year-old Saline man who died June 7 in the city is still open.
"They're still not done on the toxicology report," Lupi said.
In the immediate wake of the overdoses, officials in Canada released a community advisory connecting fentanyl-related heroin overdoses in Ontario, Quebec, British Columbia, Rhode Island, New York, Pennsylvania and Michigan. However, law enforcement officials have not been able to positively identify fentanyl being related in any of the suspected heroin overdoses in Washtenaw County.
Smith said it usually takes weeks for tests looking for specific chemicals in heroin to come back from the crime lab.
"Sometimes the lab turnover is pretty quick," he said. "But, sometimes specialty tests looking for fentanyl could take three to six weeks."
All of the drugs seized by LAWNET are turned over to the crime lab and compared with drugs seized by the Drug Enforcement Administration (DEA), Smith said. He said the two agencies work closely to determine if they're seeing the same things in the drugs they take off the streets.
Last week, DEA Special Agent Rich Isaacson said there hasn't been evidence of fentanyl in any of the heroin seized by agents in the past six months. However, that didn't include the drugs seized in the last month, he said.
"Our seizures are a limited sample of what's out there, but based on our seizures, there's nothing new," he said. "That doesn't take into account what's happened in the last month or so."
Although investigators still are working to determine if there's anything new in the drug making it more dangerous, Smith said it's undeniable that LAWNET is seeing more frequent heroin usage in Livingston and Washtenaw counties.
He said LAWNET has made 13 arrests in heroin cases so far this year, usually for small amounts. He said heroin is turning into a middle-class drug and attitudes toward it are changing.
"We've seen a huge upswing in just the middle-class, average person using it," he said. "It seems like heroin had such a huge connotation, nobody would ever do heroin. Now it's almost acceptable among youth."
He added, "It's always portrayed in movies and media as such an off-limits drug: Once you do heroin, you hit rock bottom. Now, you see people doing it who are honor students."
Kyle Feldscher covers cops and courts for AnnArbor.com. He can be reached at kylefeldscher@annarbor.com or you can follow him on Twitter.