Posted on
Fri, Dec 14, 2012 : 10 a.m.
Judge grants defense in murder trial $2,000 to hire private investigation firm, cell tower expert
By John Counts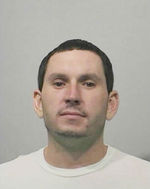 Courtesy of the Washtenaw County Sheriff's Office
The defense for the 32-year-old man accused of beating a man to death, along with his uncle, was granted funds Tuesday to hire a private investigation firm and someone to analyze cell tower data.
Washtenaw County Trial Court Judge Archie Brown ruled to release $2,000 of court money to the defense after approving two motions filed by Steve Tramontin, the court-appointed attorney for Jonathan Aiden who is accused of murdering 55-year-old William Kenney in 2006.
Tramontin said since it's been six years since the killing was investigated, he needed private investigators to go back and re-interview some of the people involved. He said he was especially concerned about a 911 call. At a preliminary examination in September, it was testified that Aiden's voice was on a 911 recording. Tramontin said he hopes further investigation will show there is uncertainty whether it was Aiden's voice or not.
Tramontin said 44 witnesses were called to testify at the trial for Aiden's uncle, Shane Roscoe, who was convicted of Kenney's murder by a jury in July. Hiring a private firm would help deal with the work volume of locating and interviewing witnesses.
Brown granted the defense $1,000, less than the $2,500 requested.
Assistant Washtenaw Prosecuting Attorney Dianna Collins did not file any response to the motion.
"I will leave it at your discretion," she told Brown.
Collins did say she planned on filing a motion to obtain whatever information the private investigation turns up.
Brown also granted the defense $1,000 to find someone to analyze cell phone tower data for potential testimony. At September's preliminary examination, Det. Craig Raisanen of the Washtenaw County Sheriff's Office charted Aiden's alleged traveling route from the downriver area of suburban Detroit to the Scio Township area — where the murder occurred — using cell tower pings.
Tramontin said Raisanen is not qualified to testify about cell, satellite or GPS technologies.
"He's a lay witness, basically," Tramontin added. "We're going to have to have someone come in familiar with that technology. This is critical to our defense."
The motions are related to Aiden's jury trial, which is set to begin Feb. 4.
Aiden is accused of helping Roscoe beat Kenney to death during a break-in at a Scio Township auto dealership in August 2006. Roscoe was convicted of breaking into Jim Bradley Pontiac GMC, stealing auto equipment and materials and beating Kenney, who worked at the dealership. Roscoe was sentenced to life in prison without parole.
Aiden had to be extradited to Michigan from Florida, where he was serving time for burglary. He now faces five charges: open murder, breaking and entering with intent to commit a felony, safe-breaking, conspiracy to commit breaking and entering and conspiracy to commit safe-breaking.
Tramontin said he has filed three more motions which will come before Brown next week.
Aiden is being held in the Washtenaw County Jail without bond.
John Counts covers cops and courts for AnnArbor.com. He can be reached at johncounts@annarbor.com or you can follow him on Twitter.