Posted on
Wed, Jan 9, 2013 : 7:15 p.m.
Man accused of preying on underage girls via Facebook refuses plea deal
By John Counts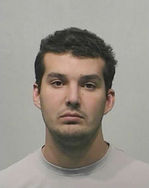 Courtesy of WCSO
The 23-year-old Ypsilanti Township man accused of coaxing two underage girls into having sex with him after meeting them on Facebook refused a plea deal at a final pretrial hearing in the Washtenaw County Trial Court Wednesday.
Washtenaw County Assistant Prosecutor Robyn Liddell offered Paul Joseph Creps, 23, a deal that would have dismissed two third-degree criminal sexual conduct charges in exchange for pleading guilty to two counts of the same charge.
Sentencing in the agreement would have been set for 45 to 75 months in prison. The prosecution also would have agreed to not bring any additional charges. Police have said there were numerous pictures of different underage girls on a cellphone obtained during the investigation.
Creps, represented by attorney David I. Goldstein, refused the deal. A jury trial is scheduled for Jan. 22.
Goldstein said the refusal comes after engaging in "serious negotiations in the case."
"His (sentencing) guidelines will substantially increase," Liddell said, addressing what would happen if a jury found Creps guilty on all four counts of third-degree CSC he faces.
Creps appeared in court in street clothes having been bonded out of jail at the end of November. His bond was at one time $75,000 cash, but that was lowered to 10 percent of $75,000 by Judge Kirk Tabbey in district court.
Courtesy of the WCSO
Creps sat silent at the defense table throughout Wednesday's court proceedings, which included two motions from the prosecution. Liddell requested combining the two cases into one so there wouldn't have to be two separate jury trials.
Judge Archie Brown
granted the request, as well as a second motion that will allow the two female victims, 14 and 15 years old, to testify in the same trial.
Goldstein argued that they were two different victims, on two different dates with two different sets of witnesses.
"I don't see how one jury could hear this," he said.
Liddell said Creps used the same method of operation with both victims in both cases: he contacted both them through Facebook, pressured them both to have sex with him, picked them both up in his pick-up truck and had sex with them in the truck.
Brown didn't grant the motion on the basis of evidence, however, but on a legal statute.
Washtenaw County Sheriff's Office deputies first arrested Creps on suspicion of having a sexual relationship with a girl who was under 16. After that arrest, investigators went through his phone and found many pictures of nude underage girls, deputies said.
A second girl, a 15-year-old from Ypsilanti, was located after Creps was charged in the initial case.
Creps remains free on bond.
John Counts covers cops and courts for AnnArbor.com. He can be reached at johncounts@annarbor.com or you can follow him on Twitter.