Posted on
Wed, May 30, 2012 : 4:41 p.m.
Man charged in fatal Scio Township beating refuses plea deal
By John Counts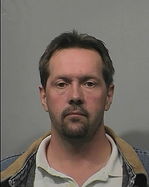 The murder trial for the man charged in a fatal beating at a Scio Township car dealership in 2006 will start Monday.
Shane Roscoe refused any type of plea deal when he appeared before Judge Archie Brown during a pretrial hearing Wednesday at the Washtenaw County Trial Court.
When asked by the judge if he'd like to entertain any kind of offer, Roscoe vigorously shook his head and said, "I do not."
"We have not been able to reach a resolution," said Dianna Collins, assistant Washtenaw County prosecutor. "My understanding is that we have not made an official offer."
However, Collins told the judge the prosecutor's office was willing to charge Roscoe with second-degree murder in exchange for testimony against co-defendant Jonathon Aiden. This would have put sentencing in the range of 20 to 50 years.
No official offer was made because it was understood Roscoe wouldn't consider one.
When the trial begins, it will include statements made by the victim, William Kenney, as he lay in his deathbed at the hospital on both Aug. 23 and Aug. 26. The judge denied the defense's motion to exclude the statements, as well as a motion for an evidentiary hearing, earlier this month. At that time, Collins and Roscoe's court-appointed attorney, John Vella, didn't specifically talk about the Aug. 26 statements.
At Wednesday's pretrial hearing, Vella once again objected to the statements being allowed at the trial. Brown said the statements made by Kenney on Aug. 26 would be admissible as part of his earlier ruling.
Roscoe and Aiden are accused of breaking into the former Jim Bradley Pontiac GMC on Aug. 18, 2006 and murdering Kenney.
Both men had previously worked at the car dealership. They were allegedly stealing auto paint canisters, hardening chemicals and an air buffer when they came into contact with Kenney, who worked at the dealership.
Prosecutors say the men hit Kenney on the head with a hard object and then ran him over with a vehicle. Kenney was taken to U-M Hospital, where police questioned him on at least two occasions before he died from the injuries on Sept. 14. Roscoe, an ex-Democratic candidate for Putnam Township supervisor, wasn't arrested and charged in the case until 2011.
John Counts covers cops and courts for AnnArbor.com. He can be reached at johncounts@annarbor.com or you can follow him on Twitter.