Posted on
Thu, Nov 1, 2012 : 5:57 a.m.
Man pleads guilty to 2 restaurant robberies, home invasion
By Kyle Feldscher
The 36-year-old man who committed two robberies and was accused of breaking into three homes following his release from jail pleaded guilty to four felonies and no contest to two others Wednesday.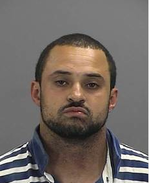 Courtesy of the Washtenaw County Sheriff's Office
Daniel Campbell, of Ann Arbor, pleaded guilty to armed robbery, unarmed robbery, possession of a firearm during the commission of a felony and second-degree home invasion as a part of a plea deal Wednesday. He also pleaded no contest to first-degree home invasion and another charge of possession of a firearm during the commission of a felony.
He's guaranteed to spend at least 12 years in prison — the deal called for a minimum of eight years in prison for the armed robbery charge and each charge of possession of a firearm during the commission of a felony carries a mandatory two-year sentence to be served consecutively to any other charges.
Campbell admitted he robbed an Ypsilanti Burger King on March 31 and an Ann Arbor Subway on April 3. In both instances, Campbell said he had a stick in his possession.
"I acted like I had a weapon," he told Washtenaw County Trial Court Judge Archie Brown, who accepted the plea deal.
A plea of no contest is not an admission of guilt. Instead, Campbell legally decided not to fight the charges against him. However, a plea of no contest is treated as a guilty plea for sentencing purposes.
Campbell was originally arraigned on a charge of home invasion on Feb. 3. Magistrate Thomas Truesdell gave Campbell a $10,000 personal recognizance bond, allowing him to leave jail for free as long as he promised to appear.
He didn't and was eventually arrested again on May 14 after he allegedly led police on a foot chase through the Huron River after breaking into homes in the 700 block of Kingsley Street and 1000 block of Fuller Street.
Before eventually accepting the plea deal, Campbell voiced his displeasure with Washtenaw County Assistant Public Defender Laura Dudley, who represents him. Campbell accused Dudley and her team of holding back information from him regarding his case and said he needed someone else to take over the case to give him a fair shot.
When Brown said Campbell could go to trial and argue his side of the story on the cases he believes are flimsy, the defendant responded by saying he needed to take the deal to limit his prison time.
"I have to take the eight years because I'm in a situation where I can't go to trial, your honor," he told Brown. "It's a no-win situation for me."
Dudley responded by saying she didn't want to make a comment other than Campbell is allowed to go hire any lawyer he wants.
Campbell is lodged at the Washtenaw County Jail. He pleaded Wednesday in only four of the six total cases he faces. He will return to court at 1:30 p.m. Nov. 28 on the other two cases.
Kyle Feldscher covers cops and courts for AnnArbor.com. He can be reached at kylefeldscher@annarbor.com or you can follow him on Twitter.