Posted on
Mon, Sep 17, 2012 : 6:38 p.m.
Man sentenced to more than 4 years in prison for groping West Willow girls
By John Counts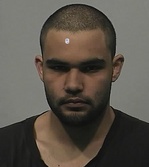 The 26-year-old Ypsilanti Township man who pleaded guilty to nine sexual assault-related counts was sentenced Monday to between four years, two months and 15 years in prison for groping girls in the West Willow neighborhood.
"I was wrong. It was corrupt," Daniel Bernard Jackson said about the sexual assaults when he appeared in the Washtenaw County Trial Court. "I'm going to get the help I need. I've given myself to God. I'm reading the Bible. I feel I do need a change."
In August, Jackson pleaded guilty to nine of the 13 counts he faced after attacking three girls on May 9 in West Willow. Before he was captured, police and school officials were on high alert. Willow Run Community Schools took precautions to make sure children could safely get back and forth to school.
The other four charges were dismissed in a plea deal. Judge Melinda Morris sentenced Jackson per the guidelines of the plea agreement.
Before the sentence was passed, there was a heated debate between the prosecution and defense about how the sentencing report should be scored.
Assistant Washtenaw County Prosecutor Blake Hatlem argued for a sentence on the higher end of the guidelines. He said during questioning, Jackson made remarks about how he was happy that he got Morris as a judge because she "cut him some slack" after a previous felony conviction. Hatlem also said Jackson made a comment about how all he did was sit around in prison and think of better ways to commit sexual assaults.
According to prison records, Jackson served sentences for fourth-degree criminal sexual conduct and resisting police in the past.
"He is a predator," Hatlem said. "I don't think he will ever be able to stop attacking women."
Hatlem was unable to convince the judge, however, that what Jackson did legally defined him as a "sexual predator" while he was committing the assaults. If that legal definition was met, Jackson's sentencing report could have been scored differently, which could have led to a longer sentence.
Stephen Adams, assistant public defender, said since Jackson didn't follow the girls around for a sustained period of time before the attacks, he wasn't legally a "predator" and it shouldn't be scored as such on the sentencing report.
Morris agreed and followed the guidelines set when the plea agreement was accepted.
"These were very fast strikes," Morris said.
The judge acknowledged the severity of the assaults, but said she was bound to follow the plea agreement.
"The girls involved are going to suffer a lot longer than you," Morris told Jackson.
The judge sentenced him to four years, two months and 15 years for three counts of unlawful imprisonment, two counts of second-degree criminal sexual conduct in the commission of a felony, a count of second-degree criminal sexual conduct involving a person under 13 and a count of second-degree criminal sexual conduct, assault. On a count of interfering with the reporting of a crime, he was sentenced to between four years, two months and 10 years. He was sentenced to between 42 months and five years on a second count of second-degree criminal sexual conduct, assault.
All sentences will run at the same time.
AnnArbor.com previously reported a 17-year-old girl was approached by a man on a bike as she walked to her school bus stop around 7 a.m. May 9 near Chevrolet Street and Studebaker Avenue.
As police were investigating that report, an 11-year-old girl told police a man matching the same description groped her chest before fleeing. Police soon received yet another call about a man with the same description attempting to abduct a different 11-year-old girl near Nash Avenue and Dodge Court.
Jackson was taken into custody a day after the Washtenaw County Sheriff's Office released a wanted poster featuring a picture taken by security cameras. A day after police questioned him, Jackson was placed under arrest and charged with the 13 counts.
A fourth incident was revealed in court when he entered his guilty pleas in August. In addition to the May incidents, Jackson also pleaded guilty to an April 16 assault on a woman at the Lakeshore Apartments in Ypsilanti Township.
Jackson said he "held her" and "touched her breasts."
John Counts covers cops and courts for AnnArbor.com. He can be reached at johncounts@annarbor.com or you can follow him on Twitter.