Posted on
Mon, Oct 22, 2012 : 5:45 p.m.
Shooting victim's mother says sentence of killer isn't long enough
By John Counts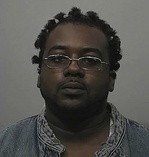 A 26-year-old Oak Park man was sentenced Monday in the Washtenaw County Trial Court to 15 to 23 years in prison for the December shooting death of a 21-year-old Ypsilanti Township man.
Kenneth Rooks, who pleaded guilty last month to second-degree murder in the death of Jonathon Claude Rollins, showed little expression as Rollins' mother and 5-year-old sister addressed Judge Melinda Morris' courtroom.
"My brother was a nice person. He was very kind to me. We would draw together. Jonathon taught me to fly a kite," 5-year-old Chelsea Cofield told the court. "I miss my brother very, very much. I think about him every day. I pray for him every night."
When Morris asked if Rooks had anything to say, he replied, "No, ma'am," the only words he spoke throughout the proceeding.
"He should have got longer," Rollins' mother, Claudia Cofield, told AnnArbor.com about the time Rooks will have to serve. "(My son) was a good person. He didn't deserve to die."
Claudia Cofield also addressed the court before sentencing was passed. She read notes from both Rollins' grandmother and older sister before reading her own. Other friends and family members openly wept in the courtroom as she read.
"My life will never be the same," Claudia Cofield told the court. "My son is gone. He was more than a son, he was a friend."
Sobbing, she took a long pause before resuming.
"I will never forget how affectionate and supportive he was," she continued.
Rollins was shot three times, twice in the body and once in the head, at an apartment on South Prospect Street in Ypsilanti on Dec. 21, 2011, Ypsilanti police said. The two men knew each other and had gotten into an argument around 2 a.m., police added.
"These are the most tragic cases the courts have," Morris said before passing sentence.
The prosecution was seeking 15 to 25 years while the defense sought 15 to 20, which was in the range of how Rooks was scored per state sentencing guidelines.
Rooks will get credit for 300 days served. On Sept. 10, he pleaded guilty to second-degree murder. Charges of possession of a firearm and felony firearm were dropped in the plea deal. Rooks' habitual offender status also was dismissed.
John Counts covers cops and courts for AnnArbor.com. He can be reached at johncounts@annarbor.com or you can follow him on Twitter.