Posted on
Wed, Jan 30, 2013 : 11 a.m.
Motion to remove judge from Scio Township murder case denied
By Kyle Feldscher
Washtenaw County Trial Court Judge Archie Brown will continue to preside over Jonathon Aiden's criminal case after a motion to disqualify him was shot down Tuesday.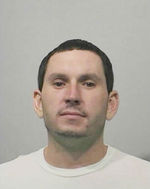 Courtesy of the Washtenaw County Sheriff's Office
Aiden is accused of working with Shane Roscoe to kill William Kenney during a break-in at a Scio Township car dealership in August 2006. Brown has served as the judge in the case since it was bound over to the Washtenaw County Trial Court in September.
Steven Tramontin, Aiden's attorney, brought a motion to disqualify Brown from the case in front of Washtenaw County Trial Court Chief Judge Donald Shelton Tuesday. Tramontin argued Brown was biased in the case because he already presided over Roscoe's trial. Roscoe was convicted in his case.
Tramontin said Brown showed his bias when he ruled statements from Kenney could be used at trial as evidence. Tramontin said Brown ruled Kenney's statements could be used at trial because Aiden is to blame for Kenney not being present to testify himself — a ruling Tramontin believed showed Brown believes Aiden is guilty.
"It's prejudgment, in our estimation," he said.
Kenney was killed when he interrupted an alleged break-in at the Jim Bradley Pontiac GMC dealership. According to police, Aiden and Roscoe worked at the dealership and were attempting to steal items. The two men allegedly killed Kenney because they knew he could identify them during a police investigation.
Roscoe is serving a life sentence for his role in the crime. Aiden is charged with open murder, safebreaking, breaking and entering with intent to commit a crime, conspiracy to commit breaking and entering and conspiracy to commit safebreaking.
Aiden was serving time in Florida for burglary when he was extradited to Michigan to face the murder charges last year.
Tramontin told Shelton he'd heard about contact between Aiden's family and Brown. That contact also concerned Tramontin, who worried that contact would bias Brown against Aiden. He also was upset with Brown's finding that motions filed in Aiden's case were not done in a timely matter.
Shelton was not impressed with the arguments. He asked Tramontin multiple times what kind of investigation he'd done into the allegations of bias and said there was not a reasonable amount of evidence to show Brown's judgment was skewed.
"I find it totally lacking any merit or any indication of bias," Shelton said.
Aiden's trial is scheduled to begin at 8:30 a.m. Monday, according to court records.
Kyle Feldscher covers cops and courts for AnnArbor.com. He can be reached at kylefeldscher@annarbor.com or you can follow him on Twitter.