Posted on
Thu, Nov 8, 2012 : 8:07 a.m.
New details emerge in case of Raulie Casteel, I-96 corridor shootings suspect
By Cindy Heflin
New details are emerging in the case of Raulie Casteel, charged in connection with the I-96 corridor shootings.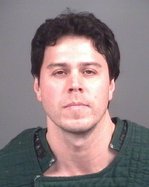 Casteel was charged Wednesday in connection with a shooting Oct. 18 in Livingston County, but police believe he is responsible for the string of 24 shootings that began Oct. 16 and spanned four counties in the Interstate 96 corridor. Only three actually occurred on the freeway.
Media reports have revealed that Casteel had complained about military helicopters flying low over his home, that his former roommate was shocked to discover Casteel is accused of the shootings and that it's not clear how the $102,000 reward offered in the case might be distributed.
Officials have also said they expect more charges to be filed soon in connection with shootings that occurred in Oakland County.
Reports Wednesday revealed that a Twitter feed under the name of "Raulie Casteel" is peppered with far-right, anti-government and pro-gun sentiments.
Casteel was arraigned on charges of firing from an automobile, assault with a dangerous weapon, discharging a firearm from a vehicle and three felony firearm possession charges. The judge Wednesday set bond at $2 million.
Here's a roundup of links to stories about new developments in the case:
Watch a Detroit Free Press video of Casteel's arraignment Wednesday: