Posted on
Tue, Nov 6, 2012 : 2:10 p.m.
Police confirm arrest of 43-year-old man in I-96 corridor roadway shootings
By John Counts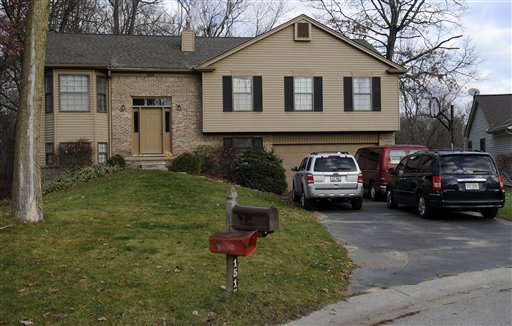 AP photo
This story has been updated with information from a report in the Detroit Free Press revealing the man's name.
A 43-year-old Wixom man was arrested in connection with the I-96 corridor shootings reported in Oakland, Livingston, Ingham and Shiawassee counties the past few weeks, police confirmed Tuesday afternoon.
A news release issued Tuesday by the task force comprised of the 10 law enforcement agencies investigating the 24 shootings, said the man drove a vehicle witnesses have described to police.
"The arrest was the result of information derived during the investigation over the past few days," the release said.
The Detroit Free Press is reporting the man's name is Raulie Wayne Casteel. According to the report, Casteel may suffer from mental illness.
Members of the task force arrested Casteel at his residence Monday night after a search warrant was executed in Wixom in the area of Loon Lake Road and Kings Crown Court, MLive reported. This corroborates earlier media reports that indicated police executed a search warrant at the home Monday.
"Potential evidence has been seized during this arrest and will be evaluated by our crime laboratories," the release continued. "Additionally, the suspect is known to have driven a vehicle matching the vehicle description provided by one of the victims."
Authorities were not releasing any more information pending more investigation. Prosecutors from four counties and the U.S. Attorney's Office will also have to look into the evidence to determine possible charges, according to the release.
MLive reported that while a press conference related to the arrest has not been announced, Ingham County Sheriff Gene Wrigglesworth said he will be available to receive questions from the media at 3 p.m. Tuesday.
Police have already sifted through more than 2,800 tips. Regardless, the task force encourages citizens to report any information leading to potential suspects.
Anonymous tips can be reported to 1-800-SPEAK-UP. Tips can also be reported to any local police agency. There is a $102,000 reward for information leading to an arrest and conviction.
Police said they think Casteel was using a handgun. Evidence has been collected linking nine of the shootings to the same gun. One victim suffered a nonfatal gunshot wound to the buttocks. Authorities believe Casteel was shooting from a moving vehicle in most of the reported instances, according to MLive.