Posted on
Wed, Aug 17, 2011 : 12:11 p.m.
Police search for man charged in Ann Arbor bank robbery
By Lee Higgins
Ann Arbor police are searching for a man accused of robbing a PNC Bank branch Monday on Washtenaw Avenue.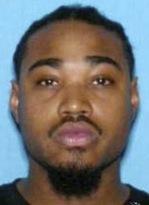 Andre Keith Woodson
, 24, was charged today with
bank robbery
and
armed robbery
, Det. Bill Stanford said.
Woodson is accused of walking into the bank at 3252 Washtenaw Ave., at 9:56 a.m., implying he had a weapon and passing a note to a teller, demanding money. Ann Arbor police officers spotted him in Detroit on Tuesday, but were not able to apprehend him, Stanford said.
Woodson is described as black, 5 feet, 10 inches tall and weighing 190 pounds. Anyone with information can call Stanford at (734) 794-6930, ext. 49318 or (734) 323-2628.
Stanford said police have no reason to believe the robbery is related to another bank robbery that occurred about 20 minutes later at a Bank of America branch in Ypsilanti Township.
Police have offered a $5,000 reward for information leading to an arrest and conviction in the case.