Posted on
Fri, Dec 21, 2012 : 3:28 p.m.
Police boost patrols around schools in Ann Arbor area in wake of Connecticut shooting
By Kyle Feldscher
A week after the mass shooting in Newtown, Conn., and the day some people thought would be the end of the world, police increased their patrols around Washtenaw County schools in an attempt to put citizens at ease.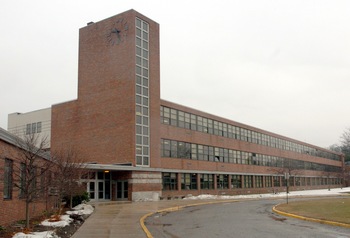 Reports of a lockdown at Pioneer High School in Ann Arbor turned out to be untrue Friday, but the sight of police cars outside other Washtenaw County schools was not uncommon Friday.
Ann Arbor schools spokeswoman Liz Margolis said the district worked harder to make sure perimeter doors to school buildings were locked, something schools are supposed to do as a matter of policy. The increased security measures apparently led some to believe Pioneer was in lockdown Friday.
"We've had a higher police presence in our schools this week because there are no liaison officers any more," she said. "They've been rotating around and we had one rotating at Pioneer this morning."
It was a similar story in many other county school districts, where the excitement over the last day of school before winter break also drew extra patrols.
In Ypsilanti Township, Washtenaw County Sheriff's Office deputies stepped up patrols at some Ypsilanti Public Schools, said Sgt. Geoffrey Fox. He said patrols were increased because it was the last day before winter break.
Chelsea Police Chief Ed Toth said his department had increased patrols around schools in the city during the week as a precautionary measure. For Toth, the goal was to make the community feel a little bit safer as people tried to come to terms with the massacre in Connecticut.
Toth said he spent some of Friday patrolling schools' parking lots and hoped the increased police presence would make students and families feel safer.
"It's just talk around town and, when you have that going on, you do a little extra to make people feel safe," he said.
A Chelsea High School student was arrested in Waterloo Township Friday after making a threat toward a specific teacher, but other than that, there have been no incidents in Chelsea, Toth said.
While families continue to wrap their minds around what happened in Newtown, Toth said the police have to do whatever they can to reassure people of their safety.
"It's a horrific situation. It's something that's terrible and we can't understand it and we're trying to figure out why," he said. "We just try to keep the community as safe as possible."
Kyle Feldscher covers cops and courts for AnnArbor.com. He can be reached at kylefeldscher@annarbor.com or you can follow him on Twitter.