Posted on
Mon, Feb 11, 2013 : 5:57 a.m.
Surviving a nightmare: A woman and her husband continue to recover from her brutal rape
By Kyle Feldscher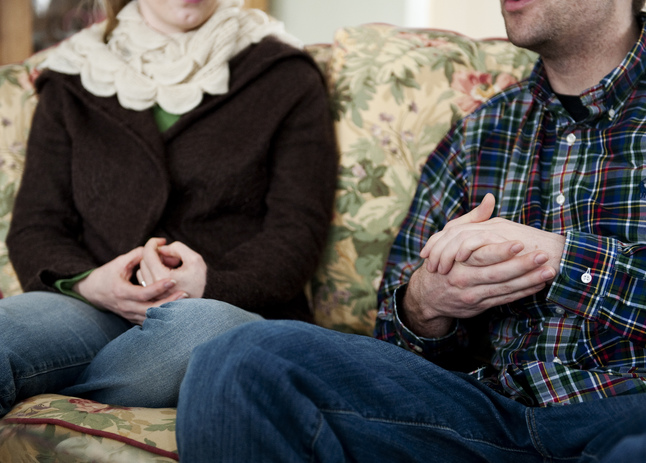 Daniel Brenner | AnnArbor.com
Editor's note: AnnArbor.com is not naming the survivor and her husband to protect their anonymity.
She was asleep in her bed, earplugs in and eye mask on because the people who lived above her apartment could sometimes be noisy.
He was on a balcony upstairs, having a cigarette after returning home from having a couple of drinks with a friend.
And, Marcus Wilson was in their bedroom, rifling through their possessions and about to make a decision that would change their lives and so many others around them.
"My very first memory of anything that night … was literally hands around my throat," she said.
"I knew he was behind me because his thumbnails were digging into the back of my neck in a way that this wasn't good. It's amazing, straightaway I fought, straightaway. In a way it was kind of surreal — because I was blind from my eye mask and deaf from my earplugs, it was even more surreal.
"I couldn't hear his breathing, I couldn't hear a thing. All I had to go on was this force around my neck. I struggled. I really struggled."
Wilson raped her early on July 3 on the floor of their bedroom in the basement apartment in the 1200 block of Oakland Avenue in Ann Arbor. She said he dragged her out of bed by the neck, put her onto the floor and bent her in such a way that she's going to need medical treatment for the rest of her life.
Her husband walked in on it after she faintly called out his name. He saw Wilson's sweat-drenched face looking at him with a unfeeling stare. Wilson told him he had a gun and the husband sprinted from the room, trying to arm himself with anything he could find to stop what was happening. He couldn't stop it, and that will haunt him for the rest of his life.
Wilson pleaded guilty to first-degree criminal sexual conduct and two counts of home invasion. He'll serve 20 to 30 years in prison.
This is a story about one of the worst things that can happen to a couple. This is a story about how one man's decision turned their lives upside down. This is a story without an ending, because as much as they say they won't think about it and that the healing has started, it's impossible to experience something this traumatic and simply be OK afterward.
This is a story about the worst of humanity. But, this is also a story about the best of it.
The first 48 hours
From the outside looking in, the logical next step would be to call the police.
Wilson choked the woman until she passed out — something she believed saved her life, because she was forced to stop fighting. She said she believes he would have killed her if she continued to struggle.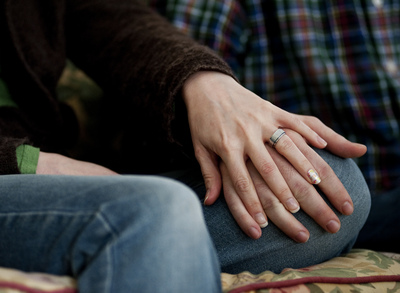 Daniel Brenner | AnnArbor.com
When she came to, she was exhausted. The oxygen stopped going to her brain, as did her blood. She said doctors told her it's the equivalent of a mini stroke. All she wanted to do was go to sleep.
"You're not in your right mind. All the things you'd normally do go out the window," she said. "I like to put it down to that. I'm rational and reasonable."
Her husband, then her fiance, said he walked into the room and saw Wilson's face illuminated in the dim light of the screensaver of his laptop. He ran to the kitchen, got a knife and returned to find her naked on the ground, barely alive. Wilson was gone.
He decided not to chase after Wilson, instead tending to his wife and checking her for signs of life. He found a pulse and started shouting her name. Eventually, she woke up but it was another 25 minutes before she really came to.
Ann Arbor Police detective Dan Iverson, the lead investigator on the case, said Wilson fled the way he entered, through a window where he removed an air conditioning unit. In the alley next to the house, Wilson took off the condom he wore when he raped the woman and dropped it on the ground. It would soon become a key piece of evidence.
Wilson called a friend to pick him up at a nearby parking structure. Covered in sweat and breathing hard, Wilson told his friend he had just gotten into it with a woman, Iverson said.
It was about a full day until the woman's husband started telling her they needed to report the incident. She was dubious.
"Generally, anyone else would say, 'Of course, call the cops, I've been assaulted, someone's broken in,'" she said. "In my delirium, I wondered 'This is Detroit, would somebody actually care? Is this of interest to anybody?' I couldn't really see … it was as though I lowered my importance."
The couple thought of any excuse they could to not report the crime — their roommates might get mad, they didn't want to have to keep reliving the incident and, at that point, they didn't know if Wilson had actually raped the woman. She was unconscious and her husband was out of the room. They convinced themselves Wilson never got around to it and was interrupted.
"I convinced myself so desperately that it hadn't happened, he hadn't got around to it," she said.
"We couldn't wrap our minds around it"
Washtenaw County Assistant Prosecutor Blake Hatlem said it best at Wilson's Jan. 31 sentencing: This kind of crime is so brutal, so disturbing, that TV crime shows don't make it a plot line. People don't want to believe it happens.
That includes Iverson and the Ann Arbor police.
"There was skepticism on the law enforcement part because they took so long to report it," he said. "We couldn't wrap our minds around it. It's a nightmare situation."
After reporting the incident, the police arrived at their apartment in minutes, the victim said. Her husband immediately became a suspect, something he still tears up at when asked about.
However, after passing a polygraph exam and the discovery of the used condom about 30 feet down the alley next to the house, his name was cleared.
"I just had to remind myself that this thing would bring peace of mind to myself and my wife," he said. "I'm not a mercenary. I don't have the resources to go out and find these people. I don't have access to a genetic database. I said, 'If I have to be treated like a suspect, even amidst watching this horrific scene happen, it justifies the ends.' I knew it was something I had to do."
The first week was filled with interviews, medical tests and unannounced visits from investigators, who were still skeptical of the story. The woman said she's sure police thought she and her husband conjured up the story during the delay. But police soon realized what they were dealing with.
It was a team effort to track down Wilson. Sgt. Earle Fox and detective Dave Monroe assisted Iverson at the scene. Soon, they had an idea of where to go next.
There was a pattern of break-ins in the area around the couple's apartment: On Monday nights, someone was taking air conditioning units out of windows, entering homes and stealing items. They were always first-floor apartments and, on occasion, women woke up to find a man standing in their room. He'd run away once they saw him.
One home invasion on June 19 in the 700 block of South Forest Avenue gave police a huge break. While dusting the home, officer Rob Schneider got a clear fingerprint on a bottle of Grey Goose vodka and a glass.
"He couldn't help but go to the Grey Goose vodka and pour a glass," Iverson said.
The prints matched ones taken from the couple's apartment and, running them through the department's system, they matched Wilson. Wilson was in the Washtenaw County Jail serving time for unlawful driving away of an automobile.
Detective Gerald Tacey questioned Wilson about an armed robbery at a local Shell gas station; Wilson denied being involved. The two of them were leaving when Wilson asked them if they wanted to talk about the home invasions.
Detectives interviewed Wilson in the jail about the break-ins, and he eventually confessed to the home invasion on South Forest Avenue. Wilson had no DNA on file, so police had to get a search warrant to see if he was a match to the rape case. The Michigan State Police Crime Lab moved the case to the top of its priority list.
"He freaked out," Iverson said. "He wouldn't open his mouth."
Iverson told Wilson that the woman told police she was brutally beaten.
"He says, 'No, that's not true. I put my hands around her neck but I didn't brutally beat her,'" Iverson said.
Wilson detailed the crime. Police now had fingerprints, DNA and a verbal confession to the incident. Wilson was formally charged on Oct. 4.
Coming to grips
While police were investigating, the couple started thinking that the man who attacked her would not be brought to justice.
"I'd lost hope about three weeks from the incident," she said. "I thought we're not going to get this guy. I was resigned that they may not catch him and I'd just live with that."
The woman and her husband were married exactly one month after the rape in a small ceremony that came down to paperwork. They met on a Facebook debate page and started their relationship trading messages back and forth for months. Eventually, they started using Skype, and she took a 10-day trip to Michigan during the winter of 2012 to visit. She knew then they were going to be married.
She sold her florist business and moved to Ann Arbor in May. By August they were married.
After their lease in Ann Arbor ended, they moved to Detroit, where the rent was three times as high. Eventually, her three-month visa for visiting the United States ran out. She became a temporary resident and traveled home to tell her parents about what happened.
She traveled home alone. Her husband was concerned she'd never come back.
"In the back of my mind, I'm like, 'What if she doesn't come back?'" he said. "With this experience and these memories, she'd have all the reason in the world."
Seated on a couch at his parents' home in Royal Oak recently, he choked up at the thought. She looked at him with loving eyes and a slight smile, as if she couldn't believe he had the thought.
"It was really hard," she said, looking directly into his eyes. "We're married, of course I'm coming back. And he'd say, 'Why would you want to come back?' Because I love you!"
They have each other, but they have no explanation for why Wilson did what he did. He declined to say anything in court when he was sentenced.
Police told her Wilson never followed her, that it was simply a crime of opportunity. The couple spent a lot of time trying to imagine what could have been going through his mind. After all, what could make a person leap from breaking into an apartment to maybe steal some laptops to raping a sleeping woman?
"To literally walk around that room and look through our things, I wonder about his thought process in that period of time," she said. "To realize I hadn't been followed, that was a piece of the puzzle I was glad to find out."
She added, "he's never shown one second of remorse, body language-wise or verbally. He was actually asked if he was sorry for what he did and he shrugged. I think he's sorry he got caught, but not for what he did."
They don't ask why it happened to them. It's an unproductive question, he said. The thing that gives them comfort is Wilson's prison sentence.
An uncertain, but hopeful, future
The court case is wrapped up and Wilson is now serving time behind bars. His future is set in stone for at least two decades, but the couple is still wondering what will become of them.
This is where the best of humanity steps in.
The couple had to break their lease in Detroit because the woman's savings — about $10,000 — ran out in the fall. Her husband had a few job offers in July, but the frequent police interaction and court dates meant he wasn't able to take them at the time.
The couple has pre-existing medical conditions — they're both insomniacs and he suffers from depression — that require them to take prescription medication. She said they were saddled with a $1,087 bill from the University of Michigan Hospital for her treatment after the rape. Each time she sees a doctor about the torn ligaments and pinched nerves in her hip, neck and shoulder, she leaves with a $400 bill.
SafeHouse Center sent someone to touch base with her after she reported the rape, she said. After describing the incident, the worker broke down in tears. The woman hasn't gotten back in touch with SafeHouse, she said, because she needs someone who can handle her case.
"There are things we've learned to deal with, but that doesn't mean they're processed properly," she said.
Barbara Niess-May, executive director of SafeHouse, said Friday she couldn't comment on the specific case but encouraged all survivors of sexual assaults to contact the organization.
"We strive to meet the needs of all the survivors we serve, from crisis to empowerment," she said.
However, help would soon be on the way from AnnArbor.com readers.
After AnnArbor.com reported on Wilson's sentencing and the woman's emotional statement, a PayPal account was set up for people who wanted to donate money. In one weekend, supporters chipped in more than $800. Last week, someone sent the couple $500.
"I'm really overwhelmed by that," she said. "I'm thanking each person individually as they donate."
She encourages parents to teach their daughters some sort of self-defense because it can happen to anyone at any time. The couple is adamant that anyone who experiences something like this should contact the authorities immediately, regardless of the excuses they think up.
"If something happens like this, you have to call the police," he said. "There's no good reason not to call the police. My consolation is that this guy was caught and he would not be going to prison if we didn't call the police. It would just sit and fester and destroy our relationship."
The couple said Wilson's picture doesn't scare them anymore and the pain of the incident is receding. They're looking forward to going back to her home and introducing her husband to her parents for the first time.
She said the end of the case has given them their freedom.
"The night after the case ended was the first time we both slept through the night," she said. "It was a miracle for us, but it showed me how heavily it had been weighing on us. I underestimated its weight on my mental state."
Kyle Feldscher covers cops and courts for AnnArbor.com. He can be reached at kylefeldscher@annarbor.com or you can follow him on Twitter.