Posted on
Tue, Feb 12, 2013 : 3:55 p.m.
Trial date set for teenager charged in Pioneer-Huron football brawl
By Kyle Feldscher
The teenager charged with four counts of assault in the post-game brawl between the Pioneer and Huron High School football teams last fall is set to stand trial in April after his lawyer and prosecutors could not come to a resolution.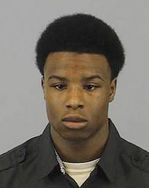 Courtesy of WSCO
Bashir Garain, 18, Ann Arbor, was in court for a pretrial hearing Tuesday afternoon. The hearing came two weeks after his attorney, Walter White, said evidence received from prosecutors could result in the case being resolved.
However, White said Tuesday a resolution was not reached, but discussions would continue as the case moves toward an April 1 trial date.
"This matter has not been resolved," White said.
Garain is charged with two felony counts of assault with a dangerous weapon and two misdemeanor counts of assault and battery. His next court hearing is a final pretrial at 1:30 p.m. March 19 in front of Washtenaw County Trial Court Judge Donald Shelton.
Police said Garain attacked two players with a crutch during the Oct. 12 brawl between the two rivals. White has previously said Garain is innocent. Police released a video showing a man they say is Garain swinging the crutch toward players during the fight.
Garain was formally charged in the case in November and has been free on a personal recognizance bond since he was arraigned.
The incident started when the coaches from both teams converged near midfield after the game at Huron High School. Vince Wortmann, a Pioneer assistant, shoved Huron head coach Cory Gildersleeve because Wortmann thought Gildersleeve was physically threatening Pioneer head coach Paul Test. The Pioneer head coach alleges Gildersleeve was pushing him.
All three men are no longer coaches — Wortmann was fired for his actions, and Gildersleeve and Test both resigned after the season. Prosecutors declined to pursue charges against Wortmann because he believed he was acting in defense of Test when he pushed Gildersleeve.
Two other Pioneer players have been charged in the case. However, they are both juveniles and the details of their cases are not being released to the public.
Kyle Feldscher covers cops and courts for AnnArbor.com. He can be reached at kylefeldscher@annarbor.com or you can follow him on Twitter.