Posted on
Thu, Jan 31, 2013 : 6 p.m.
Woman to her rapist: 'Nothing can vindicate your actions'
By Kyle Feldscher
A woman stood feet away Thursday from the man who pulled her out of bed, choked her until she was unconscious and then raped her. She spelled out for him what it meant to be raped.
"I still believe in the ultimate kindness and goodness of most humans, but this event has left me altered somehow," she said. "I will not say broken, for I would never allow you that power, although for some time now broken is how I've felt."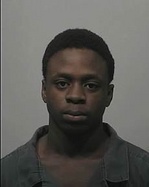 Courtesy of Washtenaw County Sheriff's Office
The woman stood at the lectern in the middle of the small courtroom at the Washtenaw County Circuit Court. To her right was Marcus Wilson, an 18-year-old man who admitted to breaking into her apartment in Ann Arbor and raping her on July 3. The woman recounted how Wilson dragged her out of her bed, choked her until she was unconscious and then raped her on the floor of her bedroom.
She told him there would be no sympathy for him, regardless of his past or upbringing. She told him he would be considered "three levels below pond scum" in prison, where he will spend the next 20 to 30 years. She told him he'd done something that was unredeemable.
"You entered somebody else's space with the already-shocking intention of committing theft, and you ended up choosing to rape a sleeping female," she said. "The concept of this is so disgusting I can hardly bear to verbalize it. Home invasion is one thing, asphyxiating a female into unconsciousness and possible death to violate her sexually is another.
"The justice system will undoubtedly see you are duly punished for both. This is not only an act of hatred towards women, but an act of war against innocence, and a crime against your own sex. You have performed an injustice to all decent men."
Wilson was sentenced to 20 to 30 years in prison for first-degree criminal sexual conduct after pleading guilty earlier this month. That sentence will run concurrent to a sentence of 5 years and seven months to 15 years for second-degree home invasion and 11-and-a-half years to 20 years for first-degree home invasion.
He'll be required to pay $3,000 in restitution to the woman, in addition to $716 in court costs and fees. Melinda Morris, a recently retired judge who was filling in for Washtenaw County Trial Court Judge David Swartz while Swartz undergoes an operation, handed out the sentence.
AnnArbor.com is not using the woman's name because she is the victim of a sex crime.
In measured and emotional terms, the woman explained how her life and that of her husband had been altered since July 3. On that night, Wilson removed an air conditioning unit from the window and entered the bedroom intending to steal items from the home. Instead, he found the woman — whom he did not know — sleeping in her bed.
She detailed how sorry she felt for her husband, who entered the bedroom to find Wilson violating her on the floor. She said Wilson told her husband he had a gun before fleeing on foot. The woman told Wilson he should be glad her husband wasn't able to get his hands on him.
"To be threatened with the possibility of you being armed with a gun, as you told him you were, the combination of utter panic, fury and frustration he felt must have been unspeakable," she said. "He had no idea if I was dead or alive."
Police have described Wilson's act as the nightmare version of rape. Washtenaw County Assistant Prosecutor Blake Hatlem said Thursday that TV crime shows have more tact than to detail this kind of brutal incident.
The woman told Morris the rape has deeply affected her and her husband.
The woman is not a United States citizen and is not eligible for health insurance. She told Morris she suffered permanent damage to the ligaments and nerves in her hip, shoulder and back during the rape and she'll need medical treatment for the rest of her life.
The medical bills from her time in the hospital following the rape have so depleted the couple's finances that they've been forced out of their Ann Arbor apartment and now live with her husband's parents, she said.
"I rage at the fact you damaged me completely unnecessarily," she said. "How dare you feel you have that right over another person. However, I suspect the experiences awaiting you in prison will help you understand what it's like to be damaged by another person, if you don't already know."
The woman ended her statement saying that she hoped he would get the education and rehabilitation in prison that would allow him to build "a decent human being out of the devastation you've created for yourself."
Before sentencing, Morris asked Wilson if he had anything to say. Wilson held the same empty stare that was cemented on his face from the moment he entered the courtroom and looked at the gallery.
"No," he said.
Kyle Feldscher covers cops and courts for AnnArbor.com. He can be reached at kylefeldscher@annarbor.com or you can follow him on Twitter.