Posted on
Tue, Apr 12, 2011 : 10:15 a.m.
DDA and city of Ann Arbor at odds over total of $2.1 million, records show
By Ryan J. Stanton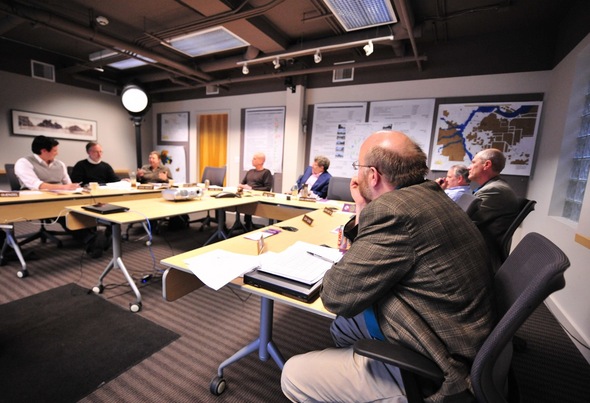 Ryan J. Stanton | AnnArbor.com
The city of Ann Arbor in recent times has come to rely on payments of about $3 million a year from the Downtown Development Authority to help keep its general fund budget afloat.
That's about $1 million more than contracts have called for, but city officials have gotten used to the accelerated funding and see no reason to disrupt city services by greatly reducing that amount now.
But after several months of close talks, negotiations between the city and the DDA over a new parking agreement are progressing slowly. The city insists on getting a greater share of downtown parking revenues than the DDA is willing to give up.
"The scenario that's being presented from the DDA right now, the one that I don't agree with, certainly would cause further problems in the third year," said Mayor John Hieftje, adding the DDA's plan could lead to further cuts to city police and fire services.
City Administrator Roger Fraser acknowledged the standoff between the city and the DDA in his budget presentation Monday night, also making note of the fact that parking system revenues are projected to increase by more than $6 million over the next nine years.
The DDA has managed the city's off-street public parking, including downtown parking garages, since 1992, and on-street metered parking since 2002. In all, the parking system has about 7,100 spaces, which are expected to bring in more than $16 million next year.
The DDA upped its previous offer in negotiations last week and proposed transferring a flat 16 percent of downtown parking revenues to the city each year through 2019-20.
According to DDA figures, total transfers to the city under that scenario would equal $2.52 million next year, progressing to $2.83 million in the third year and topping out at $3.48 million in 2019-20 if current revenue projections hold true.
But Hieftje and other city officials want to see transfers start at 16 percent and tick up to 17.5 percent in the third year, and then continue at that level. Under that scenario, the DDA estimates the city would collect $3.09 million in the third year and $3.81 million in 2019-20.
According to DDA figures, the difference between what the city is asking and what the DDA wants to give amounts to about $2.1 million over the next nine years. Starting in 2013-14, the difference is about $260,000, progressing to $330,000 by 2019-20.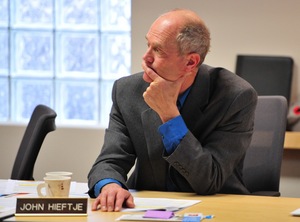 Ryan J. Stanton | AnnArbor.com
"We need to be prepared to deal with those shortfalls in these coming years," Fraser told council members during Monday night's budget discussion. "You're talking about a net reset in terms of the amount of money you're getting from the DDA."
If the DDA sticks to the flat 16 percent figure, the biggest hit to the city's budget would come next year when the annual payments drop for the first time from $3 million to $2.52 million, according to figures provided by the DDA. That's a structural hit to the city's budget that appears unavoidable under either scenario.
For now, until negotiations are finalized, Fraser's proposed budget assumes the city will lose nearly $430,000 in funding from the DDA next year. CFO Tom Crawford said today that number may need to be modified upward before the council approves the budget in May.
DDA board member Roger Hewitt, who sits on the DDA's Mutually Beneficial Committee that is in negotiations with the City Council's Mutually Beneficial Committee, sought feedback from the DDA's governing board last Wednesday on where to take negotiations next. But the nine board members present for the discussion struggled to come to a consensus.
Hieftje, who doubles as a DDA board member, said downtown Ann Arbor would be affected if the city ends up having to cut services further, and the DDA — as an arm of the city — should be doing as much as it can to help the city financially in these trying times.
On the other hand, DDA officials are concerned the authority's cash reserves could run too low if it gives in to the city's demands. Under the city's favored scenario, the DDA's fund balance would dip to less than $1.8 million — or 7.4 percent of budget — in 2014-15. Under the DDA's favored scenario, it would remain a healthier $2.7 million, or 11.5 percent of budget.
Hieftje said he isn't worried about the DDA's fund balance sinking low because it's backstopped by the city's fund balance, which is relatively healthy. He also said he thinks the DDA is grossly underestimating future property tax revenues considering a number of downtown developments are going to be coming on line in the near future.
The DDA expects to collect $3.9 million in property taxes next year, a figure expected to tick up to about $4.6 million by 2019-20. Hieftje thinks it will grow faster than that.
City Council Member Sandi Smith, who doubles as a DDA board member along with Hieftje, favors a third option that hasn't attracted as much discussion. It calls for a transfer of 16 percent of parking revenues each of the next five years, and 17.5 percent the following four.
Smith said that would allow the DDA to maintain a relatively healthy fund balance, while giving the city a little extra above the flat 16 percent proposed by the DDA.
"What I want is the city to be healthy, to be able to grow," Smith said. "I also want the city to have an economic development partner downtown."
Ryan J. Stanton covers government and politics for AnnArbor.com. Reach him at ryanstanton@annarbor.com or 734-623-2529. You also can follow him on Twitter or subscribe to AnnArbor.com's e-mail newsletters.