Posted on
Tue, Mar 8, 2011 : 5:59 a.m.
DDA playing hardball with city of Ann Arbor in parking agreement negotiations
By Ryan J. Stanton
Ann Arbor City Council Member Christopher Taylor says negotiations between the city and the Downtown Development Authority have been "frank and fruitful."
"There is some progress," Taylor said. "But also there are some points of contention that we'll continue to have conversations about."
Taylor, D-3rd Ward, addressed his colleagues Monday night and asked for another postponement of a resolution agreeing to a so-called parcel-by-parcel plan — one of two areas of mutual interest being discussed by the city and the DDA.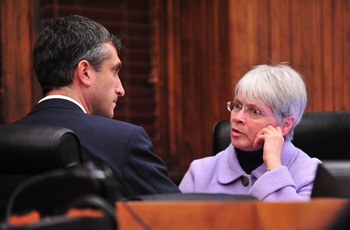 Ryan J. Stanton | AnnArbor.com
The resolution, which was postponed once before in January, would authorize the DDA to develop an implementation plan to redevelop downtown parcels owned by the city. It also outlines a new city request-for-proposals process involving the DDA.
The four-week postponement comes so the city's Mutually Beneficial Committee — which includes Taylor and Council Members Margie Teall and Carsten Hohnke — can examine the DDA's latest request for a more formal agreement on the parcel-by-parcel plan.
"The DDA Mutually Beneficial Committee proposed that the parcel-by-parcel plan be subject to a contract between the city and the DDA," Taylor said. "This was a novel proposal — a proposal which had not been previously brought to the city's Mutually Beneficial Committee. And so that's, I think, one reason why it's suitable for postponement."
After nearly a year of talks, DDA and city officials also have yet to reach a deal on a new agreement spelling out each party's role in management of the downtown parking system.
That was apparent last week when the DDA passed a new two-year budget absent a sizable transfer of parking revenues to the city. DDA officials say they'll amend the budget to include those payments if and when a new parking agreement is agreed upon.
Records show the city received about $2.9 million in payments from the DDA last fiscal year and nearly $3 million is budgeted for the current year. That includes a flat $2 million transfer of parking revenues, as well as other contractual payments.
The DDA's budget shows most of that money going away July 1. But the DDA is proposing a deal where the city could receive as much as $2.26 million — or 14 percent of annual parking revenues — if the city agrees to the DDA's parking agreement terms.
The city is pushing for a 10-year agreement where, in the first two years, the city would be paid 16 percent of parking revenues. In the last eight years, the city would be paid 17.5 percent. But the DDA proposes starting out at 14 percent, and moving up to 15 percent.
"Those two figures have been relatively rigid for some time," Taylor said. "That is to say, the city has been continuing to request 16-16-17.5 and the DDA has continued to offer 14-14-15. And that's the way it has been for some time, and that is ongoing."
Taylor pointed out that would mean a loss of more than $700,000 from what the city has been used to getting from the DDA in recent years.
He said the city already expected to see its payments from the DDA drop by about $350,000 for the next fiscal year. He told City Administrator Roger Fraser Monday night it might be wise to take into account the possibility of losing another $350,000.
The city has gotten used to inflated payments from the DDA in recent years. Under the last parking agreement negotiated between the two sides, the DDA was expected to transfer $1 million a year to the city over a 10-year period ending in 2015.
The agreement allowed the city to opt to take a pre-payment of an extra $1 million per year at its discretion. The city chose to do that for five years straight and, by last year, had depleted the entire $10 million worth of the contract five years early. And then city officials wanted the $2 million payments they were used to getting from the DDA to keep coming.
Taylor acknowledged his frustrations that the city and the DDA have yet to come to terms after nearly a year of talks. A deal was expected to be reached by the end of last year.
"I had certainly hoped that this would have been done much earlier," Taylor said. "I still believe we will reach a satisfactory accommodation on all fronts. I continue to believe that members of the DDA with whom we're negotiating — as well as the others — are approaching the issues in good faith, and we'll come to a place that will be to the benefit of us all."
Council Member Marcia Higgins, D-4th Ward, said she still has concerns about the parcel-by-parcel resolution that she wants to see addressed.
Higgins and other council members expressed concerns in January with a provision in the resolution that would put the city on the hook for costs incurred by the DDA if it goes through an RFP process and the City Council decides not to approve a project.
"I hope that when it comes back again that some of those discussions are taken into consideration and we see a different document in front of us," Higgins said.
Ryan J. Stanton covers government and politics for AnnArbor.com. Reach him at ryanstanton@annarbor.com or 734-623-2529.