Posted on
Thu, Jun 7, 2012 : 2:59 p.m.
DDA offers incentives to encourage parking in downtown Ann Arbor's new underground structure
By Ryan J. Stanton
Have you thought about parking underground lately? Ann Arbor Downtown Development Authority leaders want you to give it a try soon.
And they'll make it worth your while.
With the new Library Lane parking structure set to open next month, DDA leaders are rolling out the first substantive experiment with differential parking rates in the downtown.
For the next two years, monthly permits in the new underground structure will sell for $95 a month. That'll be a $60-a-month savings for monthly permit holders who move over from Liberty Square or Maynard, where monthly rates jump from $140 to $155 on Sept. 1.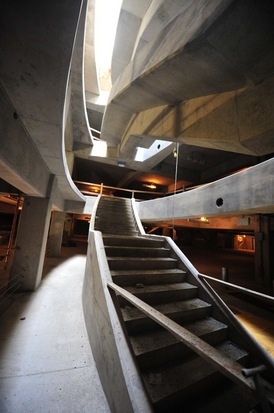 Ryan J. Stanton | AnnArbor.com
"It's our first real aggressive experiment," said DDA board member
Roger Hewitt
, a downtown business owner.
"It's a perfect time to do it, now that we have a new structure to experiment with, and we'll certainly report on what the results are."
Hewitt said the plan isn't designed to raise revenue, but rather influence behavior and better manage parking demand in the downtown.
The Liberty Square and Maynard structures have the highest demand of any of the city-owned parking facilities that the DDA manages.
"Frequently the Maynard structure does fill up in the middle of the day and people actually have to wait to get in. Liberty Square is also very near capacity," Hewitt said. "So we're proposing a number of demand management strategies to try to address that."
Mayor John Hieftje is embracing the plan, calling it a good first step as the DDA considers more ways to free up parking in high-demand retail areas.
"Demand management has been the cutting-edge practice around the country with DDAs with parking districts, and I think it's high time that we took a hard look at it," he said.
"And what it means is you make it a little more expensive to park in the very high-demand areas and you make it cheaper for those people to move over to an area like the new structure."
The DDA manages the city's 7,200-space parking system, which includes six structures with about 4,300 spaces, 18 lots with about 1,200 spaces and about 1,700 on-street metered spaces.
The DDA already was scheduled to raise the monthly parking permit rate at Maynard and Liberty Square from $140 to $145 on Sept. 1. The extra $10 hike was recently decided as part of the incentive program to get people to move over to the new structure.
The DDA plans to hike the rates again next year for Maynard and Liberty Square to $160 a month, following the thinking that the price difference between the new structure and the high-demand structures should be dramatic enough to truly incentivize a change in behavior.
The DDA also is planning to add hourly parking back into the Liberty Square parking structure starting Sept. 1 to relieve some of the hourly parking demand in the Maynard structure.
Right now the Liberty Square structure, accessible off Washington Street east of Division, is open only to monthly permit holders during the day.
Hewitt said there about 700 monthly permit holders in Maynard and Liberty Square. Maynard, with 805 spaces, brought in $234,145 in revenue in April. Liberty Square, with 592 spaces, brought in $140,569. Together they accounted for 25 percent of all parking revenue.
DDA officials are expecting it to be a while before the general public catches on and takes advantage of the new structure, accessible off Fifth Avenue near Liberty Street, so they're hoping the discount rate will help jump-start that process.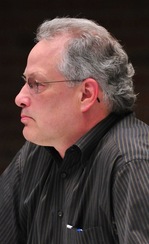 "Our experience is when you open a new parking structure — above ground, below ground, it doesn't matter — it doesn't really get used much for the first couple years," Hewitt said. "It takes the public a couple years to find it and find the convenience of it and start using it."
Because the DDA doesn't expect the Library Lane parking structure to have a lot of use initially, Hewitt said, "they would probably be spaces that would otherwise be empty."
The DDA plans to offer the same $95-a-month incentive to new users of the parking system as they sign up for monthly permits.
However, because the DDA is not working to move people from elsewhere in the system — such as the Fourth and William or Ann and Ashley structures — other monthly permit holders will not be offered a discount. They'll pay $145 a month beginning Sept. 1.
But in hopes of encouraging new retail and office business in the Liberty Street area, where there are a number of commercial vacancies, the DDA plans to provide the special rate to any new businesses that were not located in downtown before May 1.
DDA officials also are planning to improve signage between the State Street area and the new Library Lane parking structure to direct motorists.
Nader Nassif, the DDA's newest board member, said he's toured the new underground parking structure and he's impressed with it.
"It's very well designed. It's a beautiful structure," he said. "I think anybody who does use that and takes advantage of the $95-a-month option is actually getting a pretty good deal."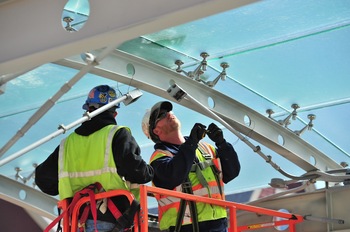 Ryan J. Stanton | AnnArbor.com
The DDA amended its budget on Wednesday, readjusting its parking revenue expectations for the year from $16.16 million to $17.03 million — about $867,000 more than projected when the fiscal year began last July.
In the first nine months of the fiscal year, parking revenues were up — at about $12.6 million — and DDA officials attribute that to rate increases and higher demand.
DDA officials said the monthly parking permit wait list is longest for campus-area structures, and Maynard in particular fills up completely throughout the fall and winter when University of Michigan classes and campus activities are at peak activity.
Adding to the demand for public parking will be the new customers, residential tenants, visitors and employees associated with new developments opening this fall.
The concept of using demand management was a central element in the DDA's 2010 Public Parking & Transportation Demand Management Strategies Plan.
The plan also discussed expanding parking meter enforcement hours later into the evening, a move DDA officials are still contemplating.
In addition to the parking rate changes, the DDA is working on a mix of strategies as part of its demand management plan for the campus area.
The DDA is requesting that the getDowntown staff put together a transportation audit program for State Street and South University area businesses to assess the actual transportation needs of employees and customize commuting options for them.
The DDA wants getDowntown to create a targeted marketing and communications plan for area businesses that ensures employees are aware of alternative transportation options.
The DDA also wants getDowntown to develop a program that would encourage employers to provide a transportation stipend to their employees to allow them to choose the transportation option that works best for them. Such a stipend could allow employees to choose to either have their parking subsidized or to receive a go!pass or potentially a Zipcar membership.
Employees who take the lower-cost option — a go!pass and/or Zipcar membership — could receive a portion of the cost savings in their paycheck.
Starting this spring, Ann Arbor SPARK is offering its employees the option of giving up their parking spots in exchange for an extra $50 a month in their paychecks. Google also offers employees incentives for giving up parking passes, such as Zingerman's gift cards and a Zipcar membership. Google now has the highest go!pass ridership of any employer downtown.
DDA officials are talking about getting additional Zipcars in or near the Maynard parking structure for use by workers and residents, and encouraging the city to renew its former practice of removing abandoned bicycles at least annually and preferably three times a year to make bicycle parking more available and convenient downtown.
Another idea on the DDA's list is purchasing and installing at least two additional in-street bike racks in the downtown.
Ryan J. Stanton covers government and politics for AnnArbor.com. Reach him at ryanstanton@annarbor.com or 734-623-2529. You also can follow him on Twitter or subscribe to AnnArbor.com's email newsletters.