DDA officials hoping to cut down wait time to exit downtown Ann Arbor parking structures
Posted on Mon, Jul 2, 2012 : 3:54 p.m.
The Ann Arbor Downtown Development Authority is borrowing $1.25 million from Republic Parking for installation of new equipment in four downtown parking structures.
That includes automated pay stations that DDA officials hope will significantly reduce wait times for cars leaving parking structures during rush hour.
The DDA's governing board approved the deal on Monday as part of a five-year contract extension with Republic Parking, a private company that manages the structures.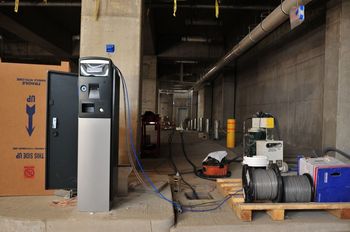 Ryan J. Stanton | AnnArbor.com
Under its contract with the DDA, Republic Parking is reimbursed for costs of operating the system, plus a $150,000 management fee and a $50,000 performance-based fee.
The DDA first entered into a contract with Republic Parking in 2001 and last renewed the contract in 2007. The DDA is agreeing to pay back the $1.25 million, which Republic Parking is fronting for new equipment, at a 6 percent interest rate between now and June 2017.
Treasurer Roger Hewitt said there's a chance the loan could be paid off earlier than that, but the DDA is being fiscally cautious.
"The City Council has been very concerned that we have adequate fund balances," he said. "We anticipate our fund balance after the Library Lane structure is complete will be somewhere around $4 million. We could certainly have gone down lower than that, but we're just being extremely cautious to make sure that we've got adequate fund balances."
The equipment is being installed in the new Library Lane underground parking structure, which opens July 12, as well as another parking structure under construction at First and Washington as part of the Ann Arbor City Apartments project. Two other existing structures — Liberty Square and Fourth and Washington — also are getting new equipment.
"It's a number of different pieces of equipment, but it will allow it so that when you come in and pull a ticket, instead of waiting in line in your car to pay on the way out, you would be able to go to a machine or a booth and pay with a credit card or cash," Hewitt said.
"It validates your ticket," he explained. "And then when you leave you just put the ticket into a machine so you don't have to pay from your car as you're exiting. This should cut down on rush hour lines at the exits of the parking structures."
Hewitt said the DDA and Republic Parking are going to test out the new equipment on a trial basis with no attendants at the Fourth and Washington structure. He said it's also likely there won't be any attendants at Liberty Square, where there aren't any attendants now.
He said the Library Lane structure will have attendants in centrally located booths — not at exits — on both the first level and the second level.
DDA board member John Splitt said DDA officials still are planning to celebrate the grand opening of the new 711-space parking structure at 5 p.m. July 12.
He said some painting and work related to mechanical systems continues but all the concrete work is done and cars theoretically could drive down there at this point if allowed.
"We're anxious to get the new structure online," Hewitt said. "There's a lot of interest and a lot of demand for it. We expect there will be a lot more cars in there within the first six months than we ever were planning for. Barracuda is definitely part of that."
Barracuda Networks recently announced major expansion plans for its local office and expects to move hundreds of employees into the former Borders retail space on Liberty Street, a short walk from the new parking structure. DDA officials expect about 125 to 150 employees of Barracuda initially will get monthly passes for the new structure.