Posted on
Tue, Apr 10, 2012 : 5:59 a.m.
Ann Arbor DDA counting on $2M increase in parking revenue to get through next year
By Ryan J. Stanton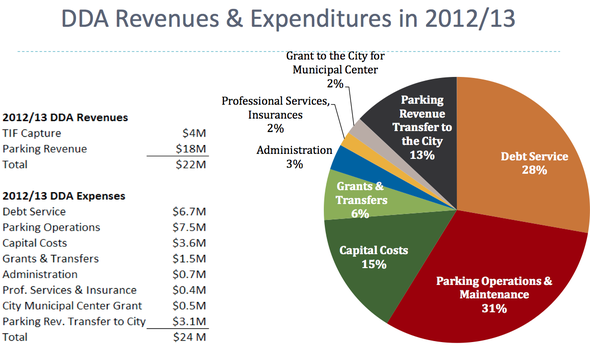 Courtesy of Ann Arbor DDA
The
Ann Arbor Downtown Development Authority
is planning to dip another $2 million into its cash reserves to get through a deficit budget in the next fiscal year.
At the same time, DDA officials are predicting a $2 million — or 12.5 percent — jump in parking revenues due to rate increases and growing demand.
DDA officials presented the authority's budget for 2012-13 during an Ann Arbor City Council work session Monday night. The new fiscal year starts July 1.
The DDA has two main sources of revenue: parking fees and tax-increment financing, which is the increase in property taxes that result from new construction downtown.
The DDA's budget for 2012-13 shows revenues of $22 million and expenditures of $24 million. On the revenue side, $4 million is coming from TIF captures and $18 million is coming from parking fees, which DDA board member Roger Hewitt called a conservative estimate.
That's up from $16 million this year.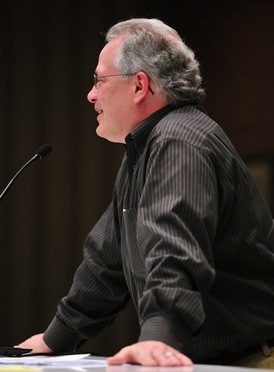 Ryan J. Stanton | AnnArbor.com
The DDA is planning on a $500,000 increase in expenses for parking operations primarily due to the
new underground parking structure
opening on Fifth Avenue in July.
The authority also is predicting a $600,000 increase in parking capital costs and a $700,000 increase in bond payments. The latter is primarily due to another parking structure being built in conjunction with Village Green's apartment project across from the Blind Pig.
Hewitt told council members the authority has a 10-year plan to manage the improvements being made to downtown and its parking system.
Major infrastructure requires years of saving, Hewitt said, so the DDA has had budget surpluses in years past and now is running deficit budgets and digging into its reserves to fund major projects like the $50 million underground parking structure.
"The demand in the parking system is expanding and actually we're very fortunate the new structure is coming on line now because we need it," Hewitt said.
Council Member Jane Lumm, an Independent who represents the 2nd Ward, asked what major projects the DDA is thinking about taking on five to 10 years from now.
Hewitt noted the DDA's fund balances are low and need to build back up, so the DDA isn't thinking about taking on any other major projects for at least five years.
"In fact, likely longer than that," he said.
Even if the DDA dips $2 million into its reserves in the next budget, Hewitt said the authority is projecting a $4.4 million fund balance remaining at the end of June 2013.
In his presentation to council, Hewitt — at times joined by DDA Executive Director Susan Pollay and Board Chairman Bob Guenzel — gave an overview of the DDA's 30-year history, including a detailed look at how the DDA spends the money it collects.
"So what do we do with all of the money we get? That's what a lot of people would like to know," Hewitt said, pointing to more than $100 million in downtown infrastructure investments the DDA has made in parking facilities, sidewalks, alleys, plazas and lighting.
He summed up the DDA's mission by saying it's to undertake public improvements that have the greatest impact in strengthening the downtown and attracting new private investments.
He pointed to more than $300 million in private investments in the downtown since 1982, representing more than 3 million square feet of new construction.
The downtown district's taxable value has grown from $89 million to $386 million during that time and four high-rise developments are under way now, Hewitt noted.
"It certainly isn't all because of the DDA," he said. "But I think if we had not put this infrastructure in place, we wouldn't be seeing this kind of development."
Hewitt clarified just how much of the downtown tax base gets channeled to the DDA, saying the DDA captured 17 percent of the $22 million in taxes paid by downtown property owners for 2011-12, while the rest went to other taxing authorities.
"There's sort of a misconception that we collect all of the taxes in the downtown. That's far from the truth," he said. "We just get the first year of increase for new construction."
Taxes collected due to increases in taxable value — because of inflation or property sales — go to the city and other taxing authorities but not the DDA, Hewitt noted.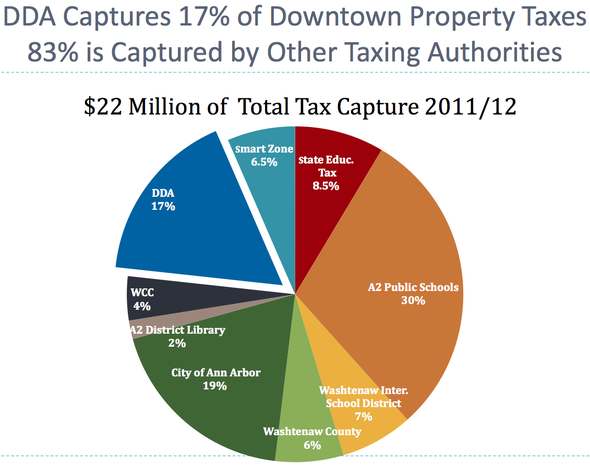 Courtesy of Ann Arbor DDA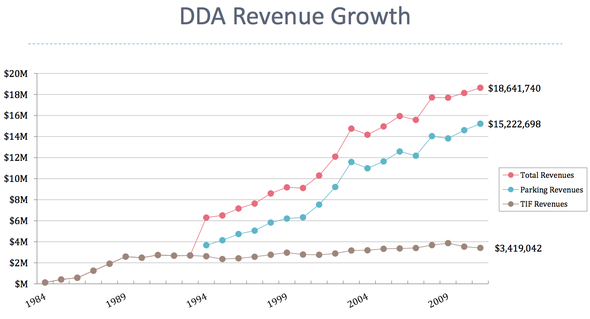 Courtesy of Ann Arbor DDA
Hewitt recalled when the DDA took over the operation and maintenance of the city's parking structures and surface parking lots back in 1992. It was a decade later in 2002 when the DDA took over the operation and maintenance of parking meters.
The DDA channels 17 percent of downtown parking revenues to the city's general fund, and those revenues are increasing as the DDA raises parking rates.
The DDA recently raised some of its parking rates in February and is planning to implement another series of rate hikes in September. The on-street parking meter rate is going up to $1.50 an hour after already jumping from $1.20 to $1.40 last September.
Hewitt ran through a long list of work the DDA has funded over the years, including improvements to Liberty Plaza at the corner of Liberty and Division, Hanover Park at Packard and Division, and Sculpture Plaza at Catherine and Fourth Avenue.
He also pointed to major repairs to the historic Kempf House on Division Street, historic facade grants to the Hands-On Museum and Michigan Theater, grants for historic markers downtown and repairs and solar panels at the Farmer's Market.
At the city's request, the DDA also tore down the former YMCA building at Fifth Avenue and William Street and put in a new permeable pavement parking lot.
The DDA also has repaired deteriorating sidewalks throughout the downtown and installed barrier-free curb ramps and facilities for bicycle and moped/scooter parking.
"We put LED street lights in the downtown," Hewitt added. "The first downtown in the nation to have LED street lights."
Hewitt said a lot of people might not be aware that the DDA also has done some major alley repairs, making the passages between downtown buildings pedestrian-friendly.
He highlighted additional streetscape improvements along South University, State Street, Washington Street, Main Street, Fifth Avenue, Division Street and in front of city hall and the downtown fire station. The DDA also paid to install downtown wayfinding signs.
Ryan J. Stanton | AnnArbor.com
"Basically if you've come to downtown Ann Arbor, if you've walked on a sidewalk, the DDA probably built that sidewalk," Hewitt said. "If you've parked in a parking structure, you're able to do that because of the DDA. We've really completely rebuilt most of the public infrastructure in the downtown."
Mayor John Hieftje said many people enjoy downtown Ann Arbor and tend to think it's always going to be there, but that takes a lot of work by the DDA.
"Having a vibrant downtown is one of those pillars that upholds our economy," he said. "It's like having a good solid school system. It's like having great parks system. It's like having all the cultural amenities of Ann Arbor. Downtown is one of those pillars and those ripples go out to the edges of the city and I'm sure they go out into the townships."
Hieftje said one of the positive signs lately is that more companies with 10 to 20 employees are choosing to locate downtown and they're growing to 40 or 50 employees. And as the underground parking structure has progressed, he said, the city is getting more inquiries from larger companies interested in considering downtown Ann Arbor again.
"Whereas a few years ago, without that parking in sight, they weren't willing to do that," Hieftje said.
Council Member Sabra Briere, D-1st Ward, said she's still waiting for a market-driven parking rate structure where areas of greater demand cost more than areas of lower demand.
Hewitt said the DDA hasn't moved forward as rapidly on that initiative because its attention has been on finishing the underground parking structure.
Briere also said she wants the DDA to move all of its parking meters to the solar-powered kiosks that have been installed around some parts of the downtown. Hewitt said that's the goal and funding is the only reason it's taking a while to accomplish.
Commenting on upcoming expenses, Hewitt said the DDA is planning on making two $400,000 affordable housing grant payments for two projects: the Near North affordable housing development on Main Street and Village Green's Ann Arbor City Apartments, which will have some affordable units. The DDA also is planning on making a $1.6 million payment for the parking structure being built as part of the Ann Arbor City Apartments project.
"We do not pay anything on the Village Green project until there's a certificate of occupancy," Hewitt noted. "It's uncertain whether that will happen this fiscal year or not, but we're putting it on our books this fiscal year so we are prepared for it should they get that certificate."
Hewitt noted the DDA gives about $500,000 a year to help pay for the city's new municipal center. The DDA also funds the go!pass and getDowntown program to the tune of $600,000 a year and runs a grant program that helps businesses make energy efficiency upgrades.
Parking system improvements funded by the DDA have included everything from solar-powered pay kiosks to electric car charging stations and major rebuilds of parking structures.
The DDA constructed the Liberty Square and Ann-Ashley parking structures and undertook major repairs to the Maynard parking structure. Hewitt also highlighted major repairs and an addition to the Fourth and William parking structure.
Three parking structures were so deteriorated that the DDA had to tear them down and replace them completely, Hewitt said, naming the Fourth and Washington, Forest Avenue and First and Washington structures. The latter project is just getting started.
Meanwhile, the DDA is finishing up the new 700-space underground parking structure set to open in July along Fifth Avenue between Liberty and William streets.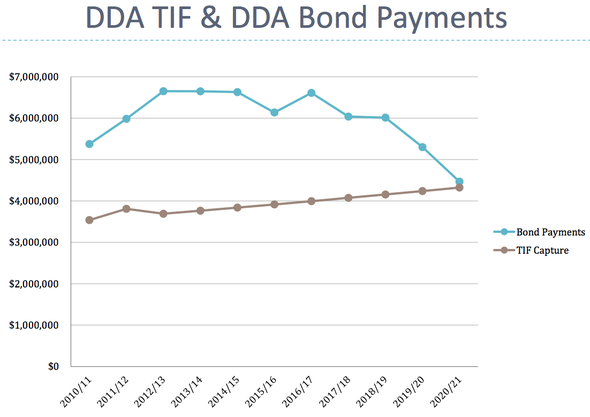 Courtesy of Ann Arbor DDA
Ryan J. Stanton covers government and politics for AnnArbor.com. Reach him at ryanstanton@annarbor.com or 734-623-2529. You also can follow him on Twitter or subscribe to AnnArbor.com's email newsletters.