Posted on
Sun, Jun 13, 2010 : 6:04 a.m.
Tuition rates significantly outpace inflation at University of Michigan, Eastern Michigan University
By Juliana Keeping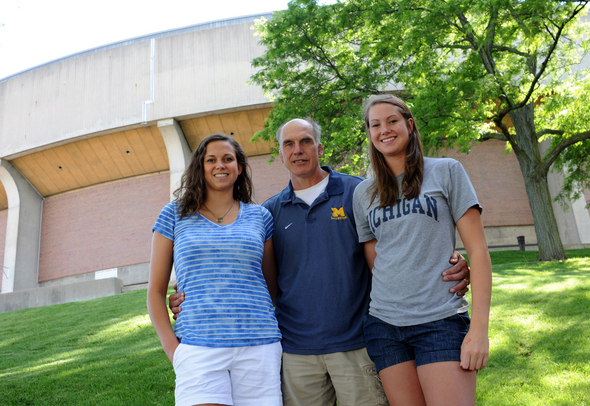 Melanie Maxwell | AnnArbor.com
Bill Petoskey attended the University of Michigan in 1975, when it cost about $800 a year for a full course load - roughly $3,200 in today's dollars.
By working as a mover in the summers and a night watchman at Crisler Arena during the school year, he paid for and finished his college education in four years without taking out any loans.
"It seems to me tuition was much more manageable back then," he said.
The numbers show that's true - tuition hikes have significantly outpaced inflation over the last few decades.
Over the last 20 years, inflation was 64 percent, but tuition increased 233 percent at U-M and 318 percent at Eastern Michigan University. Looking at just the last decade, inflation was 29 percent, while tuition increased 84 percent at U-M and 130.4 percent at EMU.
A typical in-state freshman now pays $11,659 for a year's tuition at U-M and $8,377 at EMU. A decade ago, in-state U-M freshmen were paying $6,333 and EMU freshmen were paying $3,636.
Factors behind the tuition hikes
Edward St. John, an expert in higher education policy and the author of such books as Refinancing the College Dream, said the price tag of a college education has experienced dramatic changes over the years.
After World War II, it cost little to attend public, four-year institutions. They were nearly as affordable as attending a free public high school, St. John said.
St. John said several factors drove tuition upward, including 30 years of conservative, anti-tax voting that started with the Carter administration and a string of economic downturns. Yearly tuition hikes are now the norm, and many students shoulder hefty debt to get through college.
EMU is attempting to capitalize on its relative affordability, hoping its "0 0 0" tuition initiative - a promise to freeze tuition, room and board and fees next school year at the current rates - will pay off with higher attendance.
"We have the capacity to grow, and we feel the responsibility to grow," EMU President Susan Martin said. "A lot of people need jobs in the new economy, which is not going to be manufacturing-based. We need to help them do that."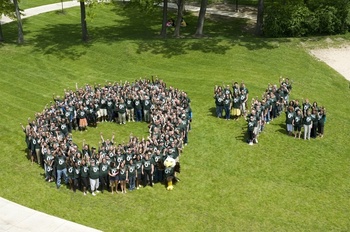 Meanwhile, U-M officials are tight-lipped on tuition decisions for 2010-2011, which are expected to be before the Board of Regents on June 17.
EMU, a regional university with a $280.9 million budget, is well known for its roots and reputation as a teacher training institution. The school's student population of about 22,931 includes traditional students and a mix of transfer students and adult learners seeking a new beginning. About 90 percent of students are from Michigan, Martin said. She said she hopes the tuition freeze relieves some of the financial burden on students and families - especially for working college students.
U-M is a different animal. The public research institution enjoys a national and international reputation, especially for its medical, engineering and law programs, and runs academic programming with a yearly budget of $1.5 billion. Forty-four percent of U-M's 41,675 students aren't from Michigan and pay three times the in-state tuition rates to attend.
Despite the differences between the universities, administrators at both share the same concerns over rising costs and declining revenues.
Over the past few decades, charts that show state funding compared to tuition at Michigan's public universities "look like scissors," Martin said, with support falling and tuition climbing.
State funding today makes up about a quarter of the general fund budget at U-M and EMU. In the past, students paid less because the state paid more. At U-M, the state contributed 77 percent of the general fund in 1960, compared to 22 percent in the current school year.
State support is just one piece of the puzzle. Universities are labor-intensive - at U-M, for example, almost 70 percent of costs are tied to employees - and salaries and benefits are known to increase faster than the Consumer Price Index.
And not all university investments have an immediate benefit to the bottom line, said Phil Hanlon, U-M's vice provost for academic and budgetary affairs. At U-M, an immense amount of money is invested into technology, buildings and classrooms, for example.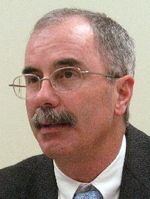 "There's no financial advantage to that investment," Hanlon said.
Instead, places like U-M's $75 million, state-of-the-art Robert H. Lurie Nanofabrication Labaratory bear the fruits of inventions and spin-off companies that will contribute to the economy in untold ways, Hanlon said.
Administrators said the drastic loss of state support, tied to the downfall of Michigan's manufacturing industry, has had the most impact on their bottom lines and is the factor most tied to tuition hikes.
"We believe and hope education is a priority of the state," Hanlon said. "They just have very little revenue to work with."
Between 1999 and 2009, Hanlon noted, Michigan ranked 49th out of 50 states for the money it provided to higher education.
In response, U-M and EMU have taken a number of measures to save millions in areas that don't impact academic programming. They've streamlined information technology, frozen some administrative salaries, cut energy costs and rethought the way space is used, officials from the schools said. They've also ramped up fundraising campaigns and increased in-house financial aid packages by the millions to assist students.
And they've raised tuition yearly.
What's the answer?
But some experts say more money from the state won't solve the funding problem or quell the annual increases.
Andrew Gillen, research director for the Center for College Affordability and Productivity, a Washington D.C.-based non-profit that researches the rising cost of college education, said colleges compete for students and dollars in a market where brand is everything. To maintain that brand, universities need to continually spend to maintain and improve their reputations.
"Higher education is structured in a way where institutions are forced to compete on reputation," Gillen said. "Because they're forced to compete on reputation, it's always beneficial for them to spend more money. They're always searching for ways to raise money, one of those ways being tuition."
Ronald Ehrenberg, author of Tuition Rising: Why College Costs So Much, puts it a different way, likening college administrators to cookie monsters.
"Maximizing value means making their institutions the best they can be in every area," Ehrenberg writes. "These administrators are like cookie monsters...They seek out all the resources that they can get their hands on and then devour them."
Hanlon, who will assume the role of provost July 1, disagreed.
"No, I'm not a cookie monster," he said, providing a 33-page document that details the ways U-M has worked to cut recurrent costs over the last six years to save $135 million.
Over the next three years, $100 million more will be trimmed from the budget, doubling the intensity of cost-containment efforts, Hanlon said.
Daniel Bennett, a policy analyst for the Center for College Affordability and Productivity, said the proliferation of government-backed loans drives higher tuition prices. He argues making loans available only to the students who most need them would fundamentally change a system where the sky's the limit for increased tuition and the borrowed money to pay for it.
"Economics 101 would tell us this would decrease the demand and the willingness of people to pay exorbitant prices," he said.
The impact on families
Students and parents impacted by the tuition hikes are saving as much as they can, working more, applying for loans, choosing colleges based on price and taking other measures to ensure higher education remains a possibility.
Petoskey, a former U-M wrestler who now coaches wrestling at Pioneer High School, didn't want his children to feel the burden of paying their way through school. He and his wife Betsy, who met in high school, started trust funds for their three children when they were young to save for college. Jim, 23, and Cassie, 21, graduated from U-M this spring, and Jane, 18, is entering her sophomore year as a Wolverine.
"I had a great time, but it was just way too much," Petoskey said of working through college. "It was hard to concentrate on everything between academics and athletics. It took a toll."
Kristi Amstutz, 20, doesn't get money from her parents for school or for living expenses, so she works at U-M apparel retailer The M Den and babysits throughout the school year.
"Balancing work, school and sleep is very difficult," she said.
Amstutz' financial aid package includes grants and government-backed loans, but she said she can't get additional private loans without a co-signer. She pays out-of-pocket for what aid doesn't cover, and so far, she's racked up $10,000 to $15,000 in debt.
A tuition hike could mean quitting school for the semester, Amstutz said.
"I don't even know if I'll be able to afford courses in the fall," she said. "I've applied for several scholarships, but it's really competitive."
The Michigan Promise grant money she had been receiving helped, but the state eliminated the merit-based aid program this school year. So for now, she said, she'll just keep working in the hopes that she can generate enough cash to continue her studies.
U-M English senior Ricardo Ortiz estimates his debt tops $40,000.
"Ignorance is bliss," said Ortiz, who works at a cafe and theater near campus throughout the year to pay the bills.
Ortiz said working two jobs on top of his studies means his time for fun is limited, but added a tight schedule isn't necessarily a bad thing.
"It has been tough, but it's a way to structure my day," he said "It keeps me in line."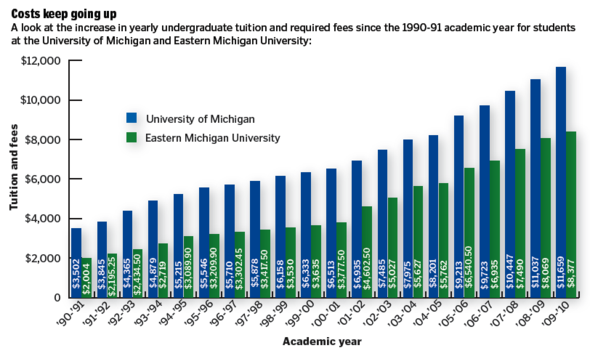 Editor's note: This story has been corrected to reflect that 56 percent of U-M students are in-state and 44 percent pay out-of-state rates.
Juliana Keeping covers higher education for AnnArbor.com. Reach her at julianakeeping@annarbor.com or 734-623-2528. Follow Juliana Keeping on Twitter