Posted on
Tue, Nov 1, 2011 : 5:15 p.m.
Jenny's Market employee says she's paralyzed as a result of hayride accident
By Cindy Heflin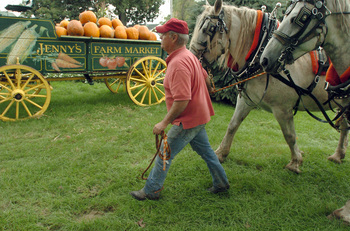 The woman
injured in a hayride
in September at Jenny's Dexter Market said today the accident that paralyzed her was a result of faulty equipment and unsafe conditions at the market.
In a statement released through her lawyer, Mary Ruth Armbruster, 23, said she is likely permanently paralyzed from the waist down and that her spine was broken between the 11th and 12th vertebrae.
Armbruster said the "steepness of the hill caused the young and less-experienced team of horses to run downhill, causing a dangerous buildup of speed. "
The statement is the first public communication from Armbruster since the incident. Elements of it are contested by market proprietor Burton Hoey.
Read the statement from Mary Ruth Armbruster.
In the statement, Armbruster said the accident is a "direct result of faulty equipment and a course for the hay ride that included a dangerously steep downhill over uneven ground." She said as she was driving the wagon down a hill, her seat "became dislodged," and she was "left standing and pulling against the reins with my entire body weight in an effort to slow the team before making the final turn at the end of the hill."
She said Hoey had provided mismatched reins for the horses, requiring her to hold one rein in each hand to steer.
One of the horses tripped at the bottom of the hill, jerking her forward off the wagon, which ran over her, Armbruster said, breaking her vertebrae.
Her prognosis includes little or no chance of regaining full mobility, she said. She remains hospitalized.
In response to the statement, Hoey said today that there is nothing wrong with his equipment, and his business has been using the same hayride course for at least 10 years. He said he only knows of one other problem, which occurred about seven years ago. He said a woman said she was injured on a hayride, but there was never an insurance settlement.
He also said the reins would not have caused a problem. "One might have been 6 inches longer than the other, but they were plenty long enough," he said. Holding one rein in each hand is "the way you steer horses," he said.
Hoey also said the horses are not inexperienced. The business has used them for four or five years, he said. Brittany Erskine, an employee at Jenny's, said she has driven the horses for three years on the same course.
Hoey acknowledged that the seat was dislodged at the end of the hayride, but he said he didn't know why. He said it's an Amish-style seat that sits in a wooden frame on the wagon and does not need to be bolted or nailed into place.
"I've got a feeling she lost control of the horses," Hoey said.
Armbruster, of Ann Arbor, also said that although Hoey earlier told AnnArbor.com he would pay for her medical bills, neither he, nor his daughter, Jenny Lambers, who owns the property, have contacted her. She said the bills would likely total hundreds of thousands of dollars.
Armbruster, who is still in the hospital, said in her statement that several employees of the market have contacted her and sent well wishes but Hoey and Lambers have not.
Hoey said he had planned to visit Armbruster in the hospital, but added that she told Erskine two days after the accident, that she did not want him to visit. Erskine corroborated that.
"She said that she would prefer him not to come visit," Erskine said.
As for the medical bills, Hoey said he has turned claims over to his insurers. He said he has worker's compensation insurance and liability insurance, and one of them should cover Armbruster's medical bills. He said he's not sure what he would do if the bills were not covered.
He also said he's concerned about her recovery and hopes she will have a good life.
"Mary is a great person, and our insurance company is going to pay one way or another. The whole thing is unfortunate and it's an accident."
The accident marked the beginning of a host of problems at the market this fall. Shortly afterward, Webster Township served the market with a stop-work order, citing violations of township zoning ordinances. Hoey vowed to stay open and fight the order.
In October, a child fell off a pony at the market. Then last week, Hoey was robbed by two men he said beat him for several minutes and robbed him of $55,000.
Now, Hoey said he's not sure whether he will stay in business. "I'm wondering why I'm doing this because it's been so bad. I'm 65. I could draw Social Security and live with my daughter."