Posted on
Fri, Oct 28, 2011 : 11:13 a.m.
Jenny's Market owner Burton Hoey describes brutal attack at business
By Cindy Heflin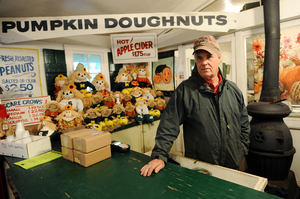 Melanie Maxwell I AnnArbor.com
Burton Hoey
is back at
Jenny's Dexter Market
today following what he said was a
brutal attack
Tuesday night by two men who robbed him of $55,000.
But Hoey said the attack has taken a heavy toll on him and on the market, a popular weekend destination for families looking for hayrides, pony rides, cider, pumpkins and other products.
"It's borderline putting us out of business," Hoey said. The cash was several months' worth of proceeds from the market, he said.
The attack also left him injured and severely shaken. "If I was an elderly person living by myself, I would move," he said.
Hoey said he was alone outside at the market, located at 8366 Island Lake Road, about 9 p.m. Tuesday night. He had turned on a light that was powered by an extension cord inside a building at the market. Suddenly, the light went off, so he went inside to see what was wrong.
When he did, a man grabbed him and another started beating him with a wooden horse yoke, Hoey said. The assault went on for about 10 minutes as the man beat him about the head, neck legs and back, he said. "I begged 'em to stop. I don't know why I didn't die. My face is a mess and I've got stitches all through my head and body."
The assailants demanded he give them money, and Hoey said he eventually turned over the $55,000 he had taken out of the business's safe to take to the bank the next day. He said the money was in a bag he was carrying. Once they had the cash, the robbers left, he said.
He said he couldn't move for about 5 minutes after the assault ended but finally managed to get up and call 911. Sheriff's deputies came and an ambulance took Hoey to the University of Michigan Hospital, where he stayed until Thursday afternoon, he said.
The attack follows a rough couple of months at the market, a popular weekend destination for families looking for pumpkins, cider, hayrides and pony rides. A worker was seriously injured in a hayride accident last month. Shortly afterward, Webster Township served the market with a stop-work order, citing violations of township zoning ordinances. Hoey has vowed to stay open and fight the order. Earlier this month, a child fell off a pony at the market.
Meanwhile, sheriff's deputies continue to investigate the attack. Hoey said customers at the market have been supportive since the robbery, some even telling the business to keep their change after making a purchase. He wasn't insured for the losses resulting from the theft.
As for the future of the business, Hoey said time will tell.
"I'll know in the next few months if I can pay my bills." He said he knows he shouldn't have had that much cash on hand and said he would be making regular trips to the bank from now on.
One thing will definitely change, he said.
"I'm not going to be here after 7 p.m. at night. I don't want to have any confrontation with anyone."