Posted on
Fri, Oct 12, 2012 : 5:59 a.m.
Township calls Jenny's Market straw maze a public nuisance, seeks court order to remove it
By Cindy Heflin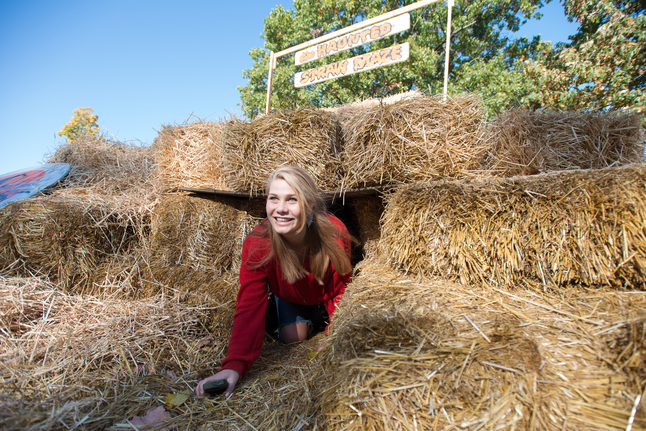 Courtney Sacco | AnnArbor.com
A pile of straw bales at
Jenny's Market
provides loads of fun for local children who come to visit every year, says
Burton Hoey
, who runs the popular farm market west of
Dexter
.
But Webster Township officials say the straw stack, which has three tunnels supported by plywood running through its base, is a safety hazard and a public nuisance. They want it dismantled, and they're taking Hoey to court to try to force the issue.
"There's a multitude of risks associated with that," said Bruce Pindzia, township zoning administrator. "We're worried about collapse. We're worried about fire hazard. We're worried about children being injured."
The township has filed a complaint in Washtenaw Circuit Court against Hoey and his daughter, Jennifer Lambers, who owns the property at the intersection of Dexter-Pinckney and Island Lake roads. The complaint asks the court to declare the maze a public nuisance under the township's nuisance ordinance and order it removed.
The township alleges it notified Hoey and Lambers on Sept. 10 that the maze violated the township's nuisance ordinance and asked them to remove it, but they failed to comply.
The complaint alleges that the maze "endangers public health, safety and welfare," that "there are no escape routes for children trapped within the maze" and no access points for adults and that the maze is "susceptible to collapse under its own weight, possibly while children are inside it."
Hoey, who has had a protracted dispute with the township over zoning issues, scoffed at the suggestion that what he calls a "haunted straw maze" isn't safe and said the township is harassing him hoping that he'll go out of business. "They want me gone. They don't want Jenny's Market."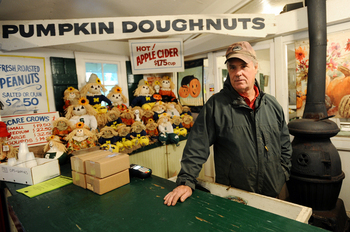 He said he's had a similar maze every fall for 15 to 20 years, and the township has never complained about it before.
"Webster Township is using the straw maze as a target to irritate me, and the only ones that are going to lose out is the children," he said. "Where are you going to have them play? A Walmart parking lot?"
But Pindzia said concern for public safety at the maze was the primary motivation for the filing of the lawsuit.
"It's so confined that there is not room for adults to access the tunnels," he said. "If a child gets trapped in there for whatever reason, the whole mess would have to be deconstructed."
But Hoey says that's not true. "I can get through it, and I weigh 220 pounds," he said.
Fire is also a serious concern, Pindzia said. "There's a whole apron of loose straw surrounding this thing," he said. "A single cigarette butt could ignite this thing."
He acknowledged the maze was unlikely to go up in a ball of fire, but he said smoke inhalation could be a real danger to children in the maze if a fire broke out.
Hoey countered that he keeps a hose and fire extinguisher nearby. And he said the straw is wet from recent rains and not likely to burn.
The township also alleges Hoey has not allowed officials to inspect the maze, a claim Hoey disputes. He said the township's building inspector has been out several times and seen the straw stack and the tunnels. He also said he has no authority to keep Pindzia from inspecting the maze and hasn't tried to.
Hoey said the maze is popular with visitors to the market who bring their children and grandchildren.
Rosemary Schuett of Dexter is one such visitor. She said she often brings her three grandchildren to the market and said she has no concerns about the safety of the maze or the market as a whole.
"I don't think it's any less safe than the playground equipment that I let my grandchildren use at the various parks," she said. She also disputed the township's claim that the maze is not large enough for an adult. She's been through it herself, she said.
The dispute over the maze is the latest in a string of problems for the market that began last September when a hayride accident paralyzed an employee. The employee, Mary Armbruster, has sued over the incident.
The day after the accident, Webster Township delivered a stop-work order to the market alleging violations of zoning ordinances. Shortly afterward, the state of Michigan found several food safety violations at the market.
In late October, Hoey reported that two men attacked him at the market and stole several months worth of proceeds at the business. Washtenaw County sheriff's deputies have dropped their investigation of the attack, saying Hoey wasn't cooperating and had failed a polygraph test.
Hoey sued the township in April over its refusal to grant him a permit to install a bathroom. In denying the permit, township officials said Hoey had failed to submit a required site plan. Hoey and the township had been working toward a settlement, but progress recently stalled.
Last month, the Humane Society of Huron Valley seized horses, donkeys and goats at the market, saying they had been neglected. That case remains unresolved.
A court hearing has been set for Oct. 18 in the latest dispute. Hoey vowed to prevail. "I'll win. There's no question about it," he said.
Cindy Heflin is associate news director at AnnArbor.com. Contact her at 734-623-2572 or cindyheflin@annarbor.com or follow her on Twitter.