Posted on
Wed, Aug 15, 2012 : 2:59 p.m.
Do you feel safe using Ann Arbor crosswalks?
By Paula Gardner
Related story: Police: Ann Arbor bicyclist still in critical condition from crash on Monday
The pedestrian started into the Washtenaw Avenue crosswalk near Platt Road as my minivan rolled past, and I tried to watch in my rear-view mirror to make sure that the man's waving arms gave drivers enough notice to stop for him.
His strategy appeared to work, as I saw nothing alarming as I continued on my way west on Wednesday morning toward the Stadium Boulevard split.
Yet the image of that man stayed with me for hours after I reached my desk at AnnArbor.com and continued directing our coverage of the accident that critically injured a woman Monday afternoon in that very crosswalk.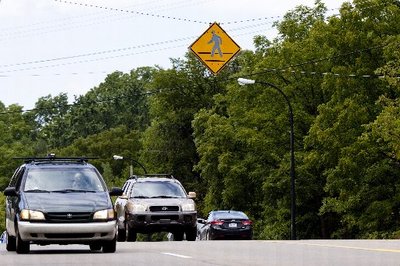 That woman — a 55-year-old Ann Arbor resident — remains in critical condition today, we're told. And while we haven't talked to the driver, I'm concerned for him, too.
Police are saying excessive speed wasn't a factor in the collision.
That leaves me to consider: What is the role of the crosswalk there?
It's a common thread among commenters on our original story on the post, too. More than 200 people have weighed in on this situation, with the bicyclist's well-being, the design of the crosswalk and the city's pedestrian ordinance sharing their attention.
I'm in favor of making the city pedestrian-friendly. But, this morning, as I passed that man trying to cross the five lanes of Washtenaw Avenue — one of the busiest routes in this county — I couldn't help but think to myself that I don't (or wouldn't) feel safe using many of the marked crosswalks in this city.
We're wondering what you think. Take our poll and let us know.
Meanwhile, we'll continue our coverage. We hope to talk to the family of the cyclist and to the driver. And we'll also be asking for follow-up information from city officials about how they view this situation and the overall safety of crosswalks.