Posted on
Tue, Feb 7, 2012 : 10:26 a.m.
Documentary about happiness comes to area Feb. 11; Ann Arbor named a great city for retirees
By AnnArbor.com Staff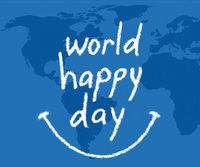 From a special showing of "Happy: The Movie" to Ann Arbor being named a great community in which to retire, here's a roundup of some of the stories posted on AnnArbor.com's Community Wall over the past few days:
By: Annie Zirkel: Happy: The Movie Coming to Ann Arbor Saturday Feb 11, 2012 at Mich Theater
Directed by Roko Belic and winner of a variety of awards from film festivals around the world Happy is a serious documentary that asks BIG questions and gives research-based answers to what does and doesn't make us happy.
By: Jsmnd: Ann Arbor, A Great Place To Retire
Ann Arbor was recently rated by US News as one of the best cities in the country to retire. In its overview, the writeup compares a number of the city's salient features, noting that Ann Arbor is one of the most economically healthy cities in Michigan.
By: Janet Hawkins: Local Professionals Should Check WCC Website Regularly
By: Charl Luttrell: Join Girl Scouts during Our Historic 100th Anniversary Year
By: dayani w: "The Arab Spring: One Year Revisited" By Juan Cole, Ph.D.
By: Dawn Farm Education Serie: Alcohol and other drugs and teens: what to know, what to do
By: larry: StopHHS.com and Intelligent Design?
By: A2Parks: A virtual garden tour at the Ann Arbor Senior Center March 20
By: Deb Kern: Female cats spayed for only $20 - Help them "Beat the Heat"
By: bbbswashtenaw: Big Brothers Big Sisters Receives Grant to Reduce Juvenile Delinquency
By: pat grimes: Parent Group Bids on Big Party
By: ann thompson Green Health Thermography: Green Health Thermography Lecture
By: Sallie: Help is Available for Families Caring for A Veteran Loved One with Dementia
By: Scot Graden: Read Your Heart Out - February 11th, 7pm-12am
By: Friends of the Dexter District Library: Used Book Sale--Friends of the Dexter Library
Arbor.com's Community Wall is a spot for local people to post local stories, news and announcements. To post a story, sign in to AnnArbor.com, then go to www.annarbor.com/community and use the Got News? Tell Us function at the top to submit your news. If you have a photo to add, e-mail it to us at community@annarbor.com and we'll insert it into your story.