Posted on
Fri, Aug 17, 2012 : 5:57 a.m.
Drought turning Ann Arbor's trees from green to brown
By Amy Biolchini
Editor's note: This story was updated for clarity at 8:30 a.m.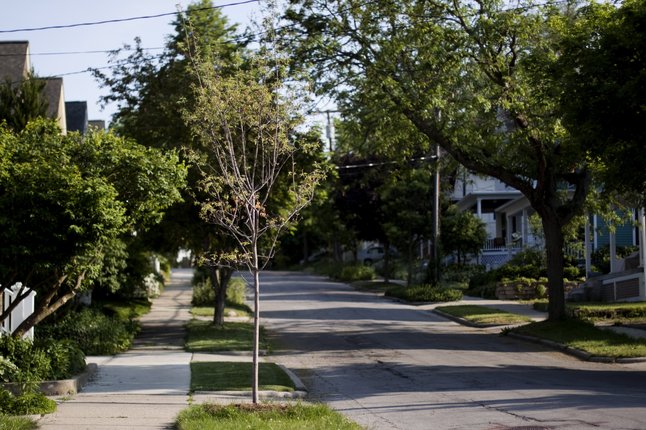 Jeffrey Smith | AnnArbor.com
Ann Arbor's trees are looking a little more brown than green as a result of this summer's
record-breaking hot weather and dry conditions
.
Both street trees and yard trees are showing signs of drought stress including defoliation and wilting, said Kerry Gray, urban forestry and natural resources coordinator for the city of Ann Arbor.
"It's hard for us at this point to really know the impact of the drought," Gray said. "They can be resilient and come back."
The city will be conducting an inventory of its trees in mid-September to determine if any of them need to be replaced. The contractor that plants the trees has given the city a one-year guarantee — meaning trees planted in 2011 that have died can be replaced this year at no cost.
The survey will first check the trees planted in 2011 and then assess the status of about 525 street trees planted this calendar year, Gray said. A total of about 1,000 trees are slated for planting in the 2012 fiscal year as a part of a storm water diversion plan.
As a part of the agreement, the contractor waters the trees for the first year of planting.
Gray said the city has yet to change the type of the trees planted along streets because of changes in the climate due to global warming.
Bob Bricault, horticulture and natural resources educator for the Washtenaw County branch of the Michigan State University extension office, said signs of drought in deciduous trees like sugar maples, red maples and sycamores include browning on the edges of the leaves or between the veins as well as drooping and folding leaves.
Evergreens show less signs of drought stress, Bricault said, because of their ability to retain water. The new growth on evergreens that are drought-stressed may not be as turgid, he said.
"Pines and spruces are a little more drought-hardy than most plants because of their leaves and they can't lose moisture as easily - but that goes out the door when temps are above 90," Bricault said.
Most trees draw the moisture they need from the top foot of soil, Bricault said.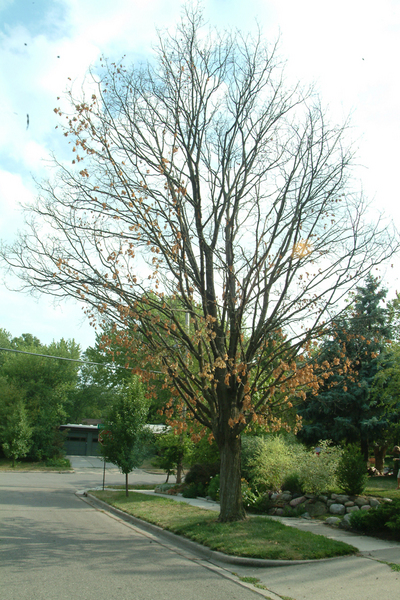 Courtesy of Pamela Gesund
Before watering a tree, Bricault said people should check the moisture of the soil at a depth of three inches.
A newly-planted tree takes several years to establish a root system, Bricault said, and should be monitored for the first three years by watering. Two to three inches of mulch spread evenly around the base of the tree also help retain soil moisture and protect the roots during large temperature fluctuations.
Bricault said he's the most concerned about how thin-leaved plants like Japanese maples and fruit trees fared this summer.
"Maples in general would need to be watered in the drought situation," Bricault said.
Stressed trees also are more susceptible to diseases and fungi - including verticillium wilt.
Maple trees planted along streets, often in disturbed soils, are especially susceptible to the fungus verticillium wilt, Bricault said.
Pamela Gesund, an Ann Arbor resident for the past six years, said she's noticed many trees on both the east and west sides of the city could be exhibiting signs of the fungus.
For the past three summers, Gesund said she's noticed many maple trees in the area struggling.
The fungus affects the tree's ability to absorb water through its roots - so even if the tree is being regularly watered, it will still continue to wilt. Signs a tree is being affected by the fungus are variable, hard to pinpoint and include scorching and wilting of leaves on the tops of individual branches, dead branches on one side of the tree and smaller leaves.
"Plants can grow for years without showing any signs of a problem," Bricault said. "You just never know. It's a susceptibility thing. … Every place between the sidewalk and the curb is pretty unfavorable for anything that grows over 15 feet."
Amy Biolchini covers Washtenaw County, health and environmental issues for AnnArbor.com. Reach her at (734) 623-2552, amybiolchini@annarbor.com or on Twitter.