Posted on
Tue, May 3, 2011 : 9:25 p.m.
Washtenaw County election coverage: School leaders thrilled as special education millage renewal passes handily
By Kyle Feldscher
Steve Pepple | AnnArbor.com
This story has been updated.
Washtenaw County voters passed a special education millage renewal by a wide margin Tuesday, as five public safety millages around the county also won approval.
The special education millage, one of the most closely watched votes in the months leading to the special election, received 27,262 yes votes and 8,203 no votes — a 77 percent to 23 percent passage.
The vote means local school districts and charter schools are in line to receive about $14 million in funding for special education services from the Washtenaw Intermediate School District. The levy will cost the owner of a home with a taxable value of $100,000 about $98.50 per year.
Richard Leyshock, interim superintendent of the WISD, was among the local school officials from around the county gathered at the Ann Arbor Center for Independent Living watching election results come in. Nearly every time Leyshock looked at the laptop showing the voting results, he clapped or voiced his pleasure at the numbers on the screen.
"The students of Washtenaw County schools are the winners tonight," he said, after profusely thanking members of the community for approving the millage renewal.
For unofficial county election results, click here. More news on results is available here: Pittsfield Township public safety millage; Dexter Township public safety millages; Chelsea and Dexter school boards; and Sharon and Northfield township public safety millages.
The federal government mandates special education services, and Tuesday's vote means local districts will still receive money from the WISD as reimbursement for those services, as opposed to paying for them out of the general fund. Many districts presented proposed budgets assuming the millage renewal would pass and were loathe to even consider the potential cuts that would have to come should the millage renewal fail.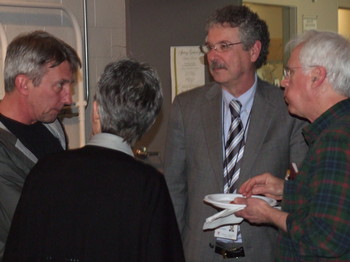 Kyle Feldscher | AnnArbor.com
In Ann Arbor, district officials presented budget cuts to fill a budget deficit of approximately $15 million last month, with the caveat that the deficit could grow about $6 million more if the millage renewal failed.
Interim superintendent Robert Allen said he was relieved he wouldn't have to make additional cuts to fill a bigger budget deficit and thanked voters for passing the millage renewal.
"Many of the cuts that we've made already are already so deep that it would have been very difficult to make additional cuts and really stay at the level of education Ann Arbor is used to," Allen said. "I'm very excited and I'm very happy but we still have a lot of work ahead of us."
Here is approximately how much each district stands to receive from the millage:
Ann Arbor: $5.8 million
Chelsea: $752,000
Dexter: $790.000
Lincoln: $1.5 million
Manchester: $282,000
Milan: $403,000
Saline: $1.3 million
Whitmore Lake: $296,000
Willow Run: $543,000
Ypsilanti: $2.1 million
Nine charter schools: $190,000
Saline Area Schools superintendent Scot Graden said he was grateful he didn't have to consider making more cuts to the district's budget, saying the failure of the millage was something he didn't even want to think about it.
"I just applaud Richard and Gerri (Allen, WISD spokesperson) and everyone at the WISD for running a very informational campaign," Graden said.
School officials said the vote, and the impressive margin that the millage renewal passed by, showed the emphasis that voters in the area place on education.
Ypsilanti Public Schools superintendent Dedrick Martin thanked voters and said the district still faces a challenge balancing the budget but said the millage passage would help.
"We're extremely happy and pleased we had such a strong showing from the community," Martin said. "However, we still have to roll up our sleeves and we have a lot of tough decisions we have to make because this doesn't solve all of our problems but we're extremely happy with the results."
Ann Arbor Education Association president Brit Satchwell said the passage of the millage renewal took care of one-third of local school districts' funding issues.
He said the school districts had to get past the special education millage renewal in order to deal with their deficits and cuts in funding from the state.
"This year we had three bears approach the camp site. The first bear was the one we face every year and that's the $7 million structural deficit and we try to deal with that bear," he said. "The second bear is (Gov. Rick) Snyder and that bear weighs $7 million. The third bear was the millage bear and we had to kill the millage bear to live to (take care of) the other two."
Ann Arbor school board trustee Glenn Nelson said he believed voters saw the dire financial situations of many school districts and believed this was one way they could help.
Nelson said the entire county was on the same page to provide a solid future for their children in public education.
"People, of course, feel really strongly about giving their children a good future and that's become virtually universal now in Michigan — a fear of the future for their children will not be as good as what they have now," Nelson said. "People want to do what they can to fix that."
Kyle Feldscher covers K-12 education for AnnArbor.com. He can be reached at kylefeldscher@annarbor.com or you can follow him on Twitter.