Posted on
Wed, Oct 19, 2011 : 10:36 a.m.
Eastern Michigan University regents approve $30 million capital outlay request
By Kellie Woodhouse
Eastern Michigan University received the green light from its Board of Regents on Tuesday to ask the state for $30 million to renovate a science classroom building.
It will be the school's fourth request in as many years.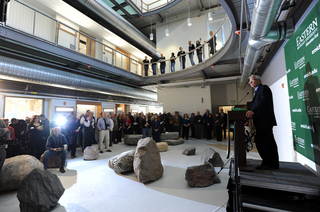 Lon Horwedel | AnnArbor.com
EMU officials say the classroom, offices and infrastructure of the three-floor, 87,000 square foot Strong Hall —which houses the departments of geology, geography, physics and astronomy— are in disrepair and in major need of an update.
Strong Hall has not been significantly improved since it was first built in 1957. The renovation would follow a $90 million addition and renovation to EMU's science complex.
"Combined with the self-funded $90 million addition and renovation of the Science Complex, the renovation of Strong Hall would result in first-class facilities on Eastern's campus," EMU President Susan Martin said at a regents meeting.
In 2010, state officials denied EMU's appropriations request to fund 75 percent of the $40 million project, but university officials are hoping this year will be different. EMU also requested funding in fiscal 2009 and 2011, but the state did not pass a capital outlay bill either of those years.
EMU is hopeful that the state will pass a capital outlay bill this year and that the Strong Hall project will be a part of it.
"Our efforts to be responsive to the needs of people of our state are recognized by government leaders in Lansing," Martin said.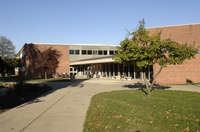 When the matter was put before the regents for a vote,
Regent Roy Wilbanks
expressed uncertainty about prospects for the request's success.
"We are hopefull, which is all I can say," he said.
The school received $31.5 million in fiscal 2009 to retrofit Pray-Harrold, EMU's largest classroom building, and has not received a major capital outlay since.
EMU says that of the $40 million needed for the Strong Hall renovation, $21 million will go toward the renovation, $500,000 toward updating technology systems in the building, $9 million toward fees, permits and administrative costs and a remaining $9.5 million will cover owner costs, which include things such as asbestos removal, furniture and moving costs.
EMU Chief Financial Officer John Lumm said a previous request for the renovation was $38 million, but that the university's new estimation puts the renovation cost at $40 million.
The university has considered options other than the remodel, but decided against them. Officials estimate that tearing down Strong Hall and rebuilding it will cost about $10 million more than renovating the original structure.
The regents also discussed EMU's reliance on tuition dollars and its $4.6 million budget shortfall. They approved an increase in scholarship funds as well.
Kellie Woodhouse covers higher education for AnnArbor.com. Reach her at kelliewoodhouse@annarbor.com or 734-623-4602 and follow her on twitter.