Posted on
Tue, Oct 18, 2011 : 5:58 a.m.
Eastern Michigan University to seek $30M in state funds for building renovation - again
By Kellie Woodhouse
For the fourth consecutive year Eastern Michigan University will be asking lawmakers in Lansing for $30 million to renovate Strong Hall, a classroom building that is part of the school's science complex.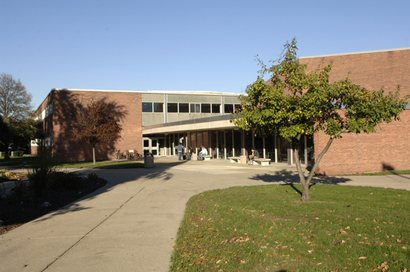 In 2010, state officials denied EMU's appropriations request to fund 75 percent of the $40 million project, but university officials are hoping this year will be different. EMU also requested funding in fiscal 2009 and 2011, but the state did not pass a capital outlay bill either of those years.
"The Strong Hall request probably has a lot of traction this year just because of our tuition restraint," said EMU spokesman Geoff Larcom. "It's our hope that our tuition restraint will sway some heads in Lansing."
EMU in 2010-2011froze tuition. This year the Ypsilanti university raised tuition 3.65 percent, compared to a 6.7 percent increase at the University of Michigan, a 6.9 percent increase at Michigan State University and a 7 percent increase at Oakland University.
The three-floor, 87,000 square foot Strong Hall includes classrooms, faculty offices, lecture halls and student common areas. It has not been significantly improved since it was first built in 1957.
Officials say that Strong Hall, which houses the departments of geology, geography, physics and astronomy, is in disrepair and in major need of an update.
According to EMU, Strong Hall has the following deficiencies:
Outdated and overcrowded classrooms and labs
Obsolete mechanical systems
Plumbing and electrical systems in need of replacement
Energy inefficient windows
Not fully handicap accessible
Inadequate technology infrastructure
Systems and finishes that have "long-exceeded" their life cycle
EMU wants to reconfigure "existing space to modernize classroom and lab space as well as new technology" and create "flexible use spaces for both research and instruction," according to a recommendation from EMU officials to the Board of Regents.
The EMU regents will vote on whether to request the $30 million for a fourth time at their meeting at 4 p.m. Tuesday.
Lon Horwedel | AnnArbor.com
EMU is already in the midst of a self-funded $90 million renovation and addition to its science complex.
The school received $31.5 million in fiscal 2009 to retrofit Pray-Harrold, EMU's largest classroom building, and has not received a major capital outlay since.
EMU says that of the $40 million needed for the Strong Hall renovation, $21 million will go toward the renovation, $500,000 toward updating technology systems in the building, $9 million toward fees, permits and administrative costs and a remaining $9.5 million will cover owner costs, which include things such as asbestos removal, furniture and moving costs.
The university has considered options other than the remodel, but decided against them. Officials estimate that tearing down Strong Hall and rebuilding it will cost about $10 million more than renovating the original structure.
"The construction costs associated with a new building were carefully studied and found not to be fiscally prudent, given the constraints on available state and institutional funds for capital projects," the recommendation said.
Kellie Woodhouse covers higher education for AnnArbor.com. Reach her at kelliewoodhouse@annarbor.com or 734-623-4602 and follow her on twitter.