Posted on
Tue, Jul 10, 2012 : 4:08 p.m.
EMU President Susan Martin on argument involving alcohol: 'I made a mistake... and I own' it
By Kellie Woodhouse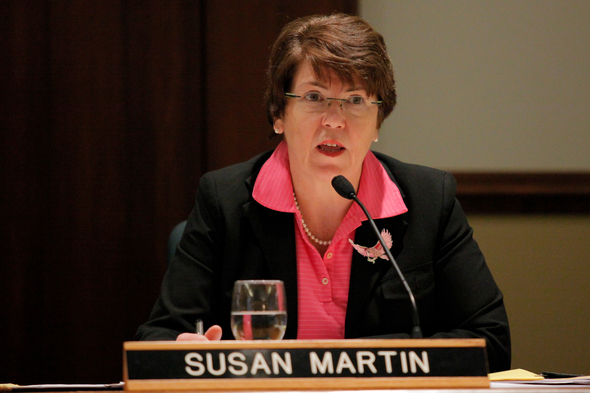 Eastern Michigan University President Susan Martin says that she "just got angry and lost my temper" during an argument with an alumnus in Washington D.C.
The argument, however, threatened to damage the university's reputation and "involved the consumption of alcohol," according to a letter from the Board of Regents executive committee placed in Martin's personnel file.
In the May letter, the board told Martin they were concerned about her alcohol consumption and that if a similar incident occurred she would be dismissed.
In an interview with AnnArbor.com on Tuesday, in the hours after EMU publicly released the letters, Martin admitted that she "was drinking at the time that I lost my temper," but declined to say how much alcohol she had consumed.
"I should never lose my temper," she said. "I made a mistake."
Michael Ferens, the alumnus Martin argued with, told AnnArbor.com the argument was about EMU's former mascot, the Huron Indians. He said Martin reacted to something he said about the former mascot. EMU changed its mascot from the Hurons to the Eagles in 1991.
Martin called the argument a misunderstanding.
"It was over in a minute and we moved on quickly," she said. Ferens called the incident "minor" in an interview with AnnArbor.com.
"We immediately moved on," Martin said.
The board's letter said Martin "explained [her] conduct as a result of having not eaten and then consuming alcoholic beverages."
Martin said she does not have a problem with alcohol. She did acknowledge receiving a DWI violation in 2005, which she says she reported to the board of regents before beginning as president in 2008.
"I had one incident driving while impaired," she said.
In its letter, the board executive committee cited "prior incidents discussed with you," but did not elaborate.
In a letter to the board, Martin said she told board chairman Roy Willbanks about the April argument four days afterward.
"It will never recur," she said in the interview, explaining that she must be clear-headed to tackle the "very demanding and challenging" job of being EMU's leader.
"I made a mistake in this incident and I own" it, she said.
According to Martin, the incident lasted "a couple of minutes," was resolved and then the two moved on discussing other university-related issues.
Daniel Mathis, interim executive director of alumni relations, was present during the argument. He declined to comment at length, but said: "There was a misunderstanding and it was resolved, from my understanding."
Martin said the argument occurred at Washington restaurant "right after the event" during early evening. According to the event's Facebook page, the reception ended at 8:30 p.m.
Martin, who earned $295,000 in 2011, according to W-2 information obtained by AnnArbor.com, said EMU is attempting to be open about the incident to "minimize any impact whatsoever to the university."
Kellie Woodhouse covers higher education for AnnArbor.com. Reach her at kelliewoodhouse@annarbor.com or 734-623-4602 and follow her on twitter. AnnArbor.com reporter Katrease Stafford contributed to this article.