Posted on
Thu, May 2, 2013 : 2:58 p.m.
Ann Arbor Public Schools now trying to hire 3 building principals
By Danielle Arndt
As Superintendent Patricia Green prepares for her July retirement, she will play a role in filling at least three leadership positions prior to leaving the Ann Arbor Public Schools.
But some district residents have questioned whether she should be involved, given past hiring concerns and her outgoing status.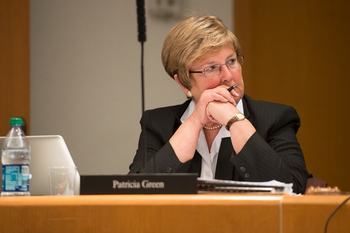 Courtney Sacco | AnnArbor.com
Green tendered her resignation last month, indicating her intent to retire after a 43-year career in public education. Her resignation is effective July 9.
Retirements only have just begun to trickle in at the AAPS. Burns Park Elementary School Principal Virginia Bell recently announced her retirement.
Bell has been with the district for 20 years. She began her career as a teacher and was named Huron High School assistant principal in 2002. She has been at Burns Park for the past two years.
New leaders still are needed for Skyline High School and Clague Middle School. Clague's principal position has been open since December, when it was announced that then-Principal Cindy Leaman would leave the middle school to become the leader of Pioneer High School. Pioneer's former principal, Michael White, retired at the end of the 2011-12 academic year to take a job in Illinois.
Bell's position already was posted internally. The posting came down Tuesday and the position now will be advertised externally.
Per the Ann Arbor Administrators Association's bargaining agreement, when a vacancy occurs within the union, the district must open the position to internal candidates for a period of 14 days before the job is posted externally.
School officials said at a recent budget meeting, that retirements appear to be rolling in slower than in previous years. They speculated this could be the result of AAPS eliminating its early notification incentive for staff members who inform the district in advance of their intentions to retire.
Finance Director Nancy Hoover said the incentive was cut during last year's budget process, saving AAPS $40,000 in the 2012-13 budget.
The Clague leadership position has been posted twice now, still not yielding an adequate candidate. District spokeswoman Liz Margolis said Green is looking for the best candidate for these positions and felt she needed a broader pool.
The second application period for the Clague position will end Friday. As of Wednesday, there were 22 applicants.
The first round of applications garnered a combination of 29 internal and external candidates, school officials said. The finalists from the first posting will be considered alongside the second round of applicants, Margolis said.
The Skyline High School applications are being reviewed. The position was posted both internally and externally, with the external application period ending April 2.
Skyline's principal, Sulura Jackson, tendered her resignation in March. She will be starting a new job at Chapel Hill High School in North Carolina on July 8.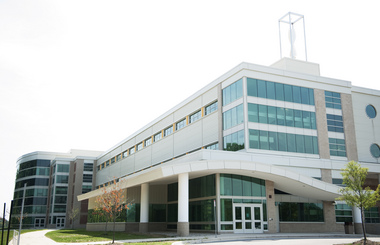 Daniel Brenner | AnnArbor.com file photo
Twenty-nine people applied for the position. Margolis could not say whether any finalists have been identified.
When the Pioneer High School leadership role was vacant, the district received 41 applications. The search was narrowed down to two people in September 2012; yet a month later, this position also was re-posted to find the "best fit" for the school, which ended up being Leaman.
It is unclear whether the Skyline principal job will be posted again or not.
During the search for a new Pioneer principal, Green was criticized for how long it took to fill the vacancy and for causing many teachers and parents at Pioneer to doubt the hiring process, when she did not consider the names submitted to her as finalists by the interview committee.
Green was also tight-lipped about her timeline for bringing someone in to fill the position.
"Lack of information can be deadly for schools because it leads to a lack of confidence in processes," Pioneer math teacher Michele Macke said in an article in September.
Several community members now have spoken up at public dialogues on the budget and during public commentary at school board meetings since Green's resignation, stating the outgoing superintendent should not play a part in selecting new leaders for a district she is leaving.
Barbara Malcolm, a Roberto Clemente parent, said at the April 24 meeting, Green likely is the reason so many employees have left the district and she should not be put in charge of hiring and attracting new talent.
Margolis and Board of Education President Deb Mexicotte both said Green is still employed by the district as superintendent until her resignation takes effect. Until then, the usual business of the district has to go on, Mexicotte said.
She added if the board shared any residents' concerns about this, it would have come up at the board table; and she indicated this has not happened.
"Hiring is a multi-level process… It is not just the superintendent who makes these decisions. Multiple people work on any kind of hiring the district does," Mexicotte said. "It is the expectation of the board that the superintendent continue to fulfill her duties."
She added if hiring decisions have to be made after that time period, then the interim superintendent or new permanent superintendent will take over.
"People leave organizations all the time and work continues. Duties are spread or continue across normal functioning areas."
The Board of Education's goal is to appoint an interim superintendent "soon," Mexicotte said, and to have a new superintendent hired by the end of July, in time for the 2013-14 academic year.
Danielle Arndt covers K-12 education for AnnArbor.com. Follow her on Twitter @DanielleArndt or email her at daniellearndt@annarbor.com.