Posted on
Thu, Jan 24, 2013 : 5:59 a.m.
Ann Arbor school board debates: Prevailing wage, minority businesses, local workers - where's the value?
By Danielle Arndt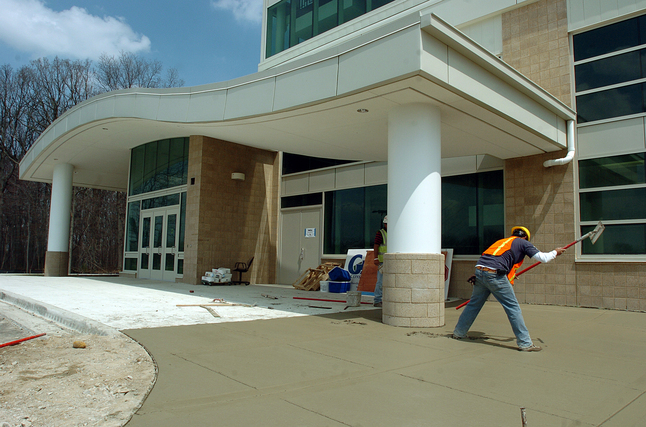 Lon Horwedel | The Ann Arbor News
After a lengthy and wide-ranging discussion Wednesday night,
Ann Arbor
school board members consented to creating an ad hoc committee to study the district's contracting policies, practices and outcomes.
School board trustees deliberated on what should factor into the board's decision for hiring labor and construction contractors — prevailing wage, business location, the race or gender of the business owner? The question also became should the board cement these factors into its policies.
At the root of the debate was: what obligation does the board have to hire the lowest bidder, in order to put more dollars toward educational programing and teachers; and what responsibility does it have to enhance the local economy?
This issue of contracting, and who to contract with, has come up continuously at the board table for at least a decade, Board of Education members said Wednesday.
Existing board policies do not contain any hiring provisions and instead simply outline the processes for bidding out contracts and purchase orders.
Board President Deb Mexicotte said she recalls this was done intentionally with the idea of allowing for flexibility.
"(The board ) wanted to be able to make more case-by-case decisions around contracting, while articulating the types of things we would like to see," she said. "And different boards have articulated differently over time."
When Ann Arbor Public Schools was campaigning for the $255 million comprehensive school improvement bond and sinking fund in 2004, there was a great deal of attention placed on contracting, said Treasurer Glenn Nelson. School officials went to great lengths to attract small local businesses and historically underutilized businesses, or HUBs, to do a significant portion of the work, which included projects at every building in the district.
HUBs are often female-owned, minority-owned or small businesses.
"The struggle was sometimes the number of workers or the size of some of those smaller companies," Mexicotte said, adding the board awarded contracts to larger, out-of-area companies and "encouraged them very strongly to bring in those smaller companies as subcontractors. … So it was not necessarily codified in our board policy or (administrative) regulations, but it was something the board talked about being committed to."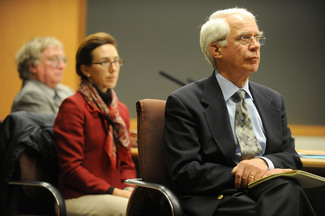 AnnArbor.com file photo
It also was expected during this time that the district would award contracts only to prevailing wage employers, as this was a requirement of receiving state dollars like bond money, said
Randy Trent
, executive director of physical properties.
Sinking fund money is local tax dollars, so the district was not required in 2004 to contract with prevailing wage employers for sinking fund projects. But Trent said because some of the bond and sinking fund projects overlapped and, in some cases, could use the same company to do various aspects of the work, school officials decided to avoid complications by hiring only prevailing wage employers.
According to a report that Trent provided to the board, during the first half of the six-year comprehensive school improvement plan, 10 percent of the contracts awarded went to HUBs. During the second half of the plan, 31.7 percent of the work was given to HUBs. Now, Trent said, that percentage is even higher, as the district has a general contractor doing most of its sinking fund work and the general contractor happens to be a female-owned business.
The Ann Arbor Public Schools sinking fund millage is set to expire in 2014.
The $45.8 million technology bond that voters approved in May 2012 also is local dollars, so the prevailing wage stipulation does not apply.
Ann Arbor school trustees had a range of opinions Wednesday night on whether the board should adopt formal policies dealing with contract awards.
Trustee Irene Patalan pointed out that most recently, due to the economy and budget constraints, the board seemingly has taken the position that it will award contracts to the lowest qualified bidder. She said she puts her faith in Trent to recommend the best value to the board, but she would be interested in seeing a report on how these contract awards have fared.
"Have we gotten burned?" Patalan asked. "If Randy could answer that question, that would be valuable to me. I would hate to take anything major away from our kids and the schools and would want to know if we're saving money upfront, are we paying for it later? I also ask myself would we only hire local teachers?"
Secretary Andy Thomas said he would be in favor of looking at a policy addressing prevailing wage and hiring local, but he argued HUBs are moot and there is no longer a "good ol' boys network" when it comes to contract bidding.
He said with the openness and transparency of the district's bidding process, where anyone can go to the website and apply, he doubts that significant barriers to these types of businesses still exist.
"Unless there are still businesses out there as examples that are somehow being excluded from the bid submission process because of their status as a minority- or woman-owned or small business, then I think we should drop it," Thomas said.
Nelson's apprehension in adopting a new contracting policy was the community's skepticism about how public bodies spend taxpayer money.
"I think it is very important for us to work on the core mission of the schools, and the core missions is getting students prepared for the rest of their lives," Nelson said. "… We are able to do more for our mission … in taking the lowest qualified bidder.
"(The public) wants to support us if we're educating children. That's what they think our job is."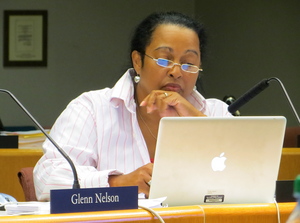 But trustees
Simone Lightfoot
and
Susan Baskett
disagreed.
Baskett said she also has heard skepticism from the public about how the district spends its money. "But the skepticism I hear from people is the big dollars — when they see the raises, when they see the salaries."
She said she is not sure why it has to be one or the other — supporting education or supporting the local economy — and not both. She cited the district's extensive career and technical education programs, such as the home building and information technology programs.
"We have to respect the fact that we have some of our graduates in these various trades because of our educational offerings. If they can't find work, they take their families, take their children and they leave," Baskett said. "… The money that we spend is recycled back into the community with the local workers.
"It's like someone earlier tonight said, we have to think about taking care of the locals and the locals will take care of us." Baskett mentioned a number of businesses that have donated money for equipment, camps or events at the schools.
About six people from various labor and construction trades and unions spoke in favor of the board looking at adopting prevailing wage, local preference and HUB policies during the public comment portion of Wednesday night's meeting.
Lightfoot argued in favor of bringing many of these individuals to the table to provide information or to serve on the board's ad hoc committee, which she and Baskett will head up. One more board member will be assigned to the committee. Trustees set a target of making a final decision on contracting policies prior to the start of the next academic calendar, or before September.
Danielle Arndt covers K-12 education for AnnArbor.com. Follow her on Twitter @DanielleArndt or email her at daniellearndt@annarbor.com.