Posted on
Thu, Feb 14, 2013 : 5:59 a.m.
Ann Arbor school board 'frustrated' by lack of progress in program to help minority students
By Danielle Arndt
A report on the district's Rising Scholars program Wednesday generated many questions from the Ann Arbor Board of Education.
Inequities in the distribution of resources for the program, the growing disinterest from Pioneer High School students and the district-wide lack of significant success rates was disheartening for school board members, who say they directed the Ann Arbor Public Schools administration to fix these problems two years ago.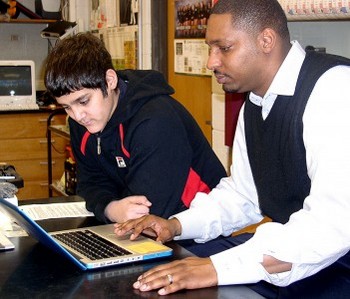 From AAPS News
Robyne Thompson
, new assistant superintendent for secondary education, assured the board at the end of the meeting "it would not happen again" — words several trustees found encouraging.
Thompson, who joined Ann Arbor schools last summer when former Assistant Superintendent Joyce Hunter retired, was given the task of evaluating the Rising Scholars program as her first order of business in July. Her report Wednesday showed that 100 students from Huron, 97 students from Skyline and 58 students from Pioneer are enrolled in the Rising Scholars program.
However, despite having the fewest number of participants, Pioneer receives the most designated resources to operate its program.
It employs one full-time staff member (or 1 FTE) to run Rising Scholars. This is the equivalent of about $100,000 in salary, benefits and retirement contributions, which the district pays.
Skyline has 0.75 FTE overseeing its program. Its employee also teaches English in the district. FTE costs for Skyline is approximately $75,000. Huron has 0.5 FTE. This employee spends half his time as a behavior interventionist for the district. FTE costs for Huron is $50,000.
The Rising Scholars program, according Thompson's report, began in fall 2008 as a partnership with the University of Michigan and the Center for Educational Outreach. The goal of the program was to increase the number of African American and Latino students enrolled in Advanced Placement (AP) and accelerated courses at AAPS. It also sought to expand diversity at U-M and to improve at-risk students' college perceptions and ambitions.
Trustee Susan Baskett said the program was designed to provide support for students who show immense academic promise, but for a variety of reasons could end up "slipping through the cracks" or believe college is not a realistic option for them. Whether these barriers to success are racial, cultural, due to a family's socioeconomic status or a family's disinterest, Rising Scholars strives to instill the value of higher education in its students.
Baskett said she just did not want to see the program get away from its original mission with too strict or high of entrance criteria.
In total, the Rising Scholars program costs AAPS the $225,000 in program management (FTEs), plus about $45,240 that was spent this year on the Rising Scholars' summer academy for 75 students and eight AAPS staff to attend.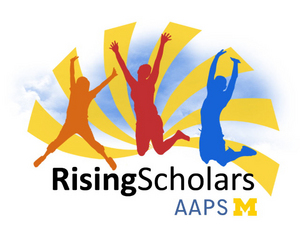 Of the 255 Rising Scholars district-wide for the 2012-13 academic year, 128 of them identified as economically disadvantaged, the report stated. 140 students are African American, 35 are multi-ethnic, 19 are Caucasian, 19 are Asian, 19 are Hispanic, 17 are Arab American, four identified as other and two are Native American.
Because the primary objective of Rising Scholars is to encourage its students to take more rigorous courses, the success of the program is measured by how many students are enrolling in AP and accelerated classes.
This year, 77 students took one or more AP course, while 150 took at least one. For accelerated classes, 134 students enrolled in one or more, and 118 took at least one, the report said.
According to the report, most of the students who participated in the advanced courses attended Skyline. Pioneer had the lowest number of students enrolled in challenging courses.
The number of students who took the AP exams, however, was minimal. "We're not doing as well as I would like us to be," Thompson said.
At Skyline, one 10th-grader took all five AP exams and passed them all. Of eight 11th-graders who took one or more AP exams, three tests were passed and eight were failed.
At Huron, two sophomores each took one AP exam. One student passed, the other did not, according to the report. Five Huron juniors took one or more AP exams and passed all 14 of the tests they took, collectively.
Three juniors at Pioneer High School took one or more AP exams. One test among the students was passed, while three other tests were failed.
School board Secretary Andy Thomas said it does not appear that having more staffing resources at Pioneer has translated into more participation from students. He said he sees the potential of the program, but the implementation has been "very fragmented and poorly executed."
Thompson said the students at Pioneer also have felt the level of frustration Thomas expressed. She said the juniors and seniors have been opting out of the program they once bought into as freshmen. "They feel the ball was dropped," she said.
Pioneer has had turnover in leadership in the Rising Scholars program. The district hired a new program coordinator in 2011-12. She stepped down after a year and the district had to hire another new coordinator for 2012-13.
Thompson said going forward, the goal will be to bring continuity to the three high schools' Rising Scholar programs and to clarify several key components, such as that this program is a "college readiness system" for youth.
Thompson already has developed a common syllabus for the program to keep all three buildings on the same page. Next, the first thing she will be doing is reallocating resources and developing a district-wide process for recruiting students to the program and for communicating the selection criteria.
Thompson said the selection process seems to have been communicated at all of the buildings but is not being followed properly and varies at each school. An important part of having specific criteria is to be able to tell parents why their child was recommended for the program or maybe didn't get accepted, she said.
"It is important to maintain a strong program that benefits a diverse population and garners support from parents, businesses and the community at large," she said.
Danielle Arndt covers K-12 education for AnnArbor.com. Follow her on Twitter @DanielleArndt or email her at daniellearndt@annarbor.com.