Posted on
Thu, Dec 20, 2012 : 5:55 a.m.
Ann Arbor school officials release transportation report
By Danielle Arndt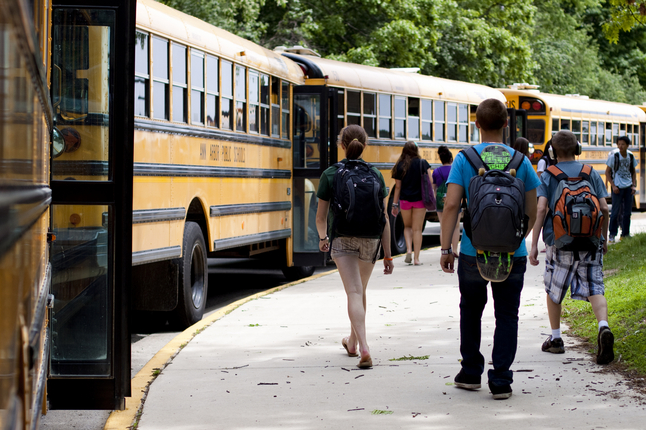 Ann Arbor school board members looked at various transportation costs and options Wednesday night, in a report prepared by a committee studying the future of busing in the district.
The Board of Education resolved in May for Superintendent Patricia Green to create a "transportation working group" comprised of various community members, government and school officials and transportation experts.
The group's task was to determine the financial sustainability of student transportation in the Ann Arbor Public Schools.
According to the report, AAPS spends a total of about $5.6 million on transportation annually.
The transportation of general education students equates for approximately $4.8 million of the total, while transporting special education students costs $577,000 and transporting homeless students costs $165,000.
Districts have a legal obligation to provide transportation to homeless and special needs children.
Breaking down the general education costs, AAPS pays about $1.33 million to bus elementary students, about $1.07 million to bus middle school students, $768,000 to bus high school students, $336,000 to bus preschoolers and another nearly $600,000 for mid-day and after-school transportation. This is a total of $4.1 million spent on busing costs alone.
The remaining approximately $700,000 is fixed administrative and operational costs, such as mechanics and the director's wages that would not necessarily be reduced if the district eliminated a portion of its busing services, said Deputy Superintendent of Operations Robert Allen.
The transportation committee identified and analyzed 12 options of transporting students to determine which could result in a net savings and which were the most feasible. Of the 12, three were eliminated as not feasible almost right away, while four were recommended to the board for further consideration:
1. Make pedestrian infrastructure improvements and maximize the use of crossing guards to reduce safety-busing costs.
2. Rerouting.
3. Increase the use of Ann Arbor Transportation Authority bus routes.
4. Eliminate all choice busing for all students.
Allen explained AAPS currently employs a 1.5-mile walk zone, meaning students who reside within 1.5 miles of their neighborhood schools are not eligible for transportation services. The exception to that rule is if an area is deemed unsafe for students to walk to school — for example, if there are "sidewalk gaps" — then AAPS has safety bus routes for those children, Allen said.
"We'd work with the city to look at trying to potentially address those sidewalk gaps where, because of a lack of sidewalk, it makes it a little more hazardous for students to walk," he said, adding if the sidewalks were addressed, AAPS could place crossing guards along these stretches instead.
The cost to operate one bus route is $14,000, compared to the $5,800 cost of a crossing guard, Allen said.
Eliminating transportation to and from the district's "choice" schools would include Ann Arbor Open, Community High School, the Roberto Clemente Student Development Center and those students enrolled in Skyline High School through the lottery system.
Allen said there currently are 60 bus routes that qualify as choice busing.
Last budget cycle, there was talk among board members of cutting just one or two aspects of the choice busing. However, Allen said the transportation committee discussed being against this idea for equity reasons. The working group stressed cutting all or none of the choice busing.
Danielle Arndt covers K-12 education for AnnArbor.com. Follow her on Twitter @DanielleArndt or email her at daniellearndt@annarbor.com.