Posted on
Wed, Jun 13, 2012 : 5:59 a.m.
Ann Arbor schools to approve budget on Wednesday - and cover $17M deficit
By Danielle Arndt
It's decision time for the Ann Arbor Board of Education.
After two months of intense discussion and debate about which items should remain on the chopping block, the school board is scheduled to make its final decision Wednesday on how to close a budget gap of more than $17 million.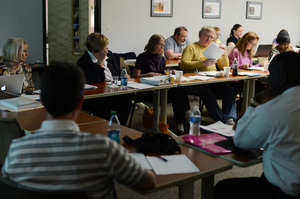 Melanie Maxwell I AnnArbor.com
The board is required to pass a balanced budget for the 2012-13 fiscal year by June 30 to comply with state law.
Ann Arbor Public Schools' current-year operating budget is about $185.5 million.
Board members have targeted about $4.8 million in cuts at this point in the budget process.
Based on recent discussions, the Roberto Clemente Student Development Center is expected to see no changes for the 2012-13 school year. However, at the close of the May 23 board meeting, Trustee Glenn Nelson said he would be willing to reconsider cutting Roberto in order to reduce the amount the district would need to take from its fund equity, or main savings account, to close the budget gap. Right now that's expected to be $7.05 million of about $18 million in the fund.
District administrators originally proposed merging Roberto Clemente, an alternative high school, with another alternative school, Ann Arbor Technological High School, for a savings of $400,000, plus the cost of transportation, which was estimated at $108,000.
After protests from Roberto's staff and students, the district proposed operating the program separately from A2 Tech but under the same roof, for a savings of $200,000 plus transportation. The difference of $200,000 was the approximate cost of Roberto's administrative staff and office personnel. But more recently, the board has been leaning toward leaving the program untouched.
Board members said they would like AAPS administrators to conduct a thorough review of the Roberto Clemente program and its student achievement data throughout the next six to eight months to make a recommendation for fall 2013.
But Vice President Christine Stead said her hope is the board will have more robust conversation Wednesday about Roberto and her sticking point, which is transportation. She said she would like board members to consider deeper cuts to transportation.
"I think it would actually give that committee we've talked about forming for transportation more of a foundation to work together on," she said.
Since the board last met, the state of Michigan passed its budget for fiscal year 2013, awarding $120 more per pupil to the state's lowest funded districts, which do not include Ann Arbor. Stead said her concern is there will be less funding available for Gov. Rick Snyder's best practice incentives as a result. In February, Snyder promised a portion of $120 million to districts that could meet five of six "best-practice" criteria, such as offering schools of choice or online learning.
AAPS budgeted to receive $2.6 million in best-practice money as part of its revenue projections for 2012-13.
"I've been asking the administration to double check these numbers on the revenue projections side and to make sure what we are projecting is actually going to happen," Stead said Tuesday. "I am going to be giving (the numbers) one more look myself today and tomorrow."
She said she does not want to pass a budget and end up being surprised by any one aspect and having to use more from the district's equity. She also hopes the board will discuss the district's three-year projections more seriously, she said.
"I think a lot of people just think something at the state level will change and we won't be in this position (over in the next three years)," Stead said, adding she does not share that faith.
If the board approves using $7.05 million of its fund equity to balance the 2012-13 budget, AAPS would be left with approximately $11 million, which is close to the $9 million it needs to make payroll over the summer without borrowing from the state.
Eliminating Roberto Clemente's separate summer school, cutting the district's $60,000 contribution to its summer music camp, changing lacrosse to a club sport, cutting counselors, eliminating mid-day shuttles and busing for the after-school program at the middle schools, and outsourcing noon-hour supervisors are among cuts the board is expected to vote on Wednesday as part of the budget package.
Several board members, but not Stead, are torn over the proposal to cut the 4 p.m. bus routes for the after-school program. Deputy Superintendent of Operations Robert Allen is expected to report on possible ways to keep funding this service at Wednesday's board meeting. The methods likely would include some type of contribution from community organizations so that AAPS still would save the $84,284.
Wednesday's meeting will take place at 7 p.m. on the Fourth Floor of the downtown Ann Arbor District Library.
Staff reporter Danielle Arndt covers K-12 education for AnnArbor.com. Follow her on Twitter @DanielleArndt or email her at daniellearndt@annarbor.com.