Ann Arbor school leaders discuss fund equity 'magic number' to balance budget
Posted on Thu, May 24, 2012 : 5:58 a.m.
How much of its approximately $18 million fund equity should Ann Arbor Public Schools use to balance its budget for Fiscal Year 2013?
That was the question school board members debated Wednesday, after rehashing the reductions needed to balance its $185.5 million budget and learning revenues were down again for this year's third quarter, tacking on another $300,000 to the district's $17.8 million deficit.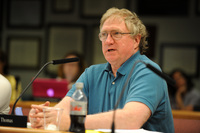 Deputy Superintendent of Operations
Robert Allen
presented the administration's formal budget recommendation, as well as the district's third-quarter financial report during Wednesday's regular meeting. A public hearing on the budget also took place.
Allen estimated the fourth quarter could result in another $200,000 in lost revenue, bringing the district's total budget deficit to $18.3 million. However, he specified this was a conservative estimate and may be high.
Allen said AAPS enacted a spending freeze at the end of the second quarter and pulled money from its savings account to cover the loss, when the financial report showed the district's revenue projections were off by $1.8 million.
Board Secretary Andy Thomas said in 2009-10, "That was the year that everything hit the fan." AAPS decided to implement mid-year cuts to make up for the lost revenue.
"After that, we made the appropriate decision we were not going to make any more massive changes to teachers or programs in the middle of the year. And we made the decision to use fund equity for revenue shortfalls," Thomas said, adding in 2010-11, however, the district was able to use cuts in spending to cover its loss.
Allen said that is still a possibility for the current fiscal year. But if the district cannot recoup the estimated $2.3 million by July 1, the deficit will carry over into the new fiscal year.
There were no additional cuts proposed in the administration's recommended budget Wednesday. It mirrored the $4.8 million in cuts that school board members said they would be likely to support during their May 16 Committee of the Whole meeting.
It also included using $7.05 million from the district's fund balance and accounted for $6 million in revenue from Schools of Choice, Medicaid reimbursements and Gov. Rick Snyder's Best Practices and proposed funds to offset teacher retirement costs.
The recommendation kept the closing of Roberto Clemente Student Development Center off the table as well as cuts to Ann Arbor Open's busing. It was determined AAO's routes could be reconfigured using a central hub for the same amount of savings ($98,800).
There were other possible pieces of good news for items still on the chopping block, both Allen and Thomas reported.
The board was amenable to eliminating the 4 p.m. bus routes for after-school programs at the middle schools. However, Thomas said the Ann Arbor Public Schools Educational Foundation might be willing to contribute to the busing or contribute to another area that could potentially help the district provide the service, but still reach the projected savings ($84,284).
Thomas also reported the Ann Arbor PTO Thrift Shop has offered to make a contribution and the University Bank, through its Kids B'Cause Fund, sent a check to the community foundation to provide scholarships for low-income students who wish to attend the district's summer music camp at Interlochen. The board has voiced it would be OK with cutting the district's $60,000 share toward funding that trip.
"What this illustrates is there is some willingness in the community to use private funding to help offset some of these cuts," Thomas said. "I'd like us to not lose sight of that as we have these discussions."
Although it was recommended funding for the middle school athletic directors be cut ($37,500), Allen said after speaking with the ADs and the building principals, the middle school administrators have asked to work on providing another option.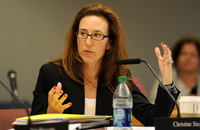 "They would like until June 1 to look at the entire middle school athletic budget and see what they can come up with… so they can still meet the savings without eliminating all of our middle school ADs," he said.
Another positive, Allen said, is he's "pretty confident" the district will receive a $1 million refund for money it over-contributed to its health insurance costs. He said this is because more employees are switching from the self-funded plan to one of the district's rated plans, which saves the district money.
Vice President Christine Stead cautioned the board that using so much of the district's fund equity this year could position Ann Arbor to have to borrow from the state — for the first time — to make payroll during the summer months of 2013-14.
"Once it's gone, it's gone," Stead said of the district's fund balance. "There is no way to grow that in this climate… So I would argue that our work on this budget is not done yet. We need to make more cuts for this year."
President Deb Mexicotte explained that because the state and the schools' annual fiscal years do not match up, districts' fund allowance payments do not come in in time for schools to issue fall payroll. She said districts must either front the money from their fund equities or, for those districts operating in a deficit or in severe financial hardship, they must borrow money from the state until the state pays them their foundation allowance. The state also charges districts interest on these loans.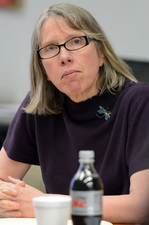 Mexicotte said the "magic number" for AAPS to make payroll is $9 million. She said as long as the district does not dip below $9 million in its fund balance, she is OK with using more equity this year to balance the budget.
Thomas agreed, stating AAPS has reduced its fund balance at a rate of about $1.7 million per year.
"I would submit that is a very reasonable and very responsible and conservative way of addressing these deficits… I do not feel at all bad about using $7 million in fund equity this year," he said. "But I would like us to be able to sit down in October, not April, and hear from administration this is the plan for eliminating another who knows what it'll be — between $14 million and $18 million — next year.
"The reason I feel it is important to have the conversation in October is… we don't have that many bullets left in our gun."
He said next year he genuinely sees the board considering: transportation as a whole, bargaining unit contracts, decreasing the number of teachers by a "drastic number" or closing schools and redistricting.
"All of these are going to require a great deal of thought and discussion and rolling them out to the community. …I don't want to be caught in the same spot we are in this year."
Thomas' remarks received nods from around the table and Trustee Simone Lightfoot echoed his comments, saying she would support using $7 million from fund equity only if next year they "plan, plan, plan."
"I'm to the point where I don't want to touch new programs, new nothing," she said. "I want to focus on how we stay above board with educating our students."
Trustee Glenn Nelson added it may be time to consider another attempt at passing a countywide schools enhancement millage.
Staff reporter Danielle Arndt covers K-12 education for AnnArbor.com. Follow her on Twitter @DanielleArndt or email her at daniellearndt@annarbor.com.