Posted on
Thu, May 17, 2012 : 5:59 a.m.
School board preserving Roberto Clemente but not band camp funding as it identifies $4.8M in cuts
By Danielle Arndt
AnnArbor.com I Melanie Maxwell
The
Roberto Clemente Student Development Center
and busing to
Ann Arbor Open
appear to be safe from elimination, after a four-hour work session on the
proposed 2012-13 Ann Arbor schools budget
Wednesday night.
However, at least a dozen other cuts remain likely, including funding for band camp at Interlochen, mid-day transportation to and from Community High and middle school athletic directors.
The Ann Arbor school board went line by line through the proposed cuts, deliberating on the pros and cons. By about 1:30 a.m. Thursday, when the Committee of the Whole meeting came to an end, the board had identified $4.8 million in cuts that it potentially would favor.
The $4.8 million would be added to a projected $6 million in revenue, giving the board a $10.8 million start in closing its $17.8 million shortfall.
Administrators will head back to the drawing board now to draft a budget reflecting the board's direction. The amended budget will be presented on May 23 for a public hearing and more debate.
"We could get to the board table next week and decide we want to blow this all up," said President Deb Mexicotte.
"If we change out minds — or lose our minds — unfortunately, (the administration) cannot stop us," she said in jest, but to demonstrate Wednesday's conversation is by no means the final step in the budget process.
The Board of Education will discuss the budget again on June 13, at which point the budget will appear as an action item on the agenda.
Trustees were largely in agreement to take Roberto Clemente off the table — provided a thorough evaluation of the program's effectiveness is conducted during the upcoming school year.
Closing Roberto Clemente's building and merging the program with Ann Arbor Technological High School was expected to save $400,000, plus the cost of transportation, which was estimated at $108,000.
The board did chose to consider a proposal to eliminate Roberto's summer school program, however.
Currently, all of the district's secondary schools host summer enrichment and credit recovery classes out of Pioneer High School. Combining Roberto Clemente's summer school program with the others would save $80,000 and possibly more, if the district also cuts summer school transportation for Roberto students.
General education summer school pupils are not bused to Pioneer. They also are required to pay for some courses, while Roberto Clemente's are free.
Ann Arbor Open parents can consider the decision to preserve their school's busing a victory. Administrators proposed an alternative method for transporting AAO students Wednesday, using a "hub system" as a way to condense routes, but still provide service.
AAO parents made a similar recommendation for hub-style busing at Monday's budget forum at Huron High School. Ultimately, district administrators project it will generate the same $98,800 in savings that eliminating busing to the school would have.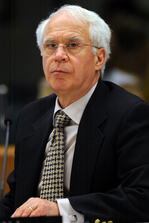 Band camp, the last of the three hot items that
community members feverishly fought for
at recent public meetings, was not as fortunate. The district's $60,000 contribution to the seven-day, district-wide music camp at Interlochen was one of the items the board quickly deemed amenable to cut without any further discussion.
With regards to cutting between 32 and 64 teachers, the board largely agreed to an approach suggested by Trustee Glenn Nelson. Nelson proposed not reducing the staff by any more individuals than those 32 who have retired or resigned. In fact, he proposed replacing them with all new hires for a savings of about $960,000.
Nelson said to hire a new teacher costs the district about $70,000 per teacher, whereas to hire an experienced teacher costs about $100,000.
Not replacing the 32 teachers would save the district $3.2 million. However, most trustees agreed they did not want to see class sizes get any larger.
The board decided to preserve busing for magnet students to Skyline High School for now, with the intent to phase it out in the future. Magnet students are those who attend Skyline by choice but live outside the school's geographical district.
Other proposals the board tentatively kept on the chopping block were:
Eliminating the district's three police liaison officers, whom currently are stationed at Huron, Pioneer and Skyline ($350,000). Vice President Christine Stead was opposed to this cut.
Eliminating the 4 p.m. middle school bus runs for students attending after-school programs ($84,284). The board was split on this cut.
School board members were in consensus about cutting 10 percent or $500,000 from the district-wide $5 million discretionary fund for departments.
Trustee Andy Thomas proposed a 15-percent reduction, however deputy superintendents Robert Allen and Alesia Flye expressed some concern. They said this line item provides funding for staff professional development, supplies to all departments, conference fees and other needs that arise throughout the school year.
"I guess we'll just have to get creative," Allen said.
The remaining cuts trustees immediately agreed upon without any or much discussion were:
Eliminating the middle school athletic directors and delegating additional responsibilities to the high school athletic directors ($37,500)
Cutting four counselors, one from each Forsythe, Huron, Pioneer and Scarlett; which would increase the number of students assigned to each counselor by about 100, to 350 students per counselor ($400,000)
Prohibiting the use of general fund money for entry fees for voluntary, non-league sporting events and tournaments ($58,000)
Reducing high school lacrosse to a club sport rather than a varsity sport ($93,000)
Outsourcing the district's noon hour supervisors ($75,000)
Restructuring the information technologies department ($200,000)
Reducing the budget allocated for classroom substitute teachers and giving each school building the ability to manage its own substitute budget ($200,000)
Doing away with the early notification incentives for retirements ($40,000)
Combining the bus runs for Bryant and Pattengill elementary schools ($16,560)
Eliminate the mid-day shuttles between the comprehensive high schools and Community High School ($230,184)
Removing the salaries for the Community Education and Recreation executive director and office professionals from the general fund budget and returning them to the department budget ($205,000)
Staff reporter Danielle Arndt covers K-12 education for AnnArbor.com. Follow her on Twitter @DanielleArndt or email her at daniellearndt@annarbor.com.