Posted on
Sat, Jan 26, 2013 : 12:10 p.m.
Ann Arbor schools to keep same open, welcoming format for this year's kindergarten roundups
By Danielle Arndt
The Ann Arbor Public Schools elementaries are preparing to welcome future kindergarteners and their families using the same model that was deemed successful last year.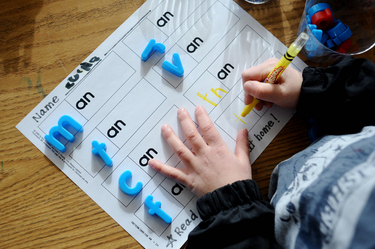 Melanie Maxwell I AnnArbor.com file photo
"The elementary principals have worked together to ensure our messages to parents are consistent, and we share with parents the rich, all-day kindergarten programs in the district," said AAPS spokeswoman
Liz Margolis
.
The district announced kindergarten roundup dates on its AAPS News website this week. All of the roundups will take place in February, with the exception of King Elementary School's, which is scheduled for early March.
A new state law enacted in June advanced the age requirement for kindergarten students. For the 2013-14 academic year, students must be 5 years old by Nov. 1, 2013, in order to enroll in kindergarten for the fall. The previous cut-off date was Dec. 1.
By the 2015-16 academic year, students will need to be 5 by Sept. 1.
Ann Arbor's elementary schools took a new approach to kindergarten roundups last year, one that was a little warmer and friendlier. And according to school officials, parents noticed a difference.
"It was very successful," said Wines Elementary Principal David DeYoung.
The schools made a concerted effort to focus less on filling out enrollment paperwork that night and to focus more on parents' and students' comfort levels in the school — making sure to give building tours, a mock rundown of a typical school day, to answer parents' questions and engage the children.
"We were still able to get the necessary paperwork done over time. And parents responded very positively to not feeling like they had to get it done right then," DeYoung said. "Any parent's primary concern is their children, and how are they going to do in kindergarten, and it should be."
DeYoung was part of the group behind the push for more uniformity among buildings last year.
He said providing a safe, open and welcoming environment for parents to get all of their questions answered is important whether it's kindergarten roundups or an informal one-on-one meeting between families and the schools.
"Whether it has an impact on enrollment (totals) or not, I don't know. It certainly can't hurt. Anytime the schools can be open and accessible to parents — it's important, especially to families that may be new to the district," he said.
Danielle Arndt covers K-12 education for AnnArbor.com. Follow her on Twitter @DanielleArndt or email her at daniellearndt@annarbor.com.