Posted on
Wed, Mar 13, 2013 : 5:58 a.m.
Group supporting high-schoolers charged in football brawl organizes public marches downtown
By Danielle Arndt
A group of area residents, which formed in support of three black students criminally charged in the Huron-Pioneer high school football brawl, is taking its message to the streets.
Ann Arbor Concerned Citizens for Justice has organized five upcoming rallies and marches through downtown Ann Arbor to raise awareness of what the group believes was an act of prejudice in prosecuting three black Pioneer High School students.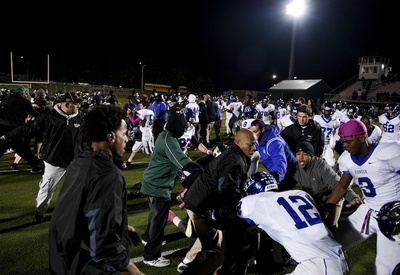 Daniel Brenner | AnnArbor.com file photo
The group says an estimated 40 to 70 young men were involved in the Oct. 12 melee and these three are being treated unfairly because they are black.
District spokeswoman Liz Margolis said that estimate is a little inflated, considering each team fields about 39 players. She said there were approximately 30 people, both students and coaches, involved in the centerfield incident.
"The AACCJ believes there is a consistent pattern, in Washtenaw County, of overcharging and selective prosecution of African American males," the group said Tuesday in a statement. "Equally disturbing is the fact that the two adults responsible for instigating this incident have virtually received nothing more than a slap on the wrist.
"The schools, where parents send their children to learn and to be supervised by responsible adults, appear to have failed these students."
The marches and public events will coincide with the various upcoming court appearances for the three students:
8 a.m. Friday — Starting in front of the Ann Arbor District Library at 343 S. Fifth Ave. and proceeding to the Washtenaw County Courthouse at 101 E. Huron.
8 a.m. March 19 — March from the library to the courthouse.
12:30 p.m. March 19 — Rally in front of the courthouse.
7 a.m. March 25 — Rally in front of the courthouse.
7 a.m. April 1 — March from the library to the courthouse.
One of the students, senior Bashir Garain, 18, is charged with two felony counts of assault with a dangerous weapon and two misdemeanor counts of assault and battery. The two juvenile students both were charged with assault with intent to do great bodily harm less than murder, assault with a dangerous weapon, aggravated assault and assault or assault and battery.
AnnArbor.com is not naming the juveniles.
Former teacher and Ann Arbor Public Schools administrator Joseph Dulin, who helped form the AACCJ, said police will be present at the marches and will escort the group of concerned citizens through the streets so they do not have to stop at traffic lights.
Leisa Thompson | The Ann Arbor News
He said he did not know what to expect as far as turnout at the events, but encouraged anyone who was interested to join the cause. The group has grown in size from initially about 30 to 40 people to about 100, he said.
Through the public demonstrations, the AACCJ hopes to enlighten the community about what has been going on, Dulin said.
"It's purely racism," he said of County Prosecutor Brian Mackie charging these teens. "… We want to make the community aware and to sway the community, so that they can put the pressure on the school system and the courts. We want the charges to be dropped."
Of the three players that have been charged, two are accused of kicking a Huron player in the face, causing injuries, and one is accused of swinging a crutch toward a group of players.
Dulin said although there is video from the Oct. 12 incident, he believes it is inconclusive.
Dulin was an educator for 52 years and was the founding principal of Ann Arbor's Roberto Clemente Student Development Center. He also founded National African American Parent Involvement Day (NAAPID) in November 1995 to encourage black parents to take an active role in their children's education.
Dulin said he is disappointed that Ann Arbor school officials have not done anything to protect the best interests and educational rights of these young men.
"The superintendent must do more and the school board must do more," he said.
Another group, Save Our Sons, also emerged recently in support of the three Pioneer high school students. This group's focus currently is raising money for one of the juvenile's attorney fees through fundraisers.
An event the group is calling "Strikes Against Injustice" will take place from 7:30-9:30 p.m. March 22 at Colonial Lanes, 1950 S. Industrial Highway. A similar event was scheduled for last Friday.
Dulin said the AACCJ and Save Our Sons both grew out of the same contingent of people with the same goals and objectives. The AACCJ has decided to take raising awareness to the next level with a public statement and public demonstrations, Dulin said.
Members of both groups are unhappy prosecutors decided not to charge then-Huron head coach Cory Gildersleeve, then-Pioneer head coach Paul Test and then-Pioneer assistant coach Vince Wortmann. The confrontation between these three started the melee.
When Gildersleeve and Test came together at midfield after the game, the two began a screaming match, and Test alleged Gildersleeve pushed him. Wortmann then shoved Gildersleeve, touching off the brawl.
Prosecutors did not charge Wortmann, deciding the assistant coach believed Test was in physical danger from the younger, larger Gildersleeve. Wortmann, who is black, was fired for his actions during the brawl.
The Ann Arbor Public Schools also suspended nine Huron players and six Pioneer players for their involvement in the brawl. Two Pioneer players were permanently kicked off the team.
A small representation of the Ann Arbor Concerned Citizens for Justice group attended a Feb. 27 school board meeting to ask for board members and school officials to take action in support of the three criminally charged students. The board is expected to consider passing a resolution expressing their support at Wednesday's regular meeting, which starts at 7 p.m. on the fourth floor of the Ann Arbor District Library.
AnnArbor.com cops and courts reporter Kyle Feldscher contributed to this report.
Danielle Arndt covers K-12 education for AnnArbor.com. Follow her on Twitter @DanielleArndt or email her at daniellearndt@annarbor.com.