Posted on
Fri, Mar 1, 2013 : 5:59 a.m.
Ann Arbor school board to consider resolution in support of students charged in football brawl
By Danielle Arndt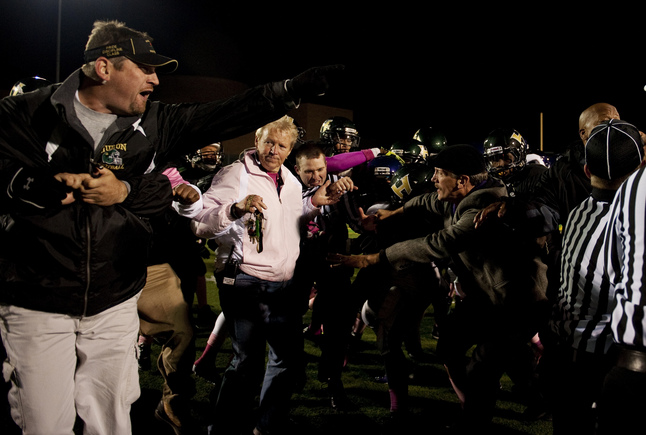 Daniel Brenner | AnnArbor.com
The Ann Arbor Board of Education will consider a resolution to support three students criminally charged following an on-field football brawl at Pioneer High School last fall.
A cross-town rivalry game on Oct. 12 turned rowdy after an altercation between the head football coaches for Huron and Pioneer caused both teams to charge the field after the clock ran out.
Pioneer senior Bashir Garain, 18, was charged with four counts of assault in the melee. Two are counts of felonious assault with a dangerous weapon for allegedly attacking two Huron players with a crutch.
Two other Pioneer High School students, both juveniles, also were charged in the brawl. None of the coaches involved in the fight faced charges. Details of the juvenile cases are not being released to the public.
In January, Ann Arbor parents and concerned residents launched three separate petitions on Change.org asking Washtenaw County Prosecutor Brian Mackie to drop the charges against the teenagers. To date, the petition for Garain has received 502 e-signatures.
On Wednesday, four community members, including Ruth Zweifler, former Executive Director of the Student Advocacy Center, took their protesting of the criminal charges to the next level, urging the Board of Education and AAPS Superintendent Patricia Green to get involved.
The speakers said Wednesday during the board's public comment period that the brawl was a school issue and was handled in a way the community found acceptable by school officials.
Sioban Harlow, a Pioneer football parent, said the escalation of this fight to the court system has caused considerable concern among Pioneer High School families. She said more than 70 parents have attended all of the court dates and hearings for all three of the boys.
"I'm hear to ask you to support the young men in relation to the incident that was started by adults' poor behavior," Harlow said. "… Both teams worked it out and have tried to heal this incident. They have made a concerted effort."
She pleaded with school board members to direct Green to meet with Mackie and to ask him to drop the charges. She said the charges are an example of the over-criminalization and over-charging of young African American males that exists in today's society.
"We need to join together to say, 'Not in our community. Not in Ann Arbor,'" Harlow said.
Trustee Simone Lightfoot said she and Trustee Susan Baskett have been very involved in the cases against the football students and have spoken with a number of attorneys and parents and continue to be concerned.
"Personally, I'm happy to see the community continue to follow this case and this miscarriage of justice for these young men," Lightfoot said.
Later in the meeting, Lightfoot and Baskett led the charge to move that the Board of Education place an item on its next agenda to consider a resolution in support of the students who have been criminally charged. The duo will draft a resolution to present the board on March 13.
The motion to place this item on the next agenda was approved 5-2 with trustees Andy Thomas and Irene Patalan dissenting, expressing concerns about becoming involved in a criminal cases.
Thomas said in an interview Thursday that the board felt the message should come from trustees rather than the superintendent, as parents suggested.
Thomas, however, thought the board should seek the advice of legal counsel first, he said. Green said Wednesday she spoke with Deputy Superintendent of Human Resources and Legal Services David Comsa and his preliminary guidance was that it would be appropriate to pass a resolution, but he indicated he would look into it further.
Thomas said he didn't want to bring about any possible liability issues for the district. He added he does not feel it is the role of a school board to become involved in criminal cases and it could set an unfortunate precedent. He also said the board wouldn't like it very much if the county prosecuting attorney or city council members started telling the AAPS board how run its organization.
The board has not voted on a specific resolution yet. Wednesday's vote only places the topic of considering such an action on the board's next agenda. Baskett and Lightfoot expressed a sense of urgency. Garain's final pretrial hearing is set for 1:30 p.m. March 19.
Danielle Arndt covers K-12 education for AnnArbor.com. Follow her on Twitter @DanielleArndt or email her at daniellearndt@annarbor.com.