Posted on
Sun, Apr 21, 2013 : 5:57 a.m.
Hiring an internal candidate, increasing revenue and smaller class sizes dominate AAPS budget talk
By Danielle Arndt
A dialogue on the Ann Arbor Public Schools budget situation for fiscal year 2013-14 drew about 60 people to Scarlett Middle School Saturday to share thoughts and ask questions about upcoming challenges the district faces.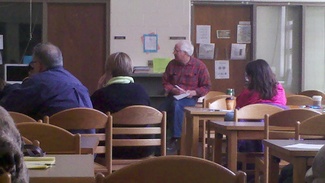 Danielle Arndt | AnnArbor.com
Even though it was scheduled as a budget discussion, Board President
Deb Mexicotte
dedicated the first 20 minutes of the event to answering questions or hearing attendees' opinions on the superintendent search process.
AAPS Superintendent Patricia Green tendered her resignation after 1 a.m. on April 11. She plans to retire this summer, ending a 43-year career in public education.
Green's stepping down shocked many in the school community, including board members, considering she signed a five-year contract in March of 2011. The board now must grapple with how to conduct a national superintendent search that will yield a new leader by September in the midst of dealing with an $8.67 million budget shortfall and shrinking fund balance.
Board Treasurer Glenn Nelson estimated Saturday, that on June 30, the end of the current fiscal year, the district will have about $9 million in its savings account, the majority of which is needed to make payroll for AAPS employees during the summer months.
When the board passed its nearly $188.5 million budget in June 2012, trustees approved using $6.04 million from the district's then-$18.73 million fund balance, bringing the total to $12.69 million. It's possible AAPS officials will have to dip into that fund balance again in the coming months to account for about a $2.5 million current-year budget deficit.
In addition to Nelson and Mexicotte, Trustee Simone Lightfoot also facilitated Saturday's dialogue. She attended for Trustee Susan Baskett, who was originally scheduled.
Despite Mexicotte designating the first 20 minutes of the event as an opportunity for debating the superintendent search, people continued to bring it up throughout the budget forum. The majority of attendees were AAPS staff members or parents, many of whom were graduates of Ann Arbor themselves or educators in other districts.
Those who spoke about the superintendent search stressed the importance of looking local first — hiring a "townie" — and asked the board to give preference to internal candidates so they would feel encouraged, and not intimidated, to apply.
Some audience members suggested a separate application period for internal candidates before the position is posted nationwide.
"We have incredibly talented people working in Ann Arbor… I can think of six to 10 individuals who would do a fabulous job running our district. Whether they would want to or not, I don't know," said Slauson Middle School teacher Jon Strite.
Others talked about the qualities and characteristics they would like to see in the next superintendent.
Pioneer High School teacher Jeff Kass said he would like the district to hire a superintendent who doesn't hide in his or her office and can get along with teachers.
"I spoke with Dr. Green once and in about four minutes I knew she was a terrible choice for this community," he said.
But Kass added, what's more important than which qualities the superintendent possesses is having teachers involved in the process. He requested the board invite teachers to serve on the selection committee.
Susan McKee, a media specialist at Huron High School, said one things she would like the board to look into is better control of textbook loss at the secondary buildings. She recently compiled a four-year report of textbooks that had left Huron with students who transferred to other AAPS schools, such as Pioneer, Skyline or Roberto Clemente. She said in four years, $16,000 in textbooks was lost from her school.
"And this is just at Huron. I would imagine there would probably be similar numbers from Pioneer students who have left," McKee said.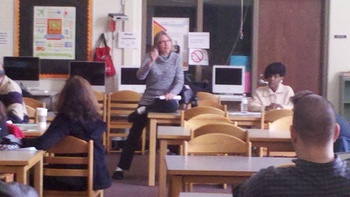 Danielle Arndt | AnnArbor.com
She added it is her understanding that last year a new policy for textbook accountability was implemented by central administration, but that policy wasn't communicated well at the building level or down to the athletic department and library staff. McKee said the district needs a better system for recovering lost textbooks, which are in many cases more than $100 apiece.
In his opening remarks, Nelson stressed the need to bring in additional revenue to the district and to increase donations and private giving through the Ann Arbor Public Schools Educational Foundation. He also said advocating for legislative change and pushing state legislators to restore funding to public education is important.
Strite recommended the district consider a millage for Community Education and Recreation.
Such a millage would give the Rec and Ed department more money and the district could move extracurricular items — such as music, band, theater and athletics — to the Rec and Ed budget, which would free up dollars in the general fund to be used on operating expenses, Strite said.
But Nelson said a countywide enhancement millage is the most effective way to get money into the Ann Arbor Public Schools system. He said it has more flexibility in terms of how the money can be spent and more AAPS students would benefit from the enhancement millage than if the tax dollars were given to Rec and Ed, which also serves non-district residents.
Attendee Letitia Kunselman, who is a teacher in another district, said to be successful in a countywide enhancement millage the next time around, school districts need to be asking teachers where they see wasteful spending in their own buildings. She said she knows a number of teachers who did not support the millage in 2009 because they did not feel like their districts were using money wisely to begin with.
A number of parents stressed how even though they and their children value participation in sports, theater, band and the like, they would rather see these items cut than have class sizes increase again. These same parents would rather keep block scheduling and seventh-hour options at the high school as well, if it came down to extracurriculars versus class sizes and educational opportunities.
One woman said eliminating the seventh-hour would put more children back in the classrooms during the typical school day, leading to larger class sizes. Kass said he has 36 students in his classes.
Strite suggested eliminating as many of the district's half-days for professional development as possible. He said half-days are expensive and can be inconvenient for families when multiple half-days occur in a row, such as a Thursday-Friday or a Monday-Tuesday for staff training.
"Move Tuesday's half-day to Monday and help our families out. Let them take a long weekend and go somewhere… It doesn't make sense in terms of having to clean and heat the building," Strite said.
The professional development days, however, are a contractual piece, determined by collective bargaining, Mexicotte said. "But it's a piece we certainly want to look at."
Strite said the district also could save on substitute costs and principal costs by scheduling more meetings in the afternoon, after the school day ends, rather than mid-day. He said teachers who are required to attend mid-level counsel meetings have to get subs and if more meetings were in the afternoon, maybe AAPS wouldn't need as many principal positions per building because one principal wouldn't have to cover for the other regularly.
The AAPS administration will present its formal budget recommendations to the Board of Education at Wednesday's regular meeting. The meeting will begin at 7 p.m. at the downtown Ann Arbor District Library. The administration then will host two community information sessions on the budget in May: from 7 to 8:30 p.m. May 2 and May 7 at Huron and Pioneer high schools, respectively.
Danielle Arndt covers K-12 education for AnnArbor.com. Follow her on Twitter @DanielleArndt or email her at daniellearndt@annarbor.com.