Michigan education panel outlines school reforms at Pioneer High School event
Posted on Tue, Mar 12, 2013 : 5:55 a.m.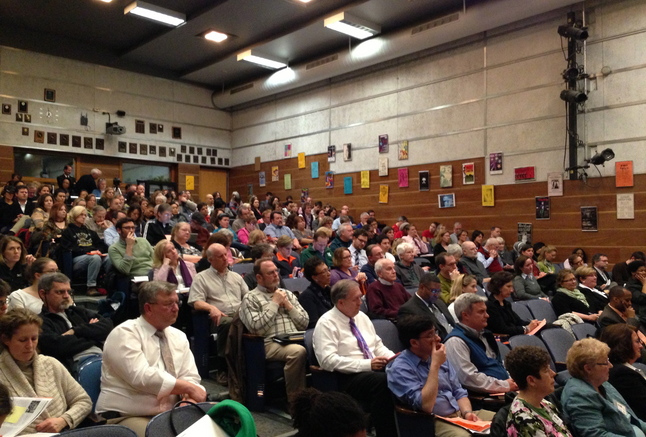 Danielle Arndt | AnnArbor.com

A forum at Ann Arbor's Pioneer High School to discuss the future of public education in Michigan drew a standing-room-only crowd of nearly 300 people Monday night.

People came from throughout the east side of the state to participate in a panel discussion on current education issues, reforms, financing proposals and possible legislation facing Michigan's charter schools and traditional districts.

The Washtenaw Alliance for Education, in conjunction with the State Board of Education and Ann Arbor Public Schools officials, coordinated the event.

The Michigan Board of Education has been traveling around the state convening such forums since early February to discuss the direction that education needs to take in the state as well as some reforms and ideas already in the air, said State Board President John Austin.

Austin, along with fellow State Board member Eileen Weiser, is an Ann Arbor native with children who have gone through AAPS or are currently enrolled. Austin also has high-schoolers at Ypsilanti New Tech this year.

Both state officials sat on Monday's panel in addition to David Arsen, a Michigan State University professor of education administration, and Peter Ruddell, an attorney and member of the Michigan education finance team that's working on rewriting the State School Aid Act — or drafting the Michigan Public Education Finance Act of 2013.

Republican Gov. Rick Snyder asked Ruddell and another Lansing lawyer, Richard McLellan of the Oxford Foundation, to head up an effort to draft school finance and choice recommendations to be considered this year. Ruddell and McLellan are co-authors of the proposed public act, which was introduced to the State Legislature in the fall during lame-duck session.

Ruddell also is a former student of Arsen's at MSU, although the two are at the opposite ends of the education reform debate, which led to some spirited conversation Monday.

AAPS school board trustee Glenn Nelson said the group involved in organizing the panel could not have been more pleased with the education leaders who agreed to participate. He said Austin, Weiser, Arsen and Ruddell represent the most diverse range of views involved in the education policy debate to date in Michigan.

Primary topics of the discussion were the implementation of the Michigan Public Education Finance Act of 2013, oversight and quality controls of proposed reforms and improving the quality of Michigan's teachers.

Ruddell and those carrying out Snyder's mission say fundamentally, what they are trying to do through the Public Education Finance Act is ensure the state's $14 billion annual investment in education produces citizens that are career ready.

The education finance act is best known as Snyder's "any time, any pace, any way, any place" plan that proposes students can take classes anywhere they want, with the state's per-pupil foundation allowance following the student from one educational institution to the next through a voucher system.

But Arsen said Monday the Public Education Finance Act was a draft and there has yet to be any revisions of it.

"It lacks coherence … and doesn't have practical provisions for implementing the unbundling (of per-pupil funds) or the voucher-based system," he said, adding it also ignores the fact that special needs students cost more to educate than general education students. "This needs to be recognized in the way the state distributes money. … School choice policies exacerbate the problem (and create) strong incentives to enroll low-cost students."

Arsen added the finance act was "not informed by an understanding of teaching and learning, but was an accounting exercise that does nothing to address school facility financing," leaving facilities to be funded almost entirely by local property taxes through millages. This creates big variations in what schools have the ability to prepare for and leads to dramatic differences in schools facilities across the state, Arsen said.

Ruddell said Arsen is correct that the legislation does not address funding for school facilities.

"Our charge was to take what the governor already said he wanted done and to put it into a bill," Ruddell said.

But he highlighted a few other items of the Public Education Finance Act, such as increased online learning opportunities and the early graduation scholarships.

"Why are we holding students back from graduating if they're ready?" Ruddell asked.

He said perhaps the best part of the legislation is it prevents students from being trapped in the district where they reside and gets rid of the concept of Count Day: "Why does it matter where a student is on the first Wednesday in October?"

He added economically disadvantaged students are involuntarily mobile and may switch districts frequently in a single year. This aspect of the legislation also is intended to hopefully further future innovation and student centered learning, Ruddell said.

Michigan Public Education Finance Act of 2013 was designed to operate in conjunction with House Bill 5923, which currently is stalled in the House Education Committee. This bill would permit virtually any company or public entity to become or to open a school with little oversight, Arsen said.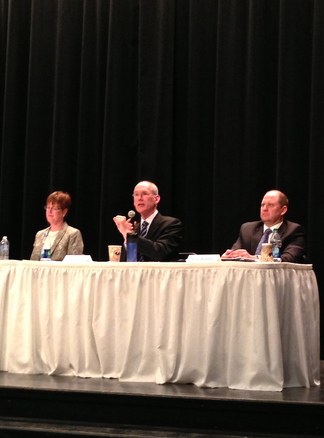 Danielle Arndt | AnnArbor.com
While the crowd gathered at Pioneer largely was anti-charter schools, the panelists largely were not.
Weiser said she recognizes how volatile charter schools are and that traditional public school district employees tend to view them as taking resources from their school districts.
"I don't know if most of you know this but only 5 percent of all the public schools in Michigan are charter schools," she said Monday. "... (The Michigan Department of Education) can close down authorizers and can close down charters and we have. We have no mechanism to close down public school districts. ... Until now, now we can send them to the EAA (the Education Achievement Authority)."
The EAA was unveiled in June 2011 as a way to redesign public education in some of Michigan's lowest performing school districts.
Education reform bills proposed in the fall would allow the EAA to take over all Michigan schools in the bottom 5 percent of schools academically. The bills also would have expanded the EAA's power and have permitted the entity to serve as an authorizer for charter schools anywhere in the state. However, the additional powers have now been stripped out of the legislation, Austin said Monday.
He added the state needs a "turnaround district," as the EAA has been dubbed, "when we fail miserably to help ... an academically struggling to succeed or to close it out and replace it. ... (The EAA) is a learning program that has a chance."
Austin said his biggest concern with House Bill 5923 is that it could create too many more bad schools than the state already has to deal with. He said making sure there are quality controls built in is crucial. He also said for-profit charter school authorizers that have been proven to run bad schools should be prevented from opening more charters.
But Weiser cited a recent Stanford University study that revealed charter school students in Michigan are showing more growth than their traditional school district peers. Weiser said education officials should see what's working for the charters and consider "cross-pollinating" teaching methods.
Arsen disagreed with Weiser's assessment, adding the Stanford study released in January is on top of a pile of numerous other studies that came up with different results. He added in low economic and urban areas, the percentage of charter schools is much greater than 5 percent. He said less than half of the children who live in the Detroit Public Schools attend the traditional district.
Arsen said the level of "turbulence" this causes in these areas is significant and more than half of children do not attend the same school from one year to the next. He said this is not the type of environment that fosters learning.
A Skyline High School junior shared her perspective Monday in lieu of asking a question like other audience members at the forum. She said the educational quality problems that schools in Michigan have are not due to schools not having nice buildings or enough technology or online courses.
"The problem in my eyes is inadequate teachers," she said. "… We need to fix the teachers who aren't good at their jobs. … Spending money buying new computers or making our schools more green or whatever, isn't going to make a kid want to come to class if their teacher isn't good at teaching. Spending money to help our teachers get better and be more engaging, that'll help with attendance as well. … Honestly, I think adding more technology to schools is a problem. Technology is a distraction."
Austin said he agreed with the student and earlier also expressed his concerns about pushing the door wide open to online education institutions.
In 2011, Snyder signed into law a new teacher tenure reform bill and created the Michigan Council for Educator Effectiveness to start developing a statewide teacher evaluation system that accounts for student growth. Several models currently are being piloted throughout the state. Lincoln Consolidated Schools was one of 14 pilot districts. However as of a February update from the MCEE, Lincoln was no longer able to continue in the study.
"Teacher quality is the thing that moves the needle on test scores. And that's where I hope we put more of our focus," Austin said.
Additional reading: