Posted on
Sun, Aug 5, 2012 : 5:59 a.m.
Superintendent: Consulting group's role in closing Ann Arbor achievement gap will be 'significantly less'
By Danielle Arndt
As the Ann Arbor school district prepares to implement Superintendent Patricia Green's plan for closing the achievement gap, it will significantly reduce its reliance on a consultant paid $441,000 over the last six years to address the problem, Green said.
Green said the district has been contracting with Pacific Educational Group for about seven years, spending a minimum of $30,000 per year. And from what she can tell, the firm wasn't using any "measurable components" to gauge the district's progress toward eliminating the gap, she said.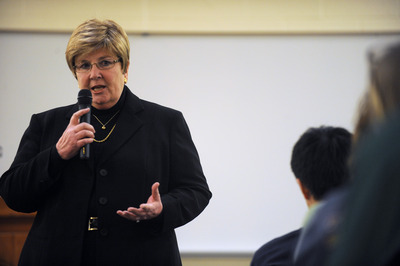 In March, Ann Arbor's new administration
presented its plan
to close the achievement gap, a term used to describe the performance disparity between white students and their black and Hispanic peers.
Improving minority students' test scores has been a priority of the Ann Arbor Public Schools for nearly 31 years. But the problem has remained persistently stubborn. The performance of Ann Arbor black and Hispanic students still lags well behind that of their white classmates on standardized tests. Just last week, that gap placed many of the district's schools on a state list targeted for improvement.
From March 2005 until June 2011, the district spent $441,130.06 on various services from the Pacific Educational Group, as previously reported by AnnArbor.com. That's an average of $73,521.68 per year.
Most of the charges were for consulting services and travel expenses for Glenn Singleton, chief executive officer of PEG, and other individuals within his organization.
The group started out training administrators on how to develop an "equity framework," for looking at race from different perspectives. PEG's training eventually translated into the development of equity teams throughout the district.
Part of Green's plan, which is now in the action/implementation phase, includes creating equity teams at the remaining buildings throughout the district. However, rather than using the Pacific Educational Group for this training, Green intends to use Tappan Middle School Principal Jazz Parks and Logan Elementary School Principal Terra Webster.
Both of these principals have built successful equity teams at their schools, Green said in March when she rolled out her plan to address the achievement gap. They will lead professional development throughout the district in an effort to eliminate inconsistencies in grading and assessment practices, she said. They will emphasize culturally responsive teaching techniques, instruction strategies and the use of supportive interventions, Green said.
Moving forward, the district will contract with the Pacific Educational Group to provide "Beyond Diversity" training only. Even then, the consulting firm will be called upon for this service to bring only "limited" new employees entering the district "up to speed," Green said.
Beyond Diversity is Singleton's nationally recognized method for improving race relations at educational institutions. Based on this platform, Singleton co-authored the book "Courageous Conversations About Race: A Field Guide for Achieving Equity in Schools."
Green's previous experience in diversity education and her understanding of the role the discipline gap plays closing a district's achievement gap was one of the reasons the Board of Education hired her. "It's hand in glove," she said previously of the correlating gaps.
The discipline gap refers to the disproportionate number of black, Hispanic, special needs and economically disadvantaged students being removed or suspended from the classroom. In Ann Arbor, 42.4 percent of all students suspended in 2010-11 were black, when black students made up 14.3 percent of the entire student population that year.
Green has a track record of reducing the number of suspensions in the districts she served prior to Ann Arbor. In 2011, she received the Spirit Unity Award from the North Hills Anti-Racism Coalition for leading efforts to promote multicultural awareness and sensitivity at North Allegheny School District in Pennsylvania.
On Thursday, the Michigan Department of Education released its annual report card for schools, complete with new designations that highlight performance discrepancies at individual buildings. Ann Arbor had 27 of its 33 schools targeted for improvement by the state due to its achievement gap. District leaders said the report cards further emphasized the need for the gap elimination plans that are being implemented.
On the Michigan Educational Assessment Program exam in 2010-11, 80 percent of Caucasian fifth-graders scored proficient in math, while just 32 percent of African American students and 42 percent of Hispanics scored the same. In reading, 93 percent of Caucasians, 50 percent of African Americans and 55 percent of Hispanics scored proficient.
Aside from constructing equity teams at all of Ann Arbor Public Schools' buildings, the other components and focus areas of Green's achievement gap elimination plan are:
Developing clearly defined and articulated content and grading standards
Developing an accountability system
Quality professional development
Parent and community engagement
Student engagement
Improving early childhood programs
Understanding the barriers to learning and resources
Providing student intervention and support services
Danielle Arndt covers K-12 education for AnnArbor.com. Follow her on Twitter @DanielleArndt or email her at daniellearndt@annarbor.com.