Posted on
Thu, Jul 12, 2012 : 5:59 a.m.
Emails shed light on argument between EMU President Susan Martin and alumnus
By Kellie Woodhouse
Emails between Eastern Michigan University President Susan Martin and an alumnus shed light on a disagreement they had in April after a Washington, D.C. reception, an argument that led the Board of Regents to formally reprimand Martin for the incident and the role alcohol played in it.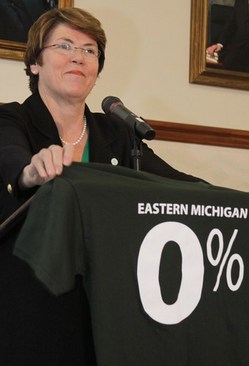 In the emails, which AnnArbor.com obtained through a Freedom of Information Act request, Martin
apologized
for her "overpassionate response."
According to memos between the board and Martin, the argument took place on April 23; Martin reported it to board chair Roy Wilbanks four days later; and on May 17 Wilbanks, along with other members of the board's executive committee, issued Martin a letter scolding her for her drinking too much at the event, arguing with the alumnus and using profanity.
In the letter, the board said Martin admitted to drinking on an empty stomach prior to the argument. The board alluded to "prior incidents" involving alcohol consumption but did not elaborate.
The board told Martin that if she didn't control her drinking she would face termination.
The day after the April 23 argument, Martin and the alumnus, Michael Ferens, exchanged email messages.
"I am very concerned over how angry you got last night and I want to diffuse that now," Ferens wrote in an email sent at 9:57 a.m., April 24. Ferens is a leader of the D.C.-area alumni association.
He told AnnArbor.com that the argument stemmed from a disagreement over EMU's former mascot, the Huron Indians. EMU changed its mascot to the eagles in 1991.
In an email sent at 8:38 a.m. Ferens mentioned that former "president [John] Fallon started a campaign on a Huron statue and spoke with a sculptor" and said that during the argument he "was merely wondering if we can pick up where that campaign left off."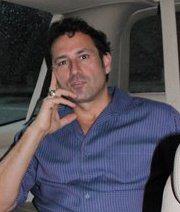 From Facebook
From there, the email exchange suggests the argument turned to Fallon. Fallon was fired in 2007 for assisting in the cover-up of a murder that occurred on the Ypsilanti campus. Martin began as college president a year later, in 2008.
Earlier this year, Fallon was hired as an associate vice president of Ball State University.
Martin responded at 10:37 a.m., writing that the "recent hire of Fallon reignited a lot of media coverage of the murder at Eastern so I am a little hypersensitive."
The email exchange does not mention alcohol and Ferens told AnnArbor.com that he did not witness Martin drink excessively during their conversation.
"We sat down and had a glass of wine, but we didn't have 15 glasses of wine," Ferens said. "I did not witness any heavy drinking."
Read the email exchange in full here: Susan Martin and Michael Ferens email exchange.pdf
Meanwhile, Martin's personnel file, obtained though a FOIA request, reveals that her support among the board appears to have grown from 2008 to 2011.
In a review dated Dec. 15, 2011, the board praised Martin for being "very visible on campus and throughout the community" and for doing an "overall excellent job." Regent Beth Fitzsimmons praised Martin for expanding the reach of EMU in the county.
"For the past decade I have never seen such positive discussion about and support for EMU," she wrote.
In prior reviews from 2008-09 and 2009-10, the board reported overall satisfaction with Martin, but expressed that "a number of board members" were frustrated on some level with Martin's record of communicating with and listening to the board. By 2010-11, Martin had begun sending the regents weekly communication updates.
Kellie Woodhouse covers higher education for AnnArbor.com. Reach her at kelliewoodhouse@annarbor.com or 734-623-4602 and follow her on twitter.
This story has been corrected to reflect John Fallon's current position at Ball State University.