Posted on
Wed, Jul 11, 2012 : 10:06 a.m.
EMU President Susan Martin will donate raise to campus alcohol education fund and get counseling
By Kellie Woodhouse
Related:
EMU President Susan Martin on argument involving alcohol: 'I made a mistake... and I own' it
Eastern Michigan University President Susan Martin said she will follow the advice of the Board of Regents and receive counseling following an April argument with an alumnus after having consumed alcohol on an empty stomach.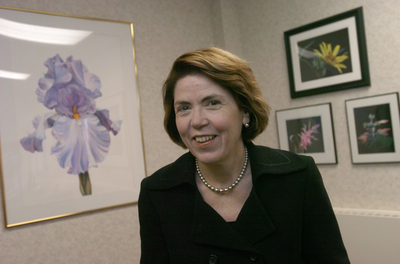 In a May letter, the board's executive committee scolded Martin for the argument and "other incidents" preceding the argument apparently involving the overconsumption of alcohol. The letter said Martin explained behavior she called "unpresidential" as resulting from drinking on an empty stomach.
The board recommended counseling; said it was concerned about her "as a person" and the liability her actions could bring to the university; and threatened to fire her if another alcohol-related incident occurs.
In an interview, Michael Ferens, the alumnus Martin argued with, told AnnArbor.com the argument was minor and over quickly.
Martin told WJR host Paul Smith in a July 11 broadcast that she planned heed the board's advice and receive counseling.
EMU Vice President of Communications Walter Kraft confirmed the WJR report and said Martin also plans to donate her 2012 raise to a campus alcohol educational fund.
Martin made $295,000 in 2011, according to W-2 tax information obtained by AnnArbor.com. This summer Martin is due for a $8,764 raise, which she will donate.
"I did make a mistake, even though it was only one. I learned from it," Martin told WJR, adding: "I also think it's important to have alcohol awareness on campus, I mean our students often make mistakes when they come to campus at age 18."
In an email to the EMU campus community, Martin disclosed a DWI citation from 2005. It is Martin's only alcohol-related citation on record, according to a Michigan court records search by AnnArbor.com.
Although she agreed to go to counseling and donate her raise, Martin maintains that she does not have a drinking problem and that another alcohol-related squabble will not occur during her time as president.
"It will never recur," she said in a Tuesday interview with AnnArbor.com, explaining that she must be clear-headed to tackle the "very demanding and challenging" job of being EMU's leader.
"I made a mistake in this incident and I own" it, she said.
Kellie Woodhouse covers higher education for AnnArbor.com. Reach her at kelliewoodhouse@annarbor.com or 734-623-4602 and follow her on twitter.
This story has been corrected to reflect that Martin will not earn $309,915 this year, as reflected in the terms of her contract. Because Martin forwent last year's raise, she will earn a salary of $300,889, but will donate her $8,764 raise to the EMU's alcohol awareness education program.